'If anybody makes an attempt to create trouble -- be they Hindus or Muslims -- they will be tackled strictly.'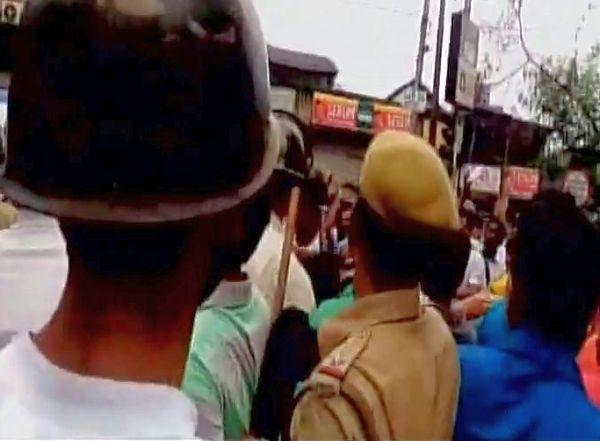 Idris Ali is the All India Trinamool Congress MP from Basirhat in West Bengal's North 24 Parganas district.
Ali maintains that peace has returned to areas like Baduria, Swarupnagar and Devganga that saw Muslims protesting violently after a derogatory post on Facebook by a Class 10 student in the area.
Despite the tension in his constituency, Ali visited the area on Tuesday, July 4, to appeal for calm and peace along with a sadhu, but was chased away by the crowd.
Ali, a lawyer in the Calcutta high court, spoke to Rediff.com's Prasanna D Zore.
How is the situation in Basirhat now?
The situation is peaceful and under control now.
You had been to Basirhat along with a sadhu to appeal for peace and calm, but the people there chased you out of Basirhat.
Why did this happen? What went wrong?
I won't like to talk about this episode.
We want calm and peace to prevail in the area.
We don't want to make the situation tense by speaking about it or talking to the press, which adds its own bit and files reports.
That is the reason I don't want to speak with the press.
Kuch bhi ulta pulta likh dete hai (The press twists the facts while reporting).
This increases tensions rather than calms the situation.
Will you go back to the people of Basirhat to appeal for peace?
Why will I not go there again?
Basirhat is my consituency, my home, and the people, the Hindus and Muslims of Basirhat, are my people and I love them.
Why will I not go again?
The situation there has already become normal and peaceful.
When are you planning to go there again?
How do you plan to maintain peace in Basirhat?
Chief Minister Mamata Banerjee is a symbol of peace.
We will work according to plans made by her.
We will follow and do whatever she asks us to do for peace and calm.
Shouldn't the chief minister visit the riot-affected areas and appeal for peace?
Is she planning to visit Basirhat?
I don't have any idea about it as of now.
You should ask this question to her. Ask Derek O'Brien.
What feedback are you getting from the people of your constituency?
Do they claim that the TMC's political opponents are fanning communal trouble in the area?
Now that peace has returned to Basirhat it would not be proper for me to comment upon this subject which could again disturb the peace in the area.
I will say something, you will publish something else and it will only lead to more tensions and I do not want it.
I want peace; I want Hindus-Muslims to exist in communal harmony and continue with their brotherly relations.
We all are Indians and we should live together as Indians.
The situation is almost normal now; there could be trouble in only 5 per cent of the area and the state administration will successfully bring it under control too.
Videos on social media allegedly show attacks on a community and their places of worship.
Does the situation on the ground actually reflect this?
I can't comment upon these videos as I have not seen them.
But whoever are spreading such videos to disturb communal harmony will be dealt with strictly by the police.
Whoever are spreading such malicious videos are enemies of West Bengal.
Why did the situation become so tense?
Why couldn't the state administration control them at the first sign of trouble?
The state administration did step in at the first sign of trouble and that is the reason that the situation is under control and peaceful today.
There are allegations from your party members that the BJP is fomenting trouble to gain a strong foothold in West Bengal...
Please ask such political questions to Derek O'Brien and Mamata Banerjee. I can't talk to you on these political issues.
We don't want any more problems in the region; we want peace; the people of Basirhat want peace.
Why do you keep asking the same questions repeatedly. I have already told you that the situation there has become normal.
If anybody makes an attempt to create trouble -- be they Hindus or Muslims -- they will be tackled strictly.
Strict action will be taken by the state administration against such people.
Hasn't the Mamata Banerjee government failed in handling the situation?
You may say whatever you want to say, but I disagree with your inferences.
There is no state government failure. I don't think so.
Then how did the situation come to such a pass?
Why are you asking me these questions. Call Derek O'Brien and ask him.
You are an elected representative of the people of Basirhat and being on the ground there know the situation better...
I have told you three things and again I will repeat myself. Write them if you want to.
1. There is peace in the area now.
2. As an MP of the area I have appealed to both Hindus and Muslims to maintain peace and stay united.
3. And I don't agree with you that this is a failure of the West Bengal government.
The state administration under Mamata Banerjee acted swiftly to bring the situation under control.
I would request the people of West Bengal to keep supporting Mamata Banerjee.
She is the only one who can deliver justice for all.
But if the state administration had acted promptly would the situation have worsened at all?
Don't you know Derek O'Brien. Please call him up and ask these questions.
We do get reprimanded by the party when our comments are distorted in the press.
Has the TMC gagged you from speaking to the press?
I am 67 years old now and have been working with the people of the region for 46 years.
I am also an advocate in the Calcutta high court.
At this age, do you think getting reprimanded would suit my stature?