'The Congress-JD-S alliance will be intact for the next three years, for sure.'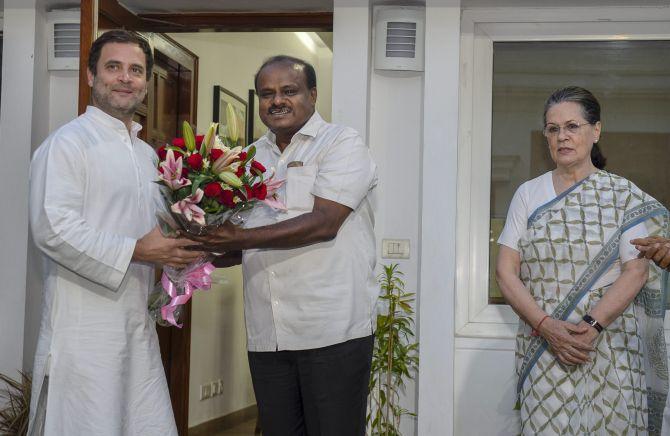 Why couldn't Prime Minister Narendra D Modi lead the Bharatiya Janata Party to a clear majority in the Karnataka assembly elections?
Will the Congress and Janata Dal-Secular alliance, formed to keep the BJP out of power in the state, last?
"The effect of Modi, at best, was limited to 10, or maximum 15, seats," political scientist Muzaffar Asadi tells Rediff.com's Syed Firdaus Ashraf.
How do you see the election results in Karnataka? Has PM Modi's victory march come to a halt?
Modi is making a lot of promises with regard to employment, development and making India a superpower, but he has not been able to deliver on those promises.
The people, therefore, are frustrated with such tall claims. That is one reason why Modi's charisma did not work in Karnataka.
There was no Modi wave or Modi tsunami in Karnataka. The effect of Modi, at best, was limited to 10, or maximum 15, seats.
Since there was no Modi wave, it could not be translated into votes.
But...
(Interrupts) The second factor that one could see in Karnataka was the consolidation of caste votes.
In fact, the three parties (the Bharatiya Janata Party, the Congress and the Janata Dal-Secular) were divided on caste lines, directly or indirectly.
The BJP heavily depended on the Lingayats.
In coastal Karnataka, the three Bs -- Bunts, Billavas and Brahmins -- supported the BJP.
Later, the BJP added SC/STs too to their support base.
The Lingayats constitute 18 per cent of Karnataka's population and they wanted to reclaim lost power. So they consolidated for the BJP.
(Then chief minister) Siddaramaiah tried to make the Lingayats a minority religion, but their votes still largely went to the BJP. This happened even before Modi began campaigning in Karnataka.
The second caste, the Vokkaligas, consolidated behind the JD-S.
AHINDA votes, a Kannada acronym for Muslims, Backwards and OBCs, were fragmented and except Muslims -- who were absolutely with the Congress -- the votes of the other communities were divided.
That is the reason Modi's appeal did not work in Karnataka.
Also, Modi's gaffes about Field Marshal Cariappa and General Thimmayya (were a setback for the BJP).
He also tried to raise communal tensions which did not cut much ice among voters.
Probably, he is still popular. But that did not translate into votes.
Were the voters of Karnataka always divided on caste lines or was this the first time?
Karnataka does not have caste conflict like you see in, say, Uttar Pradesh. But caste identity is an important component, though, right up to the 1970s, when only two castes used to rule Karnataka.
The Vokkaligas, after reorganisation (of the state), were sidelined by the Lingayats.
In 1970s, when Devraj Urs became chief minister, he created a large coalition of castes which was called AHINDA (backward classes, minorities and Dalits).
There was always an element of reasserting one's identity in the elections.
Multiple narratives were constructed where people (are made to feel) that their community is not being represented.
Politics then became a competitive ground for these communities.
Caste identity works in Karnataka, but there is no conflict. Karnataka takes second place in India among communal conflicts, but you do not have massive riots in our state like you see in Muzaffarnagar.
Why not?
Karnataka has no history of communal riots. Karnataka is known for syncretism.
We do not have a memory of Partition or (Muslim) conquerors. It is an inclusive state.
In the 1920s, the reservation policy was introduced and moreover you do not see cultural demarcation between the two communities (Hindus and Muslims).
But there are reports of communal riots in Mangalore and coastal Karnataka.
I call it competitive communalism where I say Hindu communalism is facing competition from Muslim communalism, as both are working there.
Mangalore is a big paradox. Development goes along with communalism.
Capitalism, modernity and communalism work together. And still, no massive riots take place in that area except for small conflicts.
I am saying Muzaffarpur-like riots do not happen in Karnataka.
Why does the BJP sweep coastal Karnataka almost every time?
The RSS (Rashtriya Swayamsevak Sangh shakhas were present in Karnataka till the 1980s. And after that, the backward classes became part of the Hindutva fold and they became very powerful.
In 1972, there were huge land reforms and most of the backward class became landowners and cultivators. It gave them social identity.
At that time the whole economy was divided along community lines. The Brahmins moved to the hotel and banking industries. Christians had the institutions. Bunts were landlords. Muslims were small businessmen.
The entry of backward classes into such an economy was completely restricted.
When the second generation of backward classes came into the market, they were in a deep crisis as they were not represented in any of the structures.
At that time, the RSS and its different wings appropriated them.
Therefore, the OBCs became the bashing category. If you see communal conflicts you see most of them are (related to the) OBCs.
The BJP then penetrated almost all spheres of society. The police, the bureaucracy, educational institutions, name anything, they penetrated. Everything was symbolically conquered by the BJP in coastal Karnataka.
Why did Siddaramaiah fail?
The popular and liberal chief minister was defeated by a huge margin from his own (one) seat (Chamundeshwari).
I will say that he was defeated because all Vokkaliga votes consolidated to defeat him.
Dalits were unhappy that he did not make a Dalit deputy chief minister. The Opposition parties too united to see that Siddaramaiah is not only defeated, but also politically marginalised.
But he was very confident before the elections.
He thought his populist schemes would work for him. He thought people will vote for him on that basis. But that was never a concern for voters which became a major problem for Siddaramaiah.
What will happen to the Congress and JD-S alliance?
It will be intact for the next three years, for sure.
Why only three years?
They know that if they do not come together, they will not come to power again. It is necessary for their existence.
Secondly, they have to work at the national level too in 2019.
The Congress is becoming a junior partner of regional parties. It is more desperate than the JD-S for an alliance.
Do you think the Congress can come back to power at the Centre in 2019?
The voters of Karnataka vote differently in assembly elections and Parliament elections.
If the Congress continues its alliance with the JD-S, it can win 15 of 28 seats in Karnataka at least.
Does that mean the Vokkaligas won this election?
For the first time the Vokkaligas consolidated their vote in support of the JD-S. The JD-S has become a complete Vokkaliga party.
Karnataka elections were always about Vokkaligas versus Lingayats.
The JD-S may accommodate other communities, but it will only be symbolic.
The Lingayats know they have lost the elections as they identified with the BJP.
They saw that Siddaramaiah is politically marginalised. It is ironical that a liberal, secular and rational chief minister was defeated in Karnataka.
Siddaramaiah is not a corrupt man. He was a man for the poor people.
Out of 24 chief ministers of Karnataka, Siddaramaiah will be remembered just like Devraj Urs and Ramakrishna Hegde.
He will be the third chief minister of Karnataka to be remembered for long.