'Secularism is associated either with corruption, malgovernance or minority votes.'
'That allows the BJP to construct its own majority vote.'
'It will remain a feature of electoral contests, but it is not the only reason for the BJP's success.'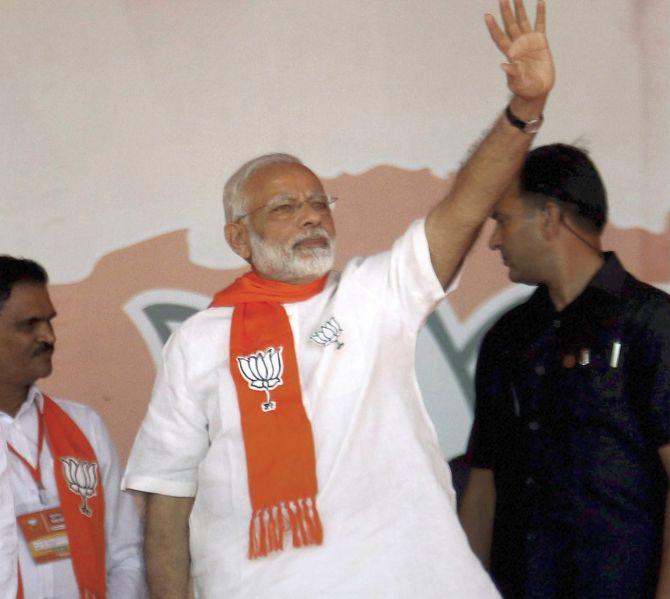 IMAGE: Prime Minister Narendra D Modi at the Gujarat Gaurav Mahasammelan in Ahmedabad, October 16, 2017. Photograph: PTI Photo
Is the Bharatiya Janata Party juggernaut slowing down?
Soon after the Bharatiya Janata Party's drubbing in the Nanded civic elections in Maharashtra, its candidate was routed by an almost 200,000 vote margin in the Gurdaspur Lok Sabha by-election, a seat that Bollywood star Vinod Khanna had retained for it in four elections.
The timing is crucial. By the year-end the BJP faces two assembly elections, in Himachal Pradesh and Gujarat, where it will be locked in a straight electoral battle with the Congress party.
2018 will see a clutch of state elections, including in Madhya Pradesh and Rajasthan, where the BJP seems entrenched, but not unbeatable.
Is the BJP facing a blip in its fortunes?
How does its electoral machinery overcome reverses?
Is the party over-dependent on its mascot, Prime Minister Narendra D Modi, for its amazing electoral run?
Does it have a second line of leadership?
Hindustan Times journalist Prashant Jha, who recently wrote the book How the BJP Wins, Inside India's Greatest Election Machine, answers these and other questions in an interview with Rediff.com's Syed Firdaus Ashraf.
Why did you decide to write a book on this subject?
I covered the 2014 (Lok Sabha) elections and the Bihar assembly elections of 2015.
I spent a lot of time on the ground again in 2016-2017 for the UP (Uttar Pradesh) assembly elections.
In UP, while I could anticipate that the BJP had an edge and they may win, I could not predict the scale of the victory.
When I came back I thought of what was it that led them to this kind of victory. And I recalled what (then President) Pranab Mukherjee told me once in a conversation: 'You can understand an election only after the election is over.'
I thought that was a simple but profound statement and that it was a good time to look back at the victory of the BJP and why the elections had this outcome.
It was also a good moment to reflect on why the BJP is the dominant political force in India.

If they are seen as not delivering on this promise of creating a better life for the young in India or creating jobs, then they are going to face political trouble.

Post-2009, if you remember many people had written off the BJP. They had lost two consecutive Lok Sabha elections. Even in 2013, very few people would have given them a chance (of winning an outright majority in the 2014 general election).
Today, they also have control of most Indian states on their own or with their allies, besides the Centre.
So the idea was to understand how the BJP had succeeded democratically in becoming the dominant political party in India. That led to this project.
Akhilesh Yadav told Rediff.com in an interview that Narendra Modi is a master in lying.
Many opponents accuse Modi of contradictory facts and statistics.
Why don't Indian voters see or heed this?
I think it is too simplistic to say that PM Modi lies and therefore he wins (elections).
Every politician uses every tool at his disposal.
Every politician uses lies.
Every politician mobilises people to win elections and does what he can to win it.
Just to say, 'Oh! PM Modi lies and therefore Indians vote for him' is an insult to the electorate.
There are a complex set of factors that have led people to vote for the BJP.
Of course, Modi's image is the central factor in some ways which explains the BJP's appeal.
What is striking is that PM Modi's base has extended.
If you look at the 2014 CSDS (Centre for the Study of Developing Societies) data, it shows that he had the support of the upper middle class, the middle class and in descending order the lower middle class and the poor.
2015 was a terrible year for the PM as he lost the Delhi elections and later the Bihar elections.
This was the year when (Congress vice-president) Rahul Gandhi made the 'Suit Boot Ki Sarkar' jibe.
What we see after that is there was a conscious attempt by Modi to reinvent his image through the narrative of demonetisation.
Of course, the reality of demonetisation and its economic effects may have been adverse. But through the narrative of the note ban, Modi showed himself to be on the side of the honest poor battling the corrupt rich.
The government also focused on sharper welfare delivery through schemes like the Ujwala scheme, Jan Dhan or toilets.
What we saw therefore was a deliberate attempt from him to reposition his image as a leader of poor or garibon ka neta.
The Opposition can just dismiss it as a lie and have contempt for the people who vote a certain way. I think it would be far more useful for Akhilesh Yadav or the Opposition parties to understand where Modi's strength is coming from and why people get attracted to him rather than say 'Modi is lying'.
There are many failures of the Modi government -- not creating jobs, weakening of the economy etc.
But whenever anybody speaks to his supporters on those issues, they feel there is a game plan to defame him by raising such issues.
I hold no brief for Modi supporters.
You have a point when you point to the governance deficit of the Modi government. It is quite clear that the high expectations that had been generated have not been met.
Over the past few weeks, the narrative that jobs are not being created has gained even stronger credence.
This is something for the Modi government to worry about and it is something they have to think more about as elections are coming up.
If they are seen as not delivering on this promise of creating a better life for the young in India or creating jobs, then they are going to face political trouble.
As I said, this book is not arguing whatever Modi does is right. Neither does it suggest Modi is invincible.
He has created a multi-class alliance and the challenge for him is to retain that support of upper middle class, middle class and poor.
That can only happen through better governance, economic growth and welfare distribution.
That is going to be a challenge for Modi.

There is indeed a lot of authority vested in Modi and Amit Shah who are in control. But I think there is also a generation of leaders who are being created post-Modi.

If growth figures are going to continue to dip and if he is not able to create jobs, then it will be a challenge for him.
This will affect his prospects for re-election as well.
The BJP contested 428 seats in the 2014 election of which it won 282 seats.
Can you tell us why the BJP could not win 146 seats despite the Modi wave?
A wave does not mean that he wins every seat.
A wave does not mean that there is no Opposition left in the country. That is not the definition.
A wave means that there is substantial support for a leader and that the normal rules of electoral arithmetic no longer applies. In the 2014 elections, it did not apply.
For a party to jump from 19 per cent vote share in 2009 to 31 per cent in 2014 was remarkable.
A party which wins 71 seats in Uttar Pradesh out of 80, 26 seats out of 26 in Gujarat, 25 seats out of 25 in Rajasthan, seven seats out of seven in Delhi, to win all but a few seats in Madhya Pradesh, to win 30 plus seats along with allies in Bihar was staggering.
All this points out that the normal rules of electoral arithmetic did not apply and there was a wave across north, central and west India for the BJP.
I think the challenge for the BJP is in the south and east of India.
The fact is that while the BJP is becoming a wider national party, it still has a long way to go.
In these regions, the party did not do well and it is in those regions the BJP lost seats.
One of the strategies of BJP President Amit A Shah and Modi, it seems, is to make Hindus angry by raising issues like 'Shamshan-Kabristan', 'Love Jihad', etc.
You mention this in your book in the chapter 'H-M chunav'.
How long will such issues affect voters and how long will they vote on such issues?
It is definitely true that one of the tools of the BJP's electoral mobilisation is communal polarisation.
The BJP does pick up issues and uses propaganda that makes the Hindu voter anxious, angry, and resentful of Muslims, and makes him believe that other parties only indulge in the politics of 'appeasement'.
That helps the BJP to consolidate Hindu votes. This worked in the UP elections, but not in Bihar.
This is dangerous, cynical politics. But this is not the only reason for the success of the BJP, because in the past too they have used the communal polarisation card.
I found it interesting that through my travels, I never heard any Hindu voter of the Congress, the Samajwadi Party or the BSP (Bahujan Samaj Party) use the word 'secularism' or suggest the secular-communal binary as a determinant of their voting choice.
The politics of secularism is dead because it has no resonance with the voter.
Secularism is associated either with corruption, malgovernance or minority votes. That allows the BJP to construct its own majority vote.
I don't know how long this politics of polarisation will continue. I think it will remain a feature of the electoral contest, but I will say this again, it is not the only reason for the BJP's success.
However, it is definitely one important tool that they use. And it is a dangerous, divisive, unethical, cynical tool.
The Congress has done nothing for Muslims in 60 years of its rule.
The Sachar Committee report notes this fact, but how does the BJP's election strategy convince Hindu voters that they are second class citizens in India, that all government benefits are going only to Muslims?
I do agree that 'secular parties' who have often relied on Muslim votes and who have got Muslim votes have not done anything substantial to improve the material lives of the community.
Data now shows that Muslims are one of the most marginalised communities in India.
I don't want to get into the history of acrimony that exists between the two communities which the BJP taps into. It also taps into latent prejudices that exist among different communities.
I think the BJP constructs many theories which are not based on facts.
I think the theory of 'Love Jihad' is rubbish. It is not true.
I think allegations such as Hindus had to migrate from Kairana in Uttar Pradesh because of Muslim gangsters was not true.
Amit Shah said the Akhilesh Yadav government distributed laptops to one particular community -- this is not true. There was no discrimination in the distribution of laptops.
Even PM Modi's statement that electricity was distributed during Eid and not during Diwali is not true.
These are things not rooted in evidence and fact, but this is a powerful construct that is built up by the BJP.
There is propaganda and it does then end up making Hindu voters anxious. The majority are made to feel persecuted.
On the other side, the fault of other parties which call themselves secular is that while they have not done enough to improve the lives of Muslims, they have only pandered to tokenistic politics of the worst kind.
So Mulayam Singh Yadav's Muslim politics has just allowed the BJP to project this as the party that only appeals to Muslims and not the majority community.
There was a theory which Muhammad Ali Jinnah proposed to Indian Muslims before Independence -- that Muslims lives would not matter under Hindu rule after the British left in 1947.
Do you feel Modi has proved Jinnah right by making the Muslim vote redundant?
Is secularism dead then?
Not at all. The politics of secularism as it has been practised may be dead, but the idea and principle is alive.
The first thing is that the Indian Constitution remains secular. I don't see that changing.
The fact that the Indian State is secular is beyond doubt. Indian institutions are secular.
Even today if there is an instance of say lynching in the name of cow protection, the courts step in. Institutions step in.
There is a vibrant Opposition that steps in and there is an immediate outcry. Indeed, PM Modi himself condemned such incidents.
There is a very strong Constitutional layer of protection of minority rights in India.
India is not a Hindu Rashtra.
I think democracy goes through ebbs and flows. There are cycles in a democracy.
The fact is that there are large sections of the Hindu electorate who are not voting for the BJP.
In future elections, newer kinds of alignments can easily come up. So will we say then Jinnah was wrong?
I don't think we should get into that territory. What Jinnah said was absolutely wrong.
I think the experience of the secular Indian State shows Muslims in India are safer than Muslims in Pakistan.
Does it mean that the danger of Hindu majoritarian communalism in India does not exist? Yes, it does exist.
Does it mean that Muslims must have more space in India's democratic structure? Yes, they must have more space in the Indian democratic structure.
Indian pluralism is deep and the Indian State will remain secular.
What will happen to the BJP post-Modi?
After (Atal Bihar) Vajpayee, there was a fear about what will happen to the BJP, but then there was (Lal Kishenchand) Advani.
After Advani, there was a churning and through that churn, Modi emerged.
There is a school of thought that there is a lot of centralisation in the BJP.
There is indeed a lot of authority vested in Modi and Amit Shah who are in control.
But I think there is also a generation of leaders who are being created post-Modi.
There is Amit Shah who is 52 years old. There is Yogi Adityanath who is in his mid-40s.
You have Devendra Fadnavis, the chief minister of Maharashtra, who is again a young chief minister.
You have younger leaders who are becoming Cabinet ministers.
You have Piyush Goyal, Nirmala Sitharaman, Dharmendra Pradhan and Smriti Irani.
I am not saying that they are going to be top leaders, but there is a second generation of leaders who are in their 40s and 50s and emerging.
It is through a process of intense competition and intense fighting based on who are electorally more successful and have the backing of the RSS (Rashtriya Swayamsevak Sangh) that we will see the contours of the new BJP emerge.
This will eventually decide who will become the leader in the party after Modi.
There could be reverses, but it is not that after Modi the BJP will collapse.