'The uneducated think of their rights as a gift. This is deeply troubling.'
'If they were educated they could claim what is rightfully theirs.'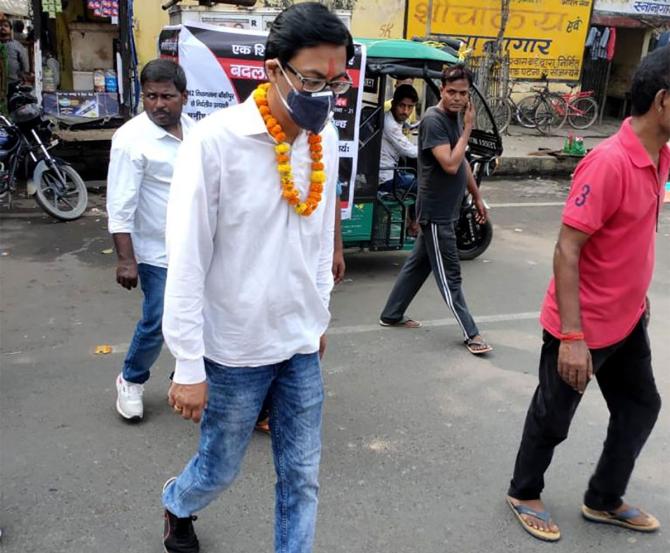 Manish Barriarr, MBA, an Oxford alumnus and teacher tells Rediff.com's Archana Masih he is facing the heat on the ground because he dislikes drawing room politics.
A teacher who spent the last year pursuing a programme at Oxford, Manish Barriarr's election symbol is the mike.
His party is called Voxx -- Latin for voice.
"People don't understand my degree. I get respect and they sit and talk to me only because I am a teacher," says Barriarr, 44, an MBA who provides coaching in finance and mathematics to management aspirants in Patna.
He also visits management and technical institutes in other parts of the country to give lectures.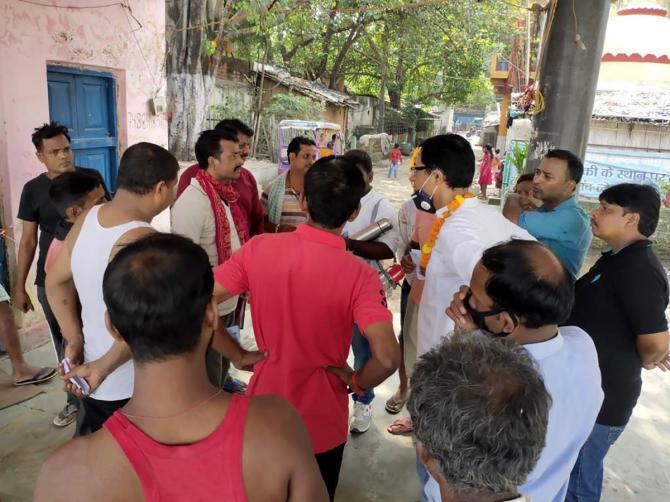 Last year, he fulfilled his dream of going to Oxford for the Organisation Leadership programme at the Said Business School.
Some of his students had gone to prestigious universities abroad while he had to bottle up his own desire for years because there was never enough money during his student days.
His opportunity came 15, 16 years later.
At Said, he was the only Indian among 47 others from 28 countries.
Yet, Barriarr wears his accomplishment rather lightly.
"Only journalists who cover my campaign are enamoured by the Oxford label. Education does not mean only going to college and collecting degrees, grassroot work is also education."
"Those who work at the ward or panchayat level understand policies at the ground level and should not be dismissed just because they are rustic."
"Our democracy needs a mix of both -- grassroot functionaries along with educated representatives who have a vision."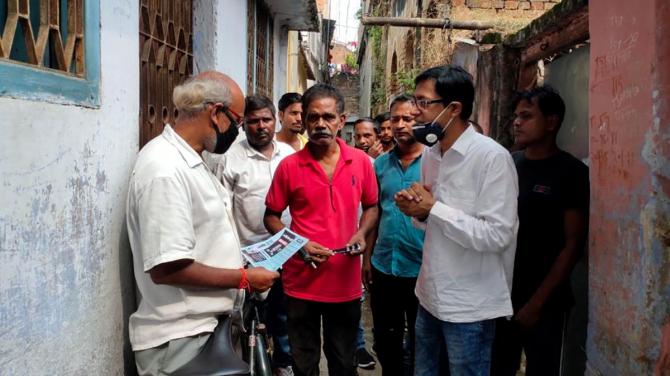 Barriarr is contesting the Bankipur seat as an independent.
His campaign supporters include friends, students, relatives and locality acquaintances.
The constituency has been represented by the Bharatiya Janata Party since 1995.
Some of the other candidates in the fray include the three-time BJP MLA Nitin Nabin whose father represented the seat before him, Congress debutant Luv Sinha, son of actor-politician Shatrughan Sinha, and Pushpam Priya Choudhury, another debutant who graduated from the London School of Economics and is the daughter of Janata Dal-United leader Vinod Chaudhury who is contesting from the Plurals party she founded.
"I belong to a lower middle class family with the typical Indian story of building a life by studying hard and getting a job," says Barriarr, the son of a high court lawyer who got an MBA from the Indian Institute of Foreign Trade and worked in the ministry of finance for a couple of years before returning to teach in Patna.
His wife left a career in Delhi and is a visiting faculty at the National Institute of Fashion Technology.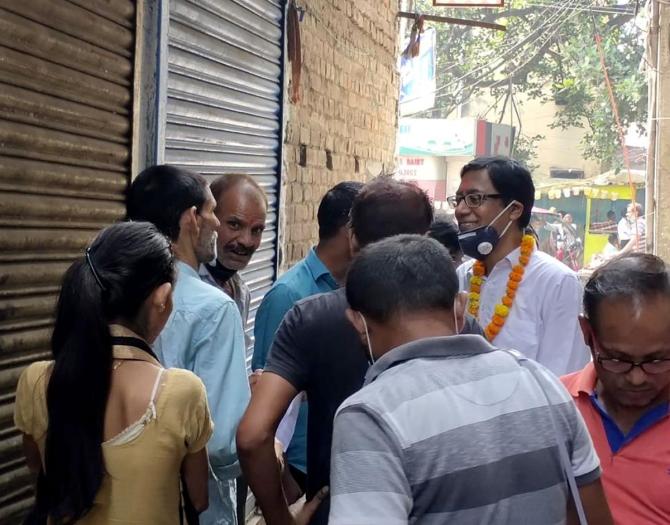 Every morning he starts the campaign after finishing online coaching for his students.
He mostly goes on foot, accompanied by a couple of friends or students.
"My kind of people are not voting for me, I am very well aware of that," he says with a conviction that he has perhaps gained in the dust and grime of the campaign trail.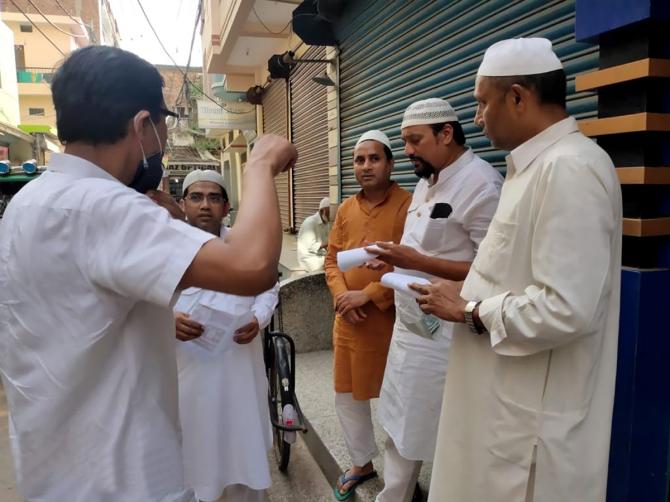 "The 35 to 40 age group does not relate to me because they are very clear about their choices formulated by their access to the media. It is very difficult to mould them; while you can actually touch the lower middle class and poor on a human level," he says.
He feels the educated, middle class "his kind of people" are probably going to vote for the BJP.
"They are so scared of the RJD returning to power while the BJP has been able to stir that emotion. They are being exploited in the name of the RJD by the BJP. People may be livid with the candidate, but don't have a choice -- and I wanted to give that choice."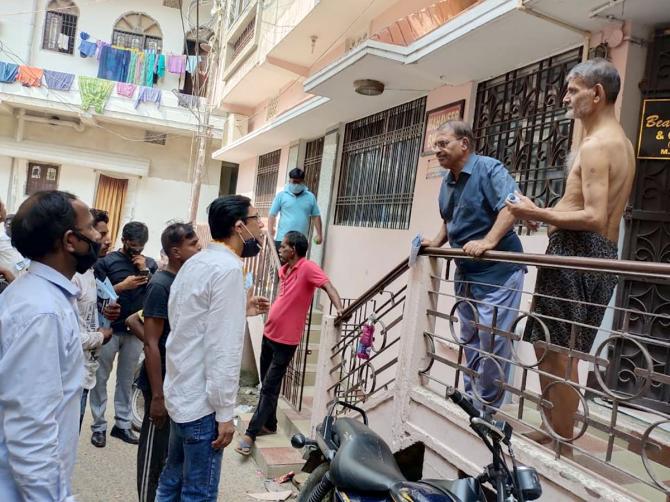 In spite of the Bankipur constituency being in the heart of the capital Patna, he says more than 65% are below the poverty line, 45% women and 35% men are illiterate and the higher income group is just 4% to 5%.
"There is so much hunger and poverty. People complain about not having ration cards and BPL cards. Most government schemes don't reach them and no state functionary ever comes to visit. It is shocking that these are the problems even after 70 years."
"The uneducated think of their rights as a gift. This is deeply troubling. If they were educated they could claim what is rightfully theirs."
"Win or lose, I am working on education," says Barriar who wants to build his party in the next few years and hopes to contest all 243 seats next time.
He has raised Rs 80,000 through donations and says this is the only money he is spending.
His politics is an amalgam of socialism with a healthy dose of investment and industry.
"There is not one Patna, just like there is no one India. You have to take all the people along and speak of modernity, industry and also have roots in our culture and be nationalist."
Talking about the 10 lakh jobs promised by the RJD and 19 lakh jobs by the BJP, he says looking at the country's fiscal situation there is no way these parties can deliver on these announcements.
"You don't have that kind of money. These are just announcements and nothing more," he says.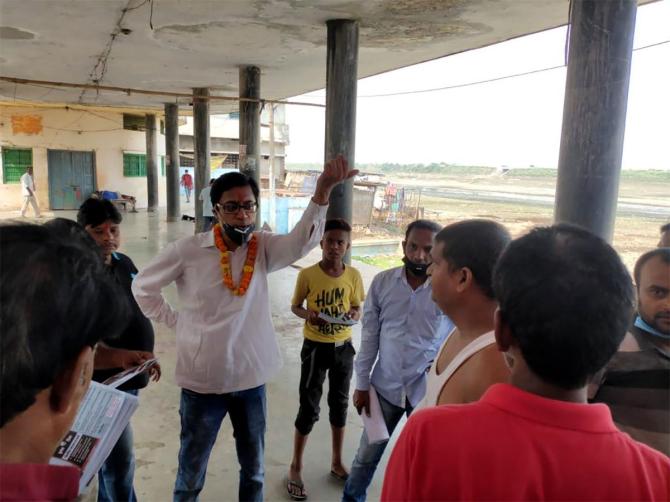 An admirer of Bhagat Singh, Swami Vivekanand, Gandhiji, Nehru, Lal Bahadur Shastri, A P J Abdul Kalam and Barack Obama, he feels that people who believe in inclusiveness and representing all classes in society need to enter politics.
"To fight the BJP, the Opposition should represent people of all religions and classes like the AAP, BJD and TMC. Arvind Kejriwal has political intelligence, you can't say whether he is leftist or rightist -- it is just the position that the Congress should have taken."
"What example does the Congress set by giving a ticket to Luv Sinha who came to Patna a few days back just like his father used to and does not live here?" Barriarr asks about one of his opponents.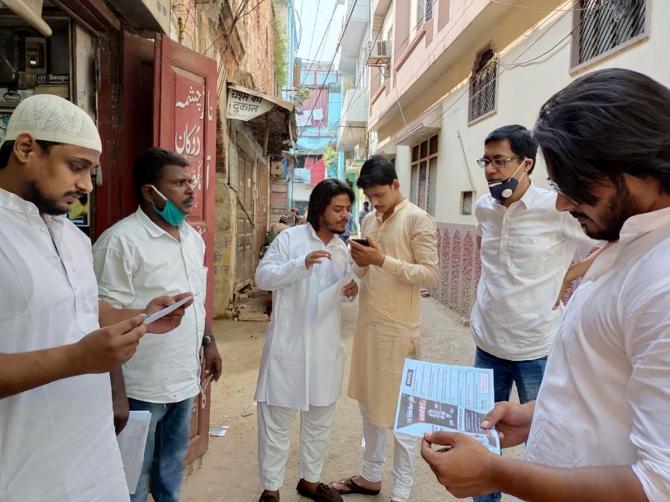 Barriarr says he is in for the long haul and realises that it could take him 5-10 years to get a foothold in politics.
About his home state, which is seeing a high pitched campaign under the shadow of COVID-19, Barriarr says Tejashwi Yadav is young, but unfortunately does not have a clean image or education.
"I don't see him as the future of Bihar. We need a new set of political leaders," he says.
"I could be one -- if not, at least I would have tried."
Feature Presentation: Ashish Narsale/Rediff.com