'Releasing dam water for a holy bath is the most unholiest thing to do.'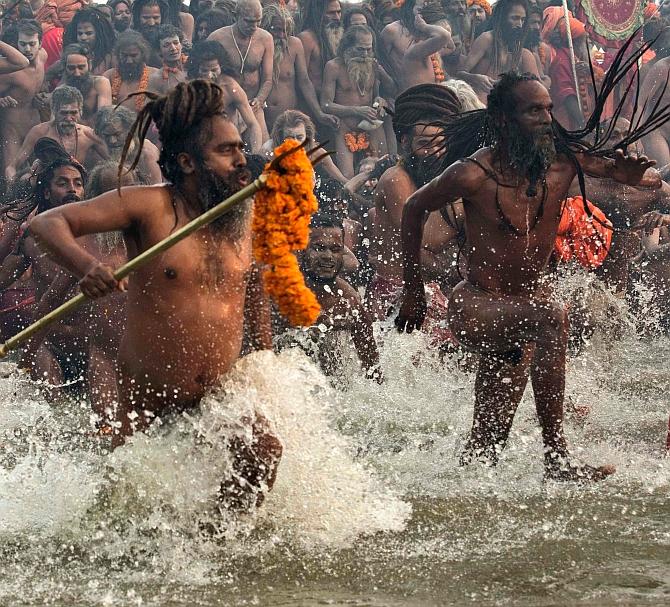 Is releasing dam water for the Shahi Snan at the Kumbh Mela in Nashik illegal, considering that Maharashtra confronts an acute shortage of drinking water due to an indifferent monsoon?
While not many would have given this a serious thought, Hiralal Desarda, a visiting professor at the Gokhale Institute of Politics and Law in Pune, filed a public interest litigation against releasing dam water at the Kumbh Mela.
Professor Desarda has questioned the release of millions of cubic feet water by the Maharashtra government from the Gangapur dam on the Godavari river for Shahi Snans at the Kumbh Mela in Nashik.
The professor spoke to Syed Firdaus Ashraf/Rediff.com on why he approached the judiciary in this matter.
Why did you file this public interest litigation?
There is an acute shortage of water in Maharashtra due to lack of rains. There is scarcity of water in the Godavari river.
I feel that releasing water for a holy bath is the most unholiest thing to do. No religion will support this move.
They (the Maharashtra government) have already released water twice and they will do so the next couple of times as well (two more Snans are scheduled on September 18 and September 25).
The court has observed that what the petitioner is saying is a reasonable thing given the widespread paucity of drinking water. This (released) water will suffice for 2 million people for an entire year.
How much water is consumed in the Kumbh Mela?
About half a million people turn up for the Kumbh Mela. They have officially released 1,000 million cubic feet water for every Shahi Snan. And each time they release more water than that and there is no accountability.
So I said it is time to say, enough is enough, and there should be no more releasing of water.
'Water is required for the well being of the people. No religion propagates polluting or squandering resources'
Millions of people feel the Kumbh Mela comes once in 12 years. So why should you file this case?
There is no point is squandering water. You see many people come here and pass urine and excreta in the water. People downstream use this water for drinking; this will cause epidemics.
This is a total disservice to religion.
India has been following the Kumbh Mela tradition for thousands of years now.
The water situation in Maharashtra is grim. The water (available) first has to be used for drinking and taking care of basic needs of human beings and cattle.
How grave is the water situation in Nashik today?
Nashik dams are nearly half the level of their capacity (this year). And in areas adjoining Nashik, say Nagar or places like Marathwada, there is no water to fill the tankers as well.
This water is critical for the needs of the people in the coming months.
What has been the district administration's response?
I went to the district administration, but they did not listen to me. Therefore, I went to the Bombay high court and filed the case.
Is the water shortage in Maharashtra your sole reason for objecting to the release of dam water for the Kumbh Mela?
Yes.
But what about people's faith and their beliefs? Why approach the judiciary to interfere in such matters?
The judiciary has to (intervene). After all, water is required for the well being of the people and no religion propagates polluting or squandering resources.
Respect for resources is the tenet of all religions.
Are you an atheist?
Whether I am an atheist or agnostic is a separate question. Survival of necessity should be the spirit of every religion.
What has the Maharashtra government said?
We have asked the government to submit an affidavit before September 21. The court will then take a view -- one that ensures that in future there would be no deviation of priorities as outlined in the national and state-level water policies.
It is in violation of all the laws, including those on pollution and protection of health. It is not asking for something which is going to demean religion, but in fact enhance respect for it.
The Kumbh Mela ends on September 25 and your petition comes up on September 21.
The withdrawal of the monsoon and insufficient storage of water makes this an emergency (situation).
A petition had already been filed in the Aurangabad court against this. It was rejected for jurisdictional reasons. Therefore, I brought this case to the Bombay high court. The high court agreed because I have been doing a lot of work on water conservation.
Image published only for representational purposes.