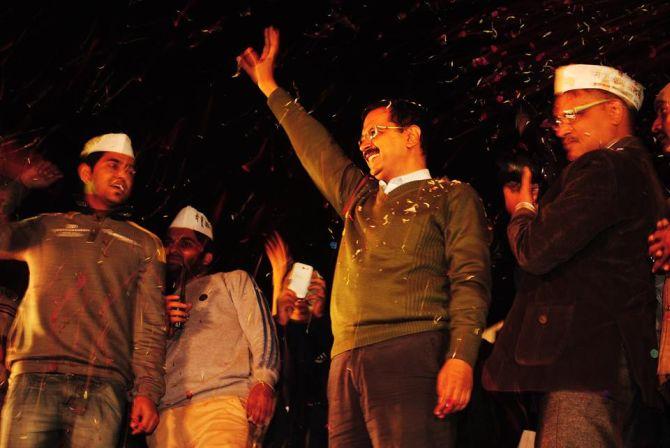 'Amit Shah and Narendra Modi have made their biggest mistake.'
'They have been very successful in the last two years, but this batting pair has made the biggest political mistake of their life so far, which is calling Kejriwal a chor. It will backfire on them.'
Arvind Kejriwal, maverick leader and genius mass communicator, has attracted many talents in his two-year-old Aam Aadmi Party. He has behind him lots of techies, thinkers and journalists like Ashish Khetan, Ashutosh and Naginder Sharma.
Khetan has done many investigative stories in his 14-year career out of three major cities -- Delhi, Mumbai and Lucknow. In the past, he has exposed corruption and crony capitalism. He has done exclusive investigations into Snoopgate, the Gujarat riots and the 2G scam. These days he is in television studios, defending the AAP and Kejriwal.
He fought the Lok Sabha election from the New Delhi constituency, but lost to the Bharatiya Janata Party's Meenakshi Lekhi. As the election campaign for the New Delhi assembly election enters its final phase, Khetan glows with the prospect of an AAP victory.
Khetan, left, below, discussed how AAP rebuilt itself with Sheela Bhatt/Rediff.com
Ashish, what is the ground situation like?
Since the BJP (Bharatiya Janata Party) government took over the reins of government in May 2014, its policies and actions have been, in most instances, diametrically opposite of what it had promised before the Lok Sabha election.
They had promised they would bring India back on the path of economic development.
They would crack down on corruption and they would usher in a new wave of reforms which would lead to greater employment, higher rate of industrialisation, and also probity and integrity in public life.
After taking over, either they did U-turns on most promises or were too lax on implementation of some pre-poll promises.
Let us talk about corruption. They have started sounding exactly like the UPA (United Progressive Alliance) government.
Arun Jaitley is speaking in the voice of P Chidambaram. They used the same line in the Supreme Court on the black money issue that Chidambaram used to peddle -- which is that they had treaties with foreign countries and they won't be able to disclose the information and that it would hamper the investigation and so on.
The Congress has started speaking like the BJP used to speak when it was in the Opposition -- that there is no such treaty that prohibits the government from disclosing the names of Swiss bank account holders.
Then, fringe elements in the BJP somehow took centre stage. To begin with, key appointments in Narendra Modi's Cabinet went to rookies. What people saw in important positions were his cronies.
They were not the ones who had risen in politics due to merit, but those who were always backroom boys. They weren't mass leaders, yet they got key Cabinet positions.
Then the BJP's hidden agenda took centre stage. In the HRD (Human Resources Development) ministry, for instance, there were a series of blunders and controversies.
Why is the governing of India impacting the Delhi election?
The central government has its maximum impact in Delhi. What was the big plus about Modi? Before the election, Modi never spelt out a definite road map on how he would make India a hub for services and manufacturing.
It was the hope that he generated and the hope was generated on a story that Modi had built around him that, 'Look, I've governed Gujarat for 12 years and in Gujarat I turned the economy around. Gujarat became one of the most prosperous industrialised, developed states of the country and it is because of my economic policies, my style of governance -- which is I am directly accessible to people, there is no corruption, industrialists don't have to pay bribes to get a licences or to get their work cleared from government departments, and that the government is very pro-active.'
He always talked about out of the box solutions. He always talked about high-tech technologies. So he built a story around him as a reformer.
As a modern day politician, one who had risen in politics on pure merit, who was an ordinary man -- a chaiwallah. But things changed as soon as he came to power.
How did you work to bring this surprise Kejriwal wave?
I think, just like Arun Shourie said, there was a couplet of Akbar Ilahabadi: 'Bartan bajne ki aawaaz bahut der se aa rahi hai lekin khaana nahi aa raha (The vessels are making a sound for long, but the food has not arrived).'
In the last eight months, in Modi's case, all that the people of Delhi got was sloganeering. People like sloganeering, people like chest thumping before the polls or during the polls.
Modi presented himself as an outlier. That I am the challenger to the dynastic politics of the Congress party. I am the challenger to the Nehru-Gandhi parivar.
And as much as people voted for Modi, they voted for the myth of Modi. They voted for the legend of Modi.
That Modi would come and he has a magic wand and he really knows how to turn the economy around.
After the election all we saw was empty sloganeering.
On the other hand, they made a series of tactical mistakes vis a vis AAP. They wrote the obituary of AAP and believed that AAP was an experiment in Indian politics that had failed after the Lok Sabha debacle.
So they thought there is no need to go in for fresh elections in Delhi. Because who knows what would happen?
They had just won a massive victory. Nobody had imagined within their wildest dreams, even within the BJP, that they would get 282 seats on their own. I think the BJP got complacent and arrogant.
They didn't want to fight another election in Delhi now. The cadres had won the victory they had to win, the RSS (Rashtriya Swayamsevak Sangh) had delivered the nation to them and they said let's form the government.
AAP is a finished story and it will split. So they started engineering defections in AAP. So many of our MLAs were in touch with them. It became a daily story for us. It became a daily fight for survival for AAP.
Every day we would keep a vigil. Mr A from AAP was in touch with (BJP President) Amit Shah or somebody in the office of Amit Shah. We would conduct stings because we are a guerrilla organisation (laughs).
So we would keep vigil on our people. We had suspicions about certain people that some of them were in touch and some of them were approached.
All those who became MLAs knew that if they defect from this party, the volunteers won't let you live in the city.
So they (the BJP) tried their best to split our party, but they failed.
And I think this was the first time in the history of Indian politics that a party which had won such an overwhelming victory in the Lok Sabha election couldn't split a small party like AAP.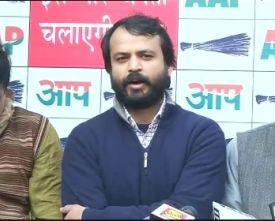 So you are saying the BJP made many strategic errors.
It was the strategic error that they tried to split AAP and we fought back. We fought really hard and caught one of their vice-presidents, Sher Singh Dagar, on spy camera offering our MLA Rs 20 crore (Rs 200 million) and we made that public.
So the series of steps we took, the people of Delhi saw that these guys are fighters. That they are fighting back and the BJP was looking bad because one, they were not going for elections and on the other hand, they were using these dirty tricks to form the government through the backdoor. And we caught them red handed.
We put them on the back foot. We filed a petition in the Supreme Court to hold elections as soon as possible. In that petition also they were dithering. They were not ready for elections.
So the local BJP unit was engineering defections, then they tried to split the Congress party also.
I think for the first time, AAP not only kept its party members and MLAs together, they also ensured that the Congress couldn't get split.
When we came to know that certain Congress MLAs are defecting, we ensured they didn't switch over by mounting public pressure.
We would expose them in advance, that Mr A and Mr B of the Congress are going to join the BJP. It was a series of pre-emptive decisions that we took.
And I must say that, all our MLAs stood by the party in its most difficult times. And it was one of our MLAs who stung the BJP functionary offering money.
We conducted more small sting operations. They were not very conclusive but put together, they would really expose the BJP. We put out one piece of evidence that, 'Look, this is how they are, this is the kind of dirty politics they are resorting to.'
It was on the order of the Supreme Court they had to call for elections. And in the meantime, we used this four months space to build our organisation from the grassroots level.
So we put the whole structure of the party together -- from booth level to polling centre to ward to assembly to parliamentary constituency.
People saw that this party made an innocent blunder by resigning in 49 days, but they are good people and people still remembered those 49 days.
The deprived sections of Delhi was still with us because they remembered those 49 days. They started comparing those days with Modi's first 50 days/100 days etc. And they said that during those 49 days 'policewallah paise nahi mangta tha, Ration ke dukan pe jaate the toh koi ghoos nahi milta tha (Policemen would not ask for money. There was no corruption at ration shops).' Hospitals started keeping stock of medicines.
So those 49 days, they said 'Bahut accha chal raha tha (Things were going well).' And the disempowered section started rooting for us that 'Ab AAP ko wapas laana hai (we have to bring back AAP).'
Modi has been made the prime minister, let's wait and watch what he does, but we'll elect Kejriwal as the chief minister.
The biggest mistake that the BJP made was that they gave us so much time to revive our cadres, to re-enthuse them, to build our party organisation structure.
We started doing small sabhass and for everything, Kejriwal was always hands on. He is a 24x7 politician. He is always meeting with the cadres, he is always involved in party activities at the very micro level.
Why did you lose so badly in May 2014?
We lost badly because we had resigned in 49 days and people were really upset with us.
A substantial section who had voted for us in the assembly election moved over to the BJP. But it was the idea of AAP they were endorsing. They didn't see AAP as an alternative at the national level.
They voted for AAP because they wanted to re-affirm and validate and re-enforce the idea of AAP.
When they voted for the BJP, it was a transactional vote for Modi. They bought the promise that Modi will usher in acche din. But when they voted for AAP in the Lok Sabha, it was an ideological vote because they endorsed the idea of AAP.
AAP had nothing to offer in the Lok Sabha elections. It was not a serious contender. Still, our vote share went up by 4 per cent. We jumped from 29 per cent to 34 per cent. We were number two in all seven constituencies.
Had we been in government, we could have won at least 2, 3 seats.
Which was the turning point to create an atmosphere in your favour?
When Modi became a distant remote idea and he started batting away from the public consciousness. On the other hand, we were constantly batting in the public consciousness.
While Modi increasingly became distant and remote, we increasingly became proximate, intimate among the people -- always with them.
The biggest strength of AAP is its large army of volunteers.
As of today, we have roughly around 30,000 active volunteers in Delhi which is a huge volunteer base.
What is the issue of the election of 2015?
The issue of this election is that Delhi needs a chief minister who works for Delhi 24x7, who is here to fix the micro problems of Delhi.
You can say Kiran Bedi can also work 24x7.
Kiran Bedi was with Arvind during the Anna Hazare movement and then she moved away. For three years she was, maybe, on a lecture tour.
Kejriwal was standing by the underprivileged class of the city which is fighting on the issues of electricity, water, corruption, price rise. He sat on two dharnas, 15 days each.
He carried out such a massive civil disobedience movement on the electricity issue when Sheila Dikshit was in power.
Then he built the party from scratch. That party gave a tough fight and he became the chief minister.
He delivered during those 49 days. He showed that if the government is honest, the whole government machinery can be cleansed of corruption.
Extortion, corruption, bribery was stopped. Electricity companies's loot was stopped. An audit was ordered. The tanker mafia and inflation were reined in.
And then Kejriwal fought another election. He became a mass leader.
While Bedi was in the Anna Hazare movement, there were so many people, from Ramdev to Sri Sri Ravishankar.
Bedi had an image of being a tough cop. Arvind in the meantime grew into a mass leader.
How does AAP function?
AAP is a bunch of fighters who have all come together, who have been fighting in their individual ways. Somebody was a PIL (Public Interest Litigation) warrior, somebody was an activist, an RTI (Right To Information) warrior, journalist and so on.
So it is a whole army of warriors who have had a sterling track record in their individual fields. They had all contributed to public life in their own individual ways. They have all come together.
It is this collective strength of all the fighters, that never say die attitude, that is the biggest strength of AAP.
We don't get scared of an Amit Shah. We won't get scared of Chidambaram, Jaitley because there is nothing against us.
Prashant Bhushan is very low-key. Shanti Bhushan, a co-founder, is against AAP now.
This co-founder is a moniker that the media loves to use. When AAP was founded, there were roughly 1,000 people who came together. Shanti Bhushan was one among those 1,000 people.
We have a rule that no two people from the same family would have top executive functioning roles in the party, so only Prashant Bhushan was a member of the political affairs committee.
Shanti Bhushan was just a member of the party. Prashant Bhushan never campaigned in the Lok Sabha because he is so busy with his court cases. He is campaigning now. He held two sabhas recently.
Prashant Bhushan and Shanti Bhushan are two separate entities. Both have their own minds.
Give us some evidence of the Kejriwal wave.
The evidence of the Kejriwal wave today is that he represents the broadest social coalition in Delhi -- from the upper middle class to the middle class to the lower class, from majority to minority, everybody is with him.
You would find the support base of Kejriwal in all classes, all sections, all regions of Delhi, which is not the case with the BJP. We are not talking about the Congress because it is not in the race.
Kejriwal has struck a chord with every section. Every section of this city has a reason to vote for him.
People know he can deliver a corruption-free government. He will cut to half electricity bills and stop the loot. He will crack down on the water tanker mafia.
He is a discerning man and doesn't want concentration of power in just one hand.
How much has the controversial Rs 2 crore donation cheques affected AAP?
Not at all. My reading is that it will give us an additional advantage and edge now.
This is a witch-hunt. It was okay for Modi and the BJP when they were in the Opposition to level allegations against Rahul Gandhi and Sonia Gandhi.
Now you are in power! You are not an outlier anymore. You are the most powerful man in the country and you are saying that a rookie party has got Rs 2 crore through money laundering.
What is stopping you from carrying out an investigation? Why are you behaving like an Opposition party?
Opposition parties level allegations. Parties in power act.
Two days before the elections, a transaction which is eight months old, you are raking it up as a Rs 2 crore scam.
You don't want to give accounts of Rs 20,000 crore, but you want to go after this Rs 2 crore?
And what is the allegation that you haven't done enough due diligence? Due diligence is that you have taken money through cheques, you have put it voluntarily up on your Web site, but the allegation is that maybe this company is shady.
We have said 'Why don't you go and investigate the company?'
They tried every trick in the book and now they are resorting to this mudslinging, witch hunts, vendetta politics which is going after a party which is clearly an underdog.
Everybody knows that whatever you may say about AAP or Kejriwal, they are not corrupt. They are honest people.
They may have made tactical mistakes. They shouldn't have resigned. They may be inexperienced, but nobody believes that we are dishonest.
Even hardcore RSS cadres would not say that Kejriwal is dishonest.
The partnership of Amit Shah and Narendra Modi has made their biggest mistake.
They have been very successful for their party in the last two years, but this partnership, this batting pair, has made the biggest political mistake of their life so far, which is calling Kejriwal a chor. It will backfire on them.
What is failing on their side?
They are getting desperate now. They are in power. They have won state after state. They have swept the Lok Sabha elections. They have the might of the State with them. They have big money backing them.
And now a defeat is staring at their face coming from a two-year-old party. That is what has made them frustrated and desperate.
The entire BJP is in disarray today. The left hand doesn't know what the right hand is doing. The left hand is not coordinating with the right hand.
Party cadres are not happy with Kiran Bedi.
Do you think the introduction of Kiran Bedi was a strategic error?
It is a series of tactical mistakes. Every move including delaying elections, trying to engineer defections, trying to buy out our MLAs, then going into the election without a CM face and without an agenda, then at the last moment bringing in Kiran Bedi, then Kiran Bedi going around and talking too much, exposing Kiran Bedi to public scrutiny, then putting a gag order on Kiran Bedi, then bringing in Narendra Modi etc.
So it is like they are in complete disarray.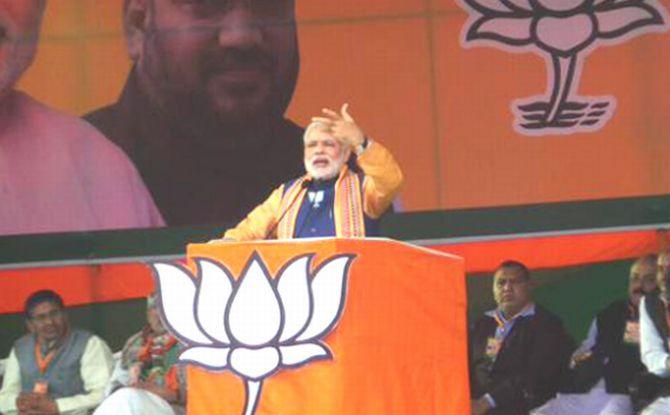 Don't you think Narendra Modi does not still face anti-incumbency? He has not made any political mistake in the last eight months. He may have been lacking action on the ground, but...
People don't see the idea of Kejriwal necessarily in conflict with the idea of Modi. People believe that the two can co-exist.
A large section who wants to vote for us doesn't see a clash between these two ideas because nobody has stopped Modi from doing whatever he wants to do for Delhi because Delhi is not a full fledged state. So let him do what he wants.
Tell me, how do you understand Kejriwal? Who is Arvind Kejriwal?
I think he is a genius. He is a genius in understanding issues, coming with out of the box solutions, making policy decisions.
He understands governance, policy making, politics. And he is a very good communicator. He communicates in such a direct and easy way without forcing his words. He is so much at ease in politics.
He can be with people and he will not get rattled. You can ask him 100 questions. He is very comfortable dealing with people.
That is where you see how Kiran Bedi is at odds at dealing with people. She can't handle her own volunteers.
What is your worry today?
The dirty tricks department is working overtime so we don't know what new thing they will spring up on us tomorrow.
We are confident that the people will decide. Right now we are in the mode of governance. We are talking about people's issues -- electricity, water, corruption, inflation, education, health and women's security. That is the discourse we want to have.
All that they are doing right now is throwing mud at us. We are not going to resort to this mudslinging at all. Let them do what they want to do.
How did it happen that Kejriwal became a challenger to Modi?
People saw that this is the party which can solve the micro issues of Delhi. It can fix the small problems of Delhi. They have chosen Modi to layout foreign policy, Make in India etc.
How many seats are you expecting?
Our internal assessment says at least 45 seats. I won't be surprised if we cross 50.
If the BJP wins...
That is not going to happen.
Images: Top and bottom: Arvind Kejriwal and Narendra Modi campaign in New Delhi.