'She has just one objective. To win the next election. Nothing else matters.'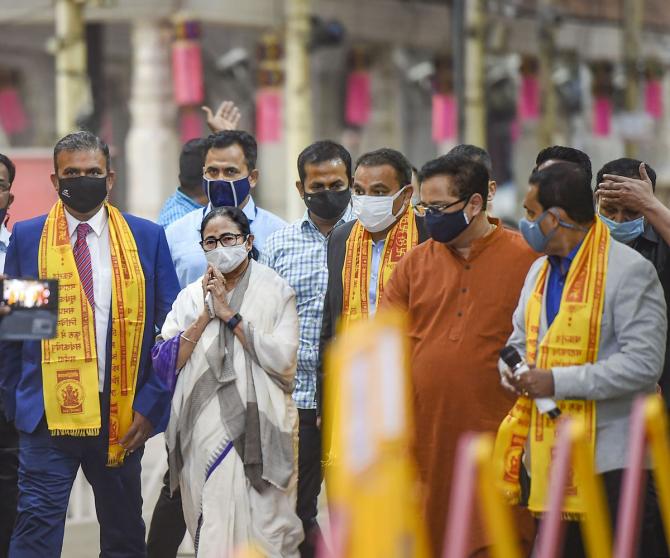 Tathagata Roy has been president of the Bharatiya Janata Party's West Bengal unit from 2002 to 2006 and a member of the BJP national executive from 2002 to 2015. He was then appointed governor of Tripura.
While Roy considers himself a very loyal party worker, he is disenchanted with the BJP in West Bengal.
In an interview with Rediff.com Senior Contributor Payal Singh Mohanka he shares his angst.
The concluding segment of a two-part interview:
Some of your critics feel there are times you have embarrassed the party.
It is true what I have said will embarrass the party. But it cannot do any more harm than they have already done to themselves.
You have also alleged that some BJP leaders get swayed by women and wealth.
That is true.
And nobody in the party has taken cognisance of this and acted on this?
If they have, I haven't got any notice of it.
You haven't named anyone specifically?
No I haven't.
You would continue to play the role of the party's conscience keeper.
Yes. Of course the party doesn't listen to me so it makes no difference. But I'll play that role anyway.
The BJP's national vice-president Dillip Ghosh said you are free to leave the party if you are 'upset and ashamed over its style of functioning'. How would you react?
I don't give a damn. Certainly not about what Dilip Ghosh says.
The Trinamool Congress under its leader Mamata Banerjee is gaining huge ground.
Mamata Banerjee has just one objective. To win the next election. Nothing else matters. There are elections all the time.
Right now there are municipal elections, then there willbe panchayat elections, after that there will be Lok Sabha elections, after that assembly elections again in 2026.
She plans to win these elections and there is no other objective. Nothing else matters.
And development?
If by not developing she can win the elections, she will throw development to the winds.
And if development is necessary, she is incapable of doing it, so she will try to find a way of getting around it.
After all, one of the ways she came into a lot of prominence is by driving out an auto factory, arguably the most major player in India.
That is something unparalleled. Anyone who had an iota of conscience and care for the state would not have done so.
But she has done it and got the results of it.
Do you see her as the principal opposition to the BJP as she seems to be staking claim to that position?
Nobody trusts her. She might get a few more Lok Sabha seats, mostly from West Bengal. But that is all.
There is a theory doing the rounds that Mamata Banerje has had a deal with Mr Modi to keep the Congress out. Post the elections the BJP was to take up cases against her, but there is complete silence now.
I have no evidence of that. I wouldn't venture such an opinion.
You think she can push aside the Congress and become the chief opposition.
That is also doubtful. After all, the Congress is Congress. It has been there since 1885. Now it is horribly run.
The Congress, after all, with all its faults is an all India party.
Now if an all India party shoots itself in the foot and it gets replaced by a clutch of regional parties that does not augur well for the integrity of the country.
You have seen what happened when V P Singh was elected, when Chandrashekhar was elected, when (H D) Deve gowda was elected, when (Inder Kumar) Gujral was elected.
It is short-term. And these were times of anarchy.
Mamata seems to be on an overdrive. How do you explain what happened in Meghalaya?
See north-eastern politics is a different thing altogether.
Barring Assam and Tripura, the rest of the north-eastern states are tribal states.
In these states often it happens a huge multitude has migrated from one party to another and they are pretty much a law unto themselves.
Even if she gets a large number of candidates and votes there and forms a government or a viable opposition, the Trinamool is just going to be a label, they are not going to listen to her.
She will not be able to run the party the way she runs it in West Bengal.
I have seen it in Arunachal Pradesh, right in front of my eyes it has happened.
The candidate had won on a Congress-led coalition ticket, he switched over to the BJP.
I had additional charge of Arunachal Pradesh when I was the governor of Tripura.
You don't see Mamata Banerjee emerging as a very powerful opposition leader?
No. Just as well, as she does not have the capacity to do it. She will ruin the country.
Feature Presentation: Aslam Hunani/Rediff.com