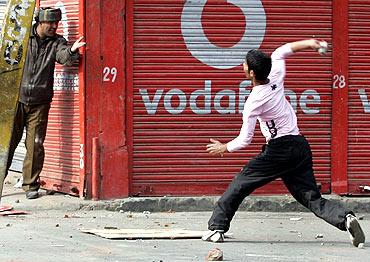 'Elected representatives have won elections in the past on the basis of money power received from the central government.'
'This fact has been highlighted by former army chief V K Singh who boasted of crores of rupees being distributed to Kashmiri politicians in order to buy their loyalty and win votes. All the Kashmiri politicians have been co-opted by the Indian State,' separatist Hurriyat leader Syed Ali Shah Geelani tells Rashme Sehgal.
Eighty-four year old Kashmiri separatist leader Syed Ali Shah Geelani looks frail and tired as he settles down for this late evening interview. He has been suffering from renal cancer for some years, but his voice is loud and clear once he starts talking about Kashmir's 'disputed' status.
The founder of the Tehreek-e-Hurriyat, Geelani, right, below, skirts the issue about who will take over the reins of the party given his poor health. Rather, his focus is entirely on how "India is using its military might to crush the basic rights of the Kashmiri people."
Speaking to Rashme Sehgal, he says be it a new prime minister or old -- Kashmir is not an integral part of India.
Why did you insist on meeting Pakistan High Commissioner Abdul Basit given that the Indian government had given a very clear signal to all Hurriyat leaders that it did not want such a meeting to take place?
The Pakistan high commissioner had invited us. We were under a moral obligation to meet him. We have been meeting Pakistan high commissioners in the past.
We have met them on the occasion of Iftar, on Pakistan's independence day celebrations and whenever ministerial and secretary level meetings were held between India and Pakistan.
These meetings have taken place during the Congress regime and when (Atal Bihari) Vajpayeesaheb) was prime minister. We were never stopped then. I cannot understand why they have raised objections now.
Did you expect such a reaction from the present government?
It was completely unexpected. There was no justification for the cancellation of dialogue between the two secretaries. This is not the first or the last time we will be invited by the high commissioner.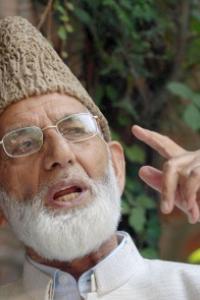 Prime Minister Nawaz Sharif did not meet the Hurriyat during his recent visit.
What difference does it make if on one occasion he did not choose to meet us?
There are people within the new government who are justifying the cancellation of secretary-level talks pointing out that India has been treating the Hurriyat with kid gloves. Would Baluchis in Pakistan be allowed access to the Indian high commissioner is a question these people have asked?
Let me make it clear that J&K is a disputed territory. It has never been a part of India and will never be a part of India. There are any number of UN resolutions on the Kashmir problem. It is not an internal issue, but an international dispute and this fact has been accepted by the UN Security Council also.
This is something the new government in India has to understand. I believe this dispute should be resolved in a democratic manner. But India's occupation in Kashmir cannot be allowed to go on indefinitely. Six lakh (600,000) people have given their lives in this dispute.
How have you arrived at the figure of six lakhs?
Five lakh Kashmiris died during Partition. A large number of them were killed in Jammu district. There are eyewitness accounts that will vouch for this figure. The remaining one lakh have died during Indian occupation.
There are 600 mazars of martyrs in the valley that are a living testimony to people and women being collectively raped and killed. Come to the valley and see this reality.
You also seem to forget that J&K comprises of people with different ethnic and religious identities, whether it be the Ladakhi Buddhist population or the Kashmiri Pandits or the people belonging to the Jammu valley?
The entire population in J&K are presently living under fear. There is a combined presence of eight lakh (800,000) armed personnel in J&K and the state has another one lakh (100,000) strong police force. There is also a sizeable number of officials belonging to the state administration.
With such a huge armed contingent, what insaf (justice) can the common man hope for?
The public at large is under pressure from this overwhelming state machinery. If India were to remove these armed personnel, I can assure you that no Muslim would want to be a part of India.
If the Indian government is so confident about the public feelings being in their favour, why are they afraid to hold a referendum in the state?
What is your locus standi on raising this issue? The Hurriyat is not an elected body. In fact, it has never fought elections in the state?
There have been no free and fair elections in this state. Elected representatives have won elections in the past on the basis of money power received from none other than the central government.
This fact has been highlighted by former army chief V K Singh who boasted of crores of rupees being distributed to Kashmiri politicians in order to buy their loyalty and win votes.
All the Kashmiri politicians have been co-opted by the Indian State.
I'm not accusing any one individual. This is something he (retired General V K Singh) has said on record. I myself have fought three elections in the state and know the significance of money power.
Are you saying you too received money from the government to fight elections?
I have never sought votes in favour of the Indian government. My politics from the start has always been anti-India and I have always been in the Opposition. I have challenged India repeatedly for its illegal occupation of our territory.
You have often called for a stable Pakistan even as it appears that Pakistan is moving towards anarchy?
I have not only expressed the need for a stable Pakistan, but I have repeatedly called for a stable India. I harbour no enmity towards India or the Indian people.
Nevertheless I must emphasise that the Indian State is suffering from an arrogance of power. This has been happening from the time of Jawaharlal Nehru right up to the present (Narendra) Modi government.
They have forgotten the hard realities. They are also forgetting the sacrifices being made by the people of J&K. Whether it be a new prime minister or an old prime minister -- Kashmir is not an integral part of India.
The entire Muslim world is facing the spectre of destruction, whether it be Iraq or Syria. What kind of government would you like to see installed in these countries?
Presently, 57 countries are under Muslim rule, but none of these nations have put in place a truly Islamic State. They are experimenting with all kinds of governance models, whether it be Socialism, Communism or Democracy.
These ideologies have no place in an Islamic system. An Islamic State must accept the oneness of God with a strong emphasis on justice. I have complete faith in the Quran which places great emphasis on respect for all human beings.
The basic Islamic principles are that we cannot discriminate on the basis of colour, people or country.
How would you describe the Taliban in Afghanistan? They are also propagating an Islamic State?
The Taliban came to power in Afghanistan to fight the US occupation as also the earlier Russian occupation. About the Pakistani Taliban, I must emphasise that there is no justification for their violent actions.
Would you describe yourself as being a proponent of an Islamic State?
I am a staunch Muslim. I have complete faith in the Quran and the life of Prophet Muhammad must be a guiding force for us at the global level.
You have been opposed to the Amarnath yatra?
I am not opposed to the Amarnath Yatra. I am opposed to the cultural aggression that has been unleashed on the Kashmiris.
Earlier, the Amarnath yatra was handled by our Kashmiri Pandit brothers. They managed the shrine board and the yatra remained a 15-day affair.
Presently, it has become a state within a State with the governor heading the Amarnath shrine board where eight of the ten members do not belong to J&K.
Like the Gangotri yatra, the Amarnath yatra should be confined to 15 days and not be extended to two months as is the case at present. Over five lakh (500,000) people have taken part in this yatra this year with large tracts of land being given to them in Pahalgam and Sonmarg. The result is that we are witnessing a complete degradation of the ecology and environment of that area.
The Amarnath yatra should be under the guidance of the Kashmiri Pandits and not rank outsiders.
You are speaking in favour of the Kashmiri Pandits and yet they were forced out of the state?
That was entirely the doing of (former governor) Jagmohan.
The people in the sub-continent believe that J&K is an integral part of India. You maintain just the opposite.
Our cause is based on justice. We will continue to fight till the very end. India will have to accept this reality one day. I can give you this assurance.
Image: A Kashmiri protester hurls a stone at a policeman during a protest in Srinagar in 2011. Photograph: Danish Ismail/Reuters