'And because she was very close to Indira Gandhi, she was close to me.'
'Sonia is a wonderful person.'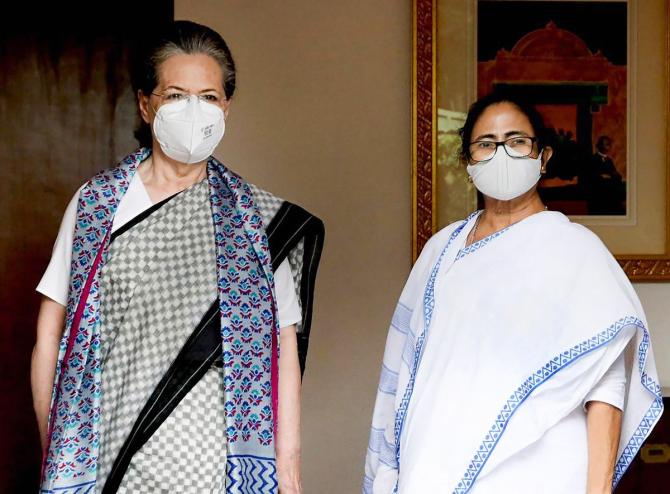 Swraj Paul is 90. He was born in Jalandhar, read at Lahore's Forman Christian College, then at the Massachusetts Institute of Technology before returning to join the family business in Calcutta (now Kolkata).
His infant daughter Ambika's illness brought him to London for her treatment.
After she died, he and his wife Aruna settled in Britain to establish the Caparo Group.
In 1996, he was created a life peer. Six years ago, his steel business failed in the UK; and his younger son Angad, chief executive of the company, died by suicide.
But the enterprise remains buoyant in the United States and India.
Paul himself oversees the firm's interests in the US, his oldest sons, twins Akash and Ambar, supervise the units in India and hotels and hospitality in the UK, respectively.
His other daughter, Anjali, looks after trading and warehousing in Dubai.
The setting is the mirrored drawing room of his central London apartment.
Tea, namkeen and pancakes are on offer.
Paul, wearing a white kurta-pyjama and a red sleeveless cardigan, walks in with the help of a stick; but looks healthy and sounds agile.
In a conversation with Ashis Ray, he says: "I have just received news that one of our companies in the US posted record profits for the first six months of the year. The Angad Arts Hotel (named after his son) in St Louis (Missouri) is doing very well. We have invested $200 million in joint venture property development in the same city. And we have set up a plant to make heavy-duty, 150-tonne trailers."
"We are the second largest manufacturers of trailers in the US. Our biggest business today is in America; next is India, where we are mostly suppliers to the motorcar industry."
You are now 90 and still very active. How much time do you devote to Caparo matters?
All my time. This is my love; this is my life. I enjoy it.
What is important is to keep myself happy; and I am only happy in business.
I am a broken person. I have lost three brothers, two sisters, two children and one nephew. I lost my mother when I was seven, I lost my father when I was 13.
I had two wonderful elder brothers who looked after me, gave me the best of education.
My eldest brother insisted I go to MIT. I wanted to go to MIT.
When I was at FC College, Lahore, the wife of the hostel warden was the sister of the president of MIT.
I was a good student. She asked me, 'Swraj, what are you planning to do after you finish? Why don't you go into engineering? You must go to MIT.'
She helped me fill up the application and I got admission. In 1947 Partition happened, so I had to complete my BSc in Jalandhar.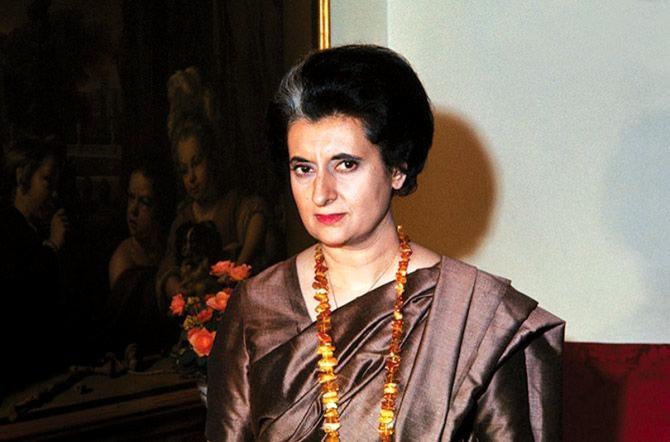 So how, when and why did you start your business in the UK? When you settled in London, your family's main business had moved to Calcutta, isn't it?
After MIT I went straight back to Calcutta in 1953.
I know you came to London for your daughter Ambika's medical treatment and she unfortunately died...
She died in 1968. Then I thought, if I have to live here, let me start some work.
So I built my first plant, a very small mill in Huntingdon (in the county of Cambridgeshire about 77 miles north of London).
After I was able to make some money and pay back my loan, which was £5,000, I came across Michael Foot (later deputy prime minister in the Labour party government) and I owe a great debt to him and his wife.
That is when I joined the Labour party. I decided I will build a big factory near his constituency (in Wales).
We had saved about £250,000. I got some loan from the British government, and some from the European Union.
We started building in 1975 and opened the plant in 1977.
Prince Charles opened the plant.
When Mrs (Indira) Gandhi was out of power (in 1978), she opened a new mill next to the first.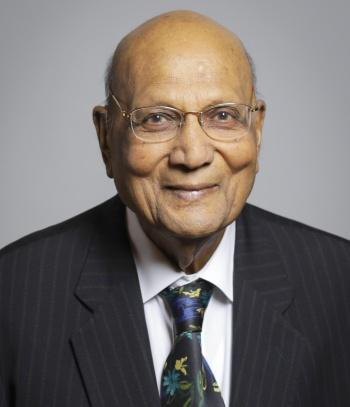 IMAGE: Lord Swraj Paul, Chairman, Caparo.
Photograph: Kind courtesy Wikimedia Commons
How did your closeness, your relationship, with Indira Gandhi develop?
When (US President Richard) Nixon criticised her for Bangladesh, I wrote a lot of letters to leaders and members of parliament in Europe, telling them that you are absolutely wrong.
Mrs Gandhi has no intention of staying there, Bangladesh is a country of its own, it should have its own freedom.
She came to know about this. That is how the relationship developed.
When she declared an Emergency, she hated it.
The people who really advised her were (then Congress president) Dev Kanta Barooah and (then West Bengal chief minister) Siddhartha Shankar Ray.
They said, 'Indira, if you don't declare the Emergency, they will eat you up. You will be looked upon as the weakest prime minister of this country.'
I was at her house. All of a sudden Bansi Lal (then Union home minister) comes. He says, 'Indiraji, bilkool aapka authority hai.'
In this country there was a lot of criticism. I met a lot of journalists to blunt it.
Indira Gandhi tragically passed away. The closeness you had with her didn't happen with Rajiv and Sonia. Is that right?
No, my relationship with Sonia is excellent.
Even today?
Even today. I don't see her, I don't go to India that much, but she is a fantastic person.
She was very close to Mrs Gandhi. And because of Sanjay's closeness with Mrs Gandhi, he was close to me. Sonia is a wonderful person.
Feature Presentation: Rajesh Alva/Rediff.com