'It is not something that is going to unfold in the next few weeks or even the next few months.'
'This process will continue for some time. And that's how it should be.'
'If the politicians are coming on board, then that is a welcome step.'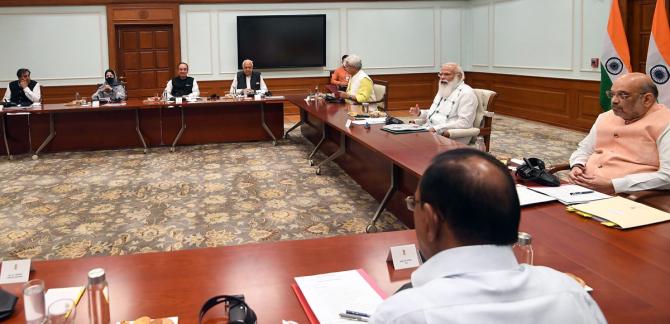 In the second part of an interview with Prasanna D Zore/Rediff.com, Sushant Sareen, Senior Fellow at the Observer Research Foundation and the well-known security expert, discusses the road ahead for Kashmir after the prime minister's June 24, 2021 meeting with Jammu and Kashmiri political leaders.
How do you view the discussions held between Prime Minister Modi and political leaders from Kashmir?
It's difficult to predict what will happen in Jammu and Kashmir. Nevertheless, it's a very good step which has been taken; political engagement is the way forward, and apart from one or two people in that particular meeting, by and large the political leadership in Jammu and Kashmir seems to have accepted the new reality.
You can't simply expect them to forget (abrogation of Article 370 and Article 35A) and they will probably keep making noises of that. But the majority of them seem to have understood that there are new realities at play.
Politicians abhor a vacuum and if they stay out of the political process, new players will enter and politicians definitely don't like to cede their space to anybody else.
This is a good way to re-engage them and bring them on to the same page. It's a nice, soft start to the political process; it is not something that is going to unfold in the next few weeks or even the next few months.
This process will continue for some time. And that's how it should be. If the politicians are coming on board, then that is a welcome step.
Where exactly it leads is anybody's guess.
But purely from the point of view of kick-starting the political process, of re-engaging with the political stakeholders, the discussion (between Modi and Kashmir's political leaders) was a good start.
Former J&K chief minister Mehbooba Mufti has demanded restoration of Article 370 and Article 35A before she joins the electoral fray. Is that possible?
I don't think it's possible. But I think she has gone from soft separatism to being a full separatist; she seems to be identifying more with Pakistan nowadays than anybody else. I understand that because, one, she is addressing her constituency which mostly comprises of the Jamaat-e-Islami, and such other groups.
Secondly, she thinks that by constantly siding with Pakistan she is buying some goodwill and insurance from the Pakistanis. But patience with her kind of politics is going to be running very thin as far as the rest of India is concerned.
She has also said that the government should talk to Pakistan to restore peace in the Kashmir Valley.
That's only Mehbooba Mufti; the other leaders are not saying it.
The Abdullahs (former chief ministers Dr Farooq Abdullah and his son Omar Abdullah; leaders of the National Conference), for example, took a very nuanced and a very political position, which is perfectly fine.
I say nuanced because they did not say that we accept all that has happened in Jammu and Kashmir, but they showed the pragmatism of saying that we didn't like what has happened but let's try and move forward, which is what any pragmatic politician would say. That is something everybody can live with.
Similar was the case with most of the other political leaders from the Union territory like Sajjad Lone, Muzaffar Beg or others who participated. The meeting went off extremely positive. The trick now will be in sustaining this positivity.
What confidence-building measures should the Modi government undertake to get the Kashmiri people participate in elections and restore statehood to Jammu and Kashmir?
I don't think any more confidence-building measures are necessary right now. They (the Union government) just need to be fair with everybody, make sure that the delimitation process is not a gerrymandering process; it is done on purely objective criteria, which is basically population and geography. They should ensure that it's transparent.
The (Modi) government really does not need to go out of its way to build confidence. If the government is just seen to be fair and to be dealing with the people in a transparent manner, then that will be as much of a confidence-building measure as anything else.
Secondly, both the prime minister and home minister and the government have made it clear on ample occasions that they are completely open to the idea of restoring statehood.
But from what has appeared after the meeting, it seems that it will be delimitation (first) followed by elections followed by statehood. That seems to be the roadmap.
There are some demands to reverse the roadmap: Restore statehood (first), then go in for delimitation and then hold elections.
Some kind of middle ground needs to be found out here, but even if the government's roadmap is adhered to I don't think there will be any major objections to it.
Both sides are being very pragmatic and trying to move forward.
The government, apart from how it handles the delimitation process and how it deals with everybody, must not be seen to be taking any (political) sides or trying to indulge in any unseemly political engineering in the state.
The independence of the political process needs to be respected. That does not mean that the Government of India has a completely hands-off approach. But it also does not mean that it interferes in the political process to tilt the balance in favour of one or the other (political party).