'Our biggest advantage is that the troops are much better trained and motivated than the Chinese and can improvise and manage with a part of the resources.'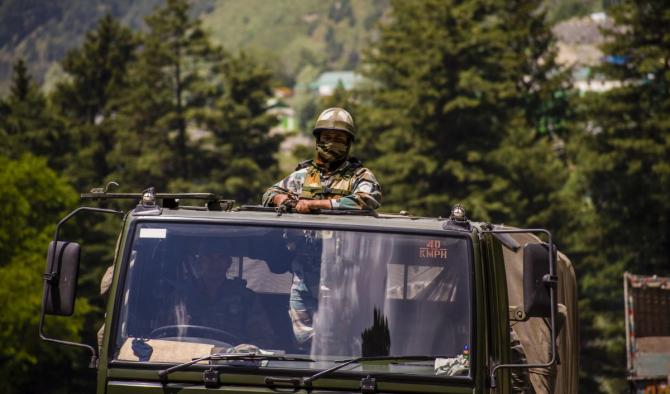 "During meetings, they come with a prepared script and refuse to accept any change," says Major General M Vinaya Chandran (retd) who has negotiated the border issue with his Chinese counterparts as a commander at the Line of Actual Control.
General Chandran served the Indian Army for 36 years and retired as the senior instructor at the prestigious National Defence College in New Delhi which provides future decision-makers the necessary skills and background for filling senior positions in national security and associated fields.
The scholar-soldier is pursuing a PhD after his retirement from the army last year. In an interview with Rediff.com's Archana Masih, General Chandran says in the current situation, both India and China will continue to hold whatever positions they are holding and over a period of time it will become the new normal.
Five levels of military level talks over 4 months have not been successful in breaking the deadlock with the PLA and withdrawal of Chinese troops.
What do you see as the biggest challenge for the Indian Army at the LAC at this moment and in the months ahead?
The Chinese intransigence came as a surprise, but we reacted fast and it resulted in a stalemate.
We have to further develop our infrastructure and deploy additional troops to cater for a permanent threat from China.
This would have been a part of our long-term plan, but now we have to fast track and do it in this season.
Our biggest challenge is that we have to divert funds from other important areas, putting our long-term economic development plans in jeopardy.
If resources are made available, the army has no problems in dealing with the PLA.
Since talks between the military commanders of both countries have borne no fruit, do you feel diplomatic talks and economic pressure on China can achieve what the military couldn't -- get the Chinese to vacate Indian territory?
Military and diplomatic efforts have always been going on simultaneously.
The military efforts focused on situation on the ground and diplomatic efforts were held at the government level.
It is taking a long time to resolve the issue because China is playing for time.
They initiated the issue to divert attention from their internal problems, especially Xi Jinping's waning popularity.
A solution to our issue is possible only after Xi regains confidence.
The Chinese economy is too big for India to put any pressure. Even the USA could not. They have lot of spare cash and don't have to justify its use to the nation.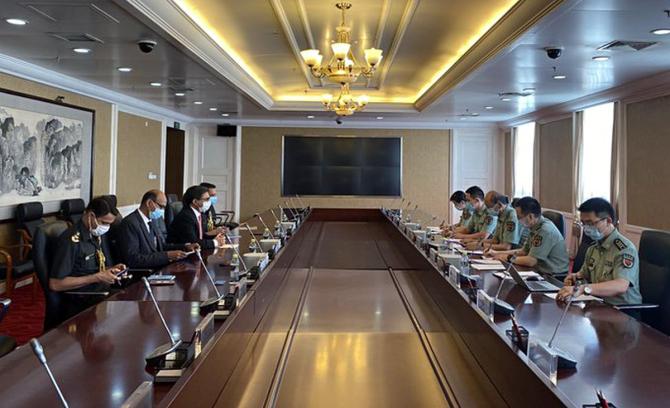 The Indian Army has had to deploy larger number of troops at the LAC and is believed to be ready for the long haul.
What logistical challenges does this pose in the deployment of men, weapons and maintenance at such high altitudes for a sustained period of time?
The development of infrastructure on our side is very challenging as from the plains, we need to cross the Great Himalayan, Zanskar and Ladakh mountain ranges to reach the LAC.
Air effort depends on weather and altitude and can cater for only a small portion of the logistical requirements. Fortunately, we have time till November when winter sets in and movement will be reduced considerably.
This time is adequate for us to reach the required level of preparedness.
Weather, terrain and altitude necessitate specially ruggedised weapons and equipment. With increased deployment, we need more of those. The challenge is again the money to get it.
Our biggest advantage is that the troops are much better trained and motivated than the Chinese and can improvise and manage with a part of the resources.
Does India's infrastructure on its side of the LAC match up to the Chinese to facilitate the movement of man, material and ammunition?
Tibet is a plateau and hence infrastructure development is easier once they enter Tibet. Over a long period of time, China has developed the economy and infrastructure of Tibet and they have adequate resources to develop their forward areas.
India cannot match up as our terrain is mountainous and infrastructure development so far has been slow.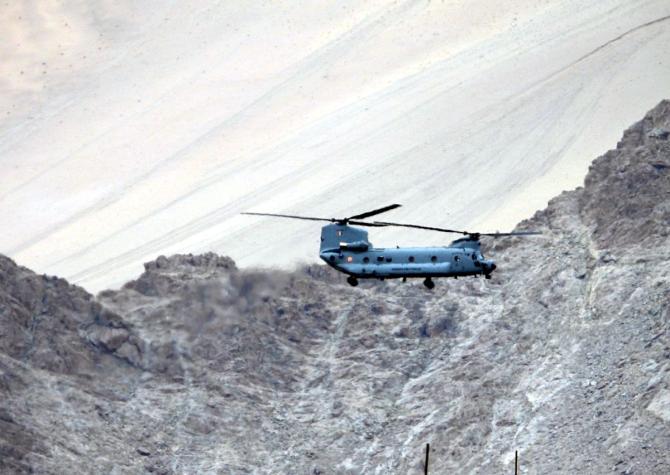 Some military observers believe that the Chinese are here to stay. Do you feel the same? What will it take for the Chinese to vacate?
For anyone to vacate territory, there is a need to prove ownership, which is not possible along an un-delineated LAC.
The term line of 'Actual Control' explains it. Both sides are asking each other to vacate territory.
Chinese troops are occupying some areas, which we feel is ours and we are occupying some areas, which they feel is theirs.
Unless we can prove documented ownership, we cannot make them vacate and vice versa. Both countries are now sticking to their own perceptions and maps.
A solution to the problem is possible only if a bilaterally agreed boundary is first delineated on a map.
Use of force will lead to a stalemate as both sides are strong enough to defend territories.
With the Chinese showing no signs of withdrawing, how has the nature of the LAC changed? What are the big challenges/difficulties of facing hostile neighbours on both fronts?
Till a decade ago, troops were deployed away from the LAC and they used to occasionally patrol up to it. Now, they are deployed close to the LAC and very close at places.
In such situations, chances of a skirmish is quite high, as it can be seen on the Line of Control with Pakistan. Hence, the nature of the LAC will no more be peaceful.
To face challenges on two fronts will require considerably more resources. Our troops are well trained and motivated, but we need additional resources.
Deficiencies in resources should be made up through diplomatic efforts to preclude threats from more than one front at a time.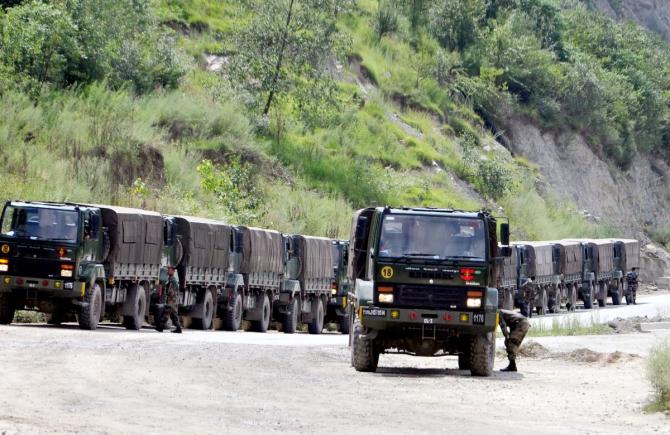 What are some of the challenges that Indian commanders face when dealing or negotiating with the Chinese? Were these talks expected to fail considering the Chinese intransigence over the past months?
It's very difficult to negotiate with the Chinese. During meetings, they come with a prepared script and refuse to accept any change.
Instead of a negotiation, it becomes two sides reading out their scripts. They agree to many things during informal interactions, but during formal meetings, they are not allowed to change the script approved by the (Communist) party.
We also don't give in during negotiations because we feel what we are doing is right.
They use force to get whatever they want and will acquiesce only where they find strong resistance. Examples are Wangdung 1986/1987, Doklam, PP 14 in Galwan etc.
In the current situation, both sides will continue to hold whatever they are holding and over a period of time it will become the new normal.
Since the boundary remains unresolved, what are the dangers of China of transgressing further into some other areas?
Both sides will continue to improve their postures by moving into places where they don't find any resistance and the other side will contest that. Over a period of time it will settle into a new LAC.
In our case, we feel that entire Aksai Chin belongs to us and hence a fixed LAC based on Chinese perception is not to our benefit.
When we move forward, it is not transgression as we are moving into our own territory. Also we cannot publicly declare that, leading to media debates giving a feeling that China has captured Indian territory and we have not done anything.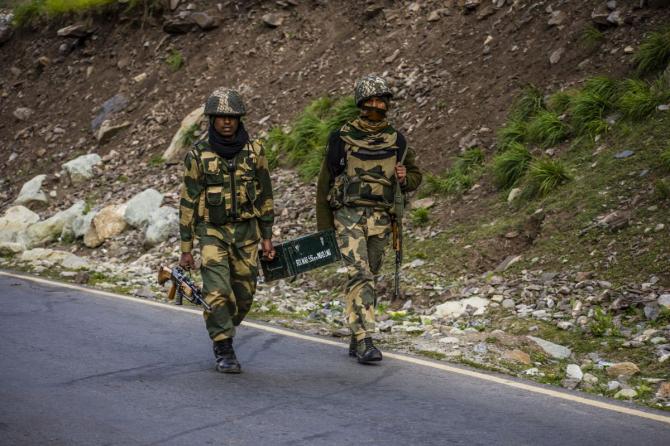 Will the boundary dispute ever be settled?
India cannot consider the dispute to be settled unless we get the entire Aksai Chin back and China will consider it settled when they get almost entire Arunachal Pradesh.
It has become an emotional and nationalistic issue for both.
A settlement is possible only if both sides are ready to give and take, which does not appear possible in the near future. I don't see it happening till India and China are friends and equally strong and have mutual respect.
Is this going to be the new normal? Will India have to reconcile to these changed Chinese positions on the LAC and accept that the pre-April status quo ante is not possible?
It has already become a new normal. 'Status quo ante' is possible only if there was mutual agreement on what that status was!
Not only India, but China too has to accept the new normal.
Feature Presentation: Aslam Hunani/Rediff.com