Somnath Chatterjee -- legendary parliamentarian and arguably the finest Lok Sabha Speaker in recent years -- passed into the ages on Monday, August 13, 2018.
In these two interviews published on Rediff.com five years apart -- Somnathbabu looked back at our politics, our times.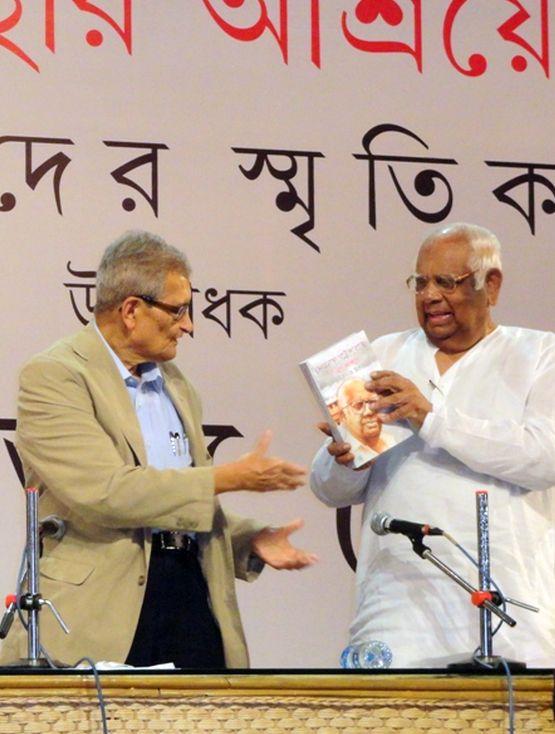 In this interview with Business Standard's Aditi Phadnis and D K Singh -- published on Rediff.com on January 22, 2007 -- Somnathbabu, then the Lok Sabha Speaker, discussed his trials and tribulations.
Midway through your tenure as the Lok Sabha Speaker, how challenging are you finding your job?
The job is extremely important. Parliament is the institution through which you bring changes; it is not just laws, you discuss people's issues.
Unless this institution is free from imperfections in its composition and direction, what will be the future of the country?
Imperfections...
How far is our credibility with the people!
In general perception, undesirable people -- those getting into jails, facing criminal or corruption charges -- are entering it (Parliament), and we waste people's money.
Nobody says you are doing good work. Although people have faith in the institution, they are not happy with its functioning.
The picture given to the people through the media is also not very laudatory. It is only one side of the picture.
Tell us something about your experience as Speaker.
I felt once or twice, enough is enough. Let me get out of it.
Really... when was it?
When I was charged with partisanship (in a controversial letter written to him by former prime minister Atal Bihari Vajpayee in August 2006), I felt why I should be here; I am happy facing the Chair than sitting on it.
But then my friends came and said, 'The House has elected you unanimously.'
Who was the most persuasive? Did Prime Minister Manmohan Singh intervene?
Yes, he rang me up. But I don't want to say anything on this.
Did Vajpayee speak to you later?
He came here (to the residence) to meet me. But I am not going to say anything against any party.
Coming to your concern about the general perception about parliamentarians, how do you propose to change it?
Image correction is important.
Out of 545 members, 500 plus people have nothing against them. We should keep that in mind.
I have tremendous faith in the system.
There has been a lot of debate on whether a chargesheeted person should be allowed to contest elections. What is your opinion?
As a lawyer, I do not agree.
After all, full opportunity has to be given for trial. Given the impression about undesirable elements, political parties have to be careful.
It would be better if a parliamentarian should be somebody against whom nobody should be able to point a finger. At the same time, there are some motivated complaints also.
There is a general perception about Parliamentary Standing Committees being ineffective because the government of the day can and does ignore their recommendations. Would you like their recommendations to be binding on the government?
No, not binding. But I would like the government to give good reasons for not accepting them.
I have asked ministers to submit half-yearly reports on their action on the findings and suggestions of the standing committees. But, sometimes, it may be difficult for the government to accept them.
Parliamentarians may have one point of view, while the government may think differently.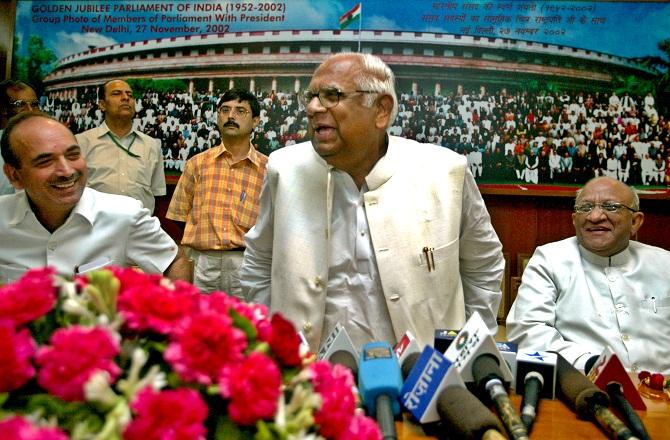 Powers of Parliament vis-a-vis those of the judiciary have been a matter of debate, of late. What are your views on it?
I am happy you used vis-a-vis, and not versus. I am very conscious and firm.
Whatever, my rights should not be given up. On the Jharkhand issue (when the Speaker had questioned the Supreme Court's interim order on Shibu Soren's swearing in as chief minister in March 2005), when I had given my opinion, it had just happened.
I had just said don't come into the arena of presiding officers. The Constitution is very clear.
Nobody said I was legally wrong. It is my feeling that the legislature's importance should not be minimised.
If the judiciary does not function, who will function in its place! There are one crore outstanding cases. You can ask why so many cases pile up. They have to find methods of dispensing them.
Parliament has no powers to appoint anybody in judiciary. I am not saying it in a belittling sense. Everybody's power is delineated in the Constitution.
There are sufficient observations on this issue by Jawaharlal Nehru and B R Ambedkar during the Constituent Assembly debates.
You cannot legislate. You cannot supplant representatives of the people.
Who understands people's rights more?
What about the Supreme Court's recent ruling relating to the Ninth Schedule?
What is the basic structure?
What should it be?
Who is most equipped to come to this conclusion?
Who has the pulse of the people?
Judges are on the ivory tower; they are detached from the people.
On many political issues, parties take sides. For instance, on the reservation issue, different parties have different perceptions.
On what basis can a court come to a perception?
What percentage of reservation -- 69 or 50 or 40? Court will decide what is fair!
545 members take a decision; five or nine judges take a different decision. These questions arise.
How do you decide what is good for the people? I have very high respect for the judiciary. These are the issues which may be relevant.
The Supreme Court says since the executive is not functioning, it has to enforce the law. That is not the job of the Supreme Court. They (the courts) cannot take affirmative action.
Please share some of your experiences during your long stint in Parliament.
The most traumatic period was during the Emergency. I spoke against it.
I was in hiding for a few days under direction of my party. My passport was impounded.
We did not get copies of speeches. Nothing was allowed to be published. Nothing circulated.
The entire atmosphere was traumatic.
Do you miss politics?
I am de-politicised now. I have no contact with my party. Yes, I am missing politics.
Elections come and go... I don't take part in it.
---
'We have to find a way out of confrontational politics'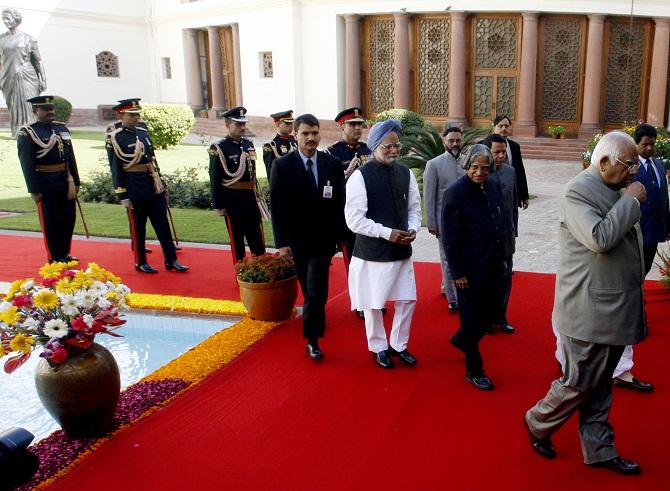 "The British left India long back, but at times, we behave like foreigners in our own country. Whom are we fighting against, anyway?" Somnathbabu asked Rediff.com's Indrani Roy in an exclusive interview published on July 17, 2012.
If Pranab Mukherjee wins the Presidential election, he will be the first Bengali to adorn the post...
There is too much of hype over a Bengali about to adorn the President of India's chair.
The post of the President of India is the highest one. One should not bring in regionalism here.
India has so many states. If each state of the country comes up with its own Presidential candidate, then we have had it.
Also, when we are talking of the Presidential election, it is wrong to be so parochial -- it is detrimental for the country's unity and integrity.
The President is the First Citizen of India. To me, he is the First Servant.
The essence of politics is serving the people.
A President may not have the administrative power, but his advice does go a long way in charting the course of a nation.
However, what is happening in the name of the Presidential election is improper. It has taken the shape of a political tussle. It's unfortunate.
Could you elaborate?
A lot of mud-slinging is happening around this Presidential election.
Someone is saying that a particular Presidential candidate has breached trust by holding an office of profit and people are even going to the extent of accusing the nominee (read Pranab Mukherjee) of forging his signature.
This is bizarre and uncalled for.
Having devoted my entire life to politics of this country, it pains me to witness such 'extremes'.
This is a kind of politics that I never could even imagine.
What kind of image of India are we portraying to the nation? What are we gaining through such demeanour?
Do you feel Pranab Mukherjee is the fittest candidate for the post of President?
I have no right to comment. I am a retired politician (smiles). I won't be voting in the Presidential election. Hence, my comment will be useless.
But I do have tremendous respect for the post and I will respect whoever wins the election.
The CPI-M will support Pranab Mukherjee...
I am no one to comment on this. I have no party. I am an individual. Hence my statement has no significance.
Samajwadi Party leader Mulayam Singh Yadav and Trinamool Congress chief Mamata Banerjee cited your name as one of their preferred Presidential candidates. What was your reaction?
I was surprised. I was out of India then. I was at the home of an Indian friend who was watching television. He informed me that my name was mentioned.
I was taken aback.
Sometime back, a political voice had informed me from Bolpur that my name could be discussed. I had not taken it seriously at all.
Eventually when my name was flashed to the media, I did not pay any attention to it.
People around me got curious and I was flooded with phone calls and e-mails. I never felt anything special about this whole affair.
However, I am thankful to those who considered me as a probable candidate.
Modern politics, as you mentioned, seems rudderless. Who is to blame for this? Are we getting the government we deserve?
I don't think so. By saying 'people get the government they deserve', we take refuge in a lame excuse.
There are a handful of people, the so-called intellectuals, who feel that they know everything. They believe they are a superior race and the rest are corrupt and hopeless.
Indian politics at the moment is going through a critical phase.
What concerns me is that politics is fraught with petty rivalry and a severe lack of unity.
There is no national issue, no unified goal.
We may differ on ideology, but that does not mean we should be at loggerheads.
What exactly do you mean by lack of a unified goal?
As the Lok Sabha Speaker, I had once mentioned that even a single farmer's death should be considered a national shame.
I had appealed to the members of the Parliament to look upon even a single case of farmer's suicide as a national issue.
But sadly, that was never to be.
Whenever such an incident occurred, the ruling party tried to suppress the event whereas the party in the Opposition attempted to highlight it to gain political mileage.
Each political party now is ruled by its own vested interest. It's very sad.
Where can we find a solution?
We have to find a way out of this confrontational politics only through a democratic system.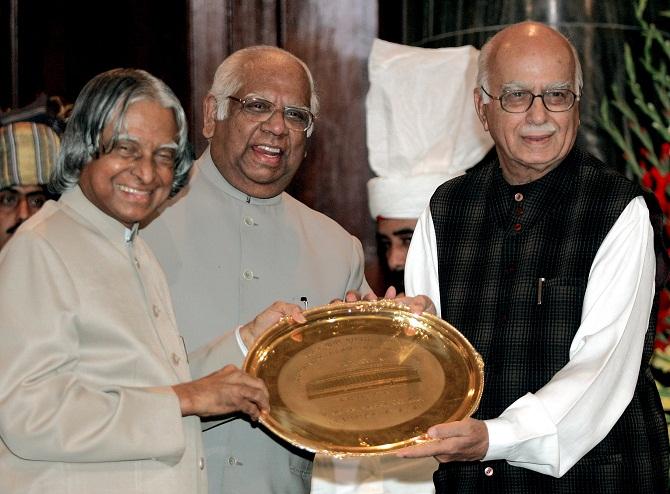 I have tremendous faith in this form of government. I do feel that the solution lies in the hands of the people. Only they are capable of bringing about change.
We must think of those who laid down their lives for India's Independence. We are just enjoying the fruits of their labour.
Isn't it our responsibility now to pay back to our nation?
Can you tell me what significance does the Indian Constitution, so painstakingly constructed, have at present?
On the global map, India is looked down upon as one of the most corrupt countries.
What happened during the Commonwealth Games? I had felt that investigation should happen once the Games got over. But no one listened to me.
Should we always blame the one who takes the bribe?
What about those who pay the bribe?
Why is no action taken against those who are indulging in corruption?
One cannot expect a few people gathering at the Ramlila ground to amend the laws of the land.
Are you referring to the Anna Hazare movement?
I am not taking any names. I am just saying such arbitrary decisions should not be taken. They are detrimental to a country's growth.
Do you think these negative aspects of politics are preventing the youth from joining politics?
Of course! The youth today are repelled by politics.
Unless we see more spontaneous participation from the younger generation, politics can never be purified.
We will never be able to usher in a transparent and clean government if we don't mend our ways.
I am so proud of my country. What is there that India doesn't have? We have all the potential to be one of the greatest countries of the world.
The country is run by the Supreme Court, Central Bureau of Investigation and the media.
We are just being our country's worst critics. We aren't doing anything for its betterment.
Talking of Bengal, do you think the so-called poriborton (change) has been a positive one?
(Smiles) I am not the right person to comment on it. It is the people who brought in this change and they should decide if it is better or worse.
I am appalled by the degradation of peace and security in the state as also by utter lawlessness in the educational sector.
Why are people forgetting that there is no substitute for peace, democracy or the Constitution?
The onus rests on us, the people, right?
Of course! I feel the moral erosion among us has led to all these problems.
What are our children doing? They are living abroad, earning millions, sending about $200 to their old and ailing parents who are spending their lonely last years at old age homes.
Their parents brought them, why can't they take care of them when they need them the most.
Similarly why can't they be more responsible to the nation that they were born in?
Coming back to Bengal's politics, do you think the Left Front has any chance of returning to power in the near future?
I have snapped my ties with politics (Smiles). I have no party. Hence, I can't comment.
Do you think the Left's alienation from the people led to their downfall?
If I say so, people will think I am just taking out my anger on the party.
To be honest, in Indian politics, the Left as a political identity has become irrelevant. Only because we have a few members of Parliament, we still hear about them once in a while.
Once before my expulsion, I had asked my colleagues, 'Why is the rural population losing faith in us? Why are we losing the zilla parishads and panchayats? Are we doing anything to regain their trust?'
If we had brought in land reforms, why is the rural population now so angry with us?
I don't understand politics much. But what about the experts? What are they doing?
Do they have any idea, why did the people of this state want poriborton in the first place? What led them to cry for a change?
How did it feel when you got expelled from the Communist Party of India-Marxist? Were you angry?
I was sad. July 23, 2008 was a day of mourning for me. It felt as if I had lost my parents once again.
My 40-year old party just evicted me like that without any notice -- I was not given any chance to speak.
It hurt, hurt a lot.
I did not go to any other party.
Did you miss Jyotibabu (former Bengal chief minister Jyoti Basu) a lot on that day?
Indeed. I miss Jyotibabu every minute. He taught me to love the people.
His maxim was 'Politics is the best method of service to the nation.' He lived for it.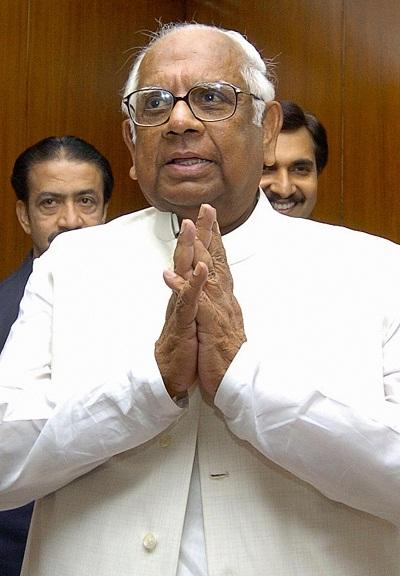 How do you spend your leisure?
Amar gaan acche, baagan acche ar ache boi (I have my music, my garden and my books).
Every morning I wake up to the tunes of Rabindranath Tagore's songs.
Chorono Dhorite Dio Go Amare is my all time favourite Tagore number. I take care of the garden that surrounds my nest in Bolpur.
I am a devout fan of author Bimal Mitra's creations.
My wife and I have founded the Nirmal Chandra Binapani Janakalyan Trust.
The trust runs a free dispensary and offers medical services in Shantiniketan. The trust aids poor Adivasi students. Recently, Adivasi students received free computer training.
The trust also gives scholarships to meritorious, needy, students.
We were involved in setting up the only women's college in Bolpur. We started with 6 women students; now the number stands at 950.
My wife and I spend a lovely time at Santiniketan these days.
I am at peace with myself, generally except for some obvious political rumblings that disturb it every now and then.
I belong to the old generation, hence I cannot take everything in my stride easily.
Some illogical steps by a few politicians cause disruptions.
Why is there so much rivalry in the air? What's the reason for so much infighting?
The British left India long back, but at times, we behave like foreigners in our own country.
Whom are we fighting against, anyway?