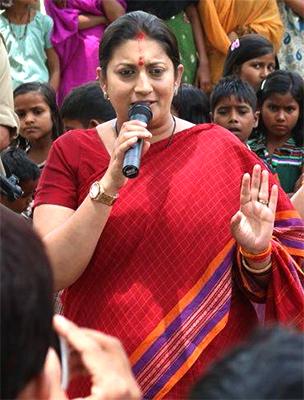 'If former royals with all their decadent pomp and show can make it as chief ministers and more, why can't a former actress?'
'This is a very sexist, narrow minded way of pre-judging a woman. A foolish carry-forward of the old "All models are dumb bimbos" adage.'
'Did Sonia Gandhi's lack of experience hamper her from running India?'
When Madhu Kishwar questioned Smriti Irani's appointment as India's education minister on Twitter -- Smriti Irani merely class 12 pass. Went to bcm fashion model on to tv serial bahu. Is this qualifcation enf 4 India's Education Minister? -- her comments stirred an impassioned debate.
Among those who jumped to the 38-year-old Irani's defence was Shobhaa De, left, below.
In this e-mail interview, De tells Savera R Someshwar/Rediff.com why Irani, left, could make an interesting minister.
Do you believe Madhu Kishwar was right to focus the spotlight on Smriti Irani's lack of a graduation degree?
No, Madhu sounded petty and spiteful. I expected better from Madhu. There have been countless politicians across the world without professional degrees. A degree in India is often not worth the piece of paper it's printed on.
But Smriti should have been more upfront about the discrepancy. Her silence on this issue is more troubling than her eloquence on other matters.
Do you think she is a good choice to head the HRD ministry? Why?
As good a choice as any. I have no problems with her portfolio. Smriti is smart and efficient.
But at no point in time has she indicated any kind of interest in education, so why do you think she was picked for the job?
It's like asking did Praful Patel show special interest in flying planes. Do shipping ministers play with toy boats as kids?
Will her lack of experience hamper her?
Did Sonia Gandhi's lack of experience hamper her from running India?
Would she have benefited from being a minister of state first?
Perhaps. But that's a call only her mentor/patron Narendra Modi could take... and he did. Let's see if his faith in her abilities pays off.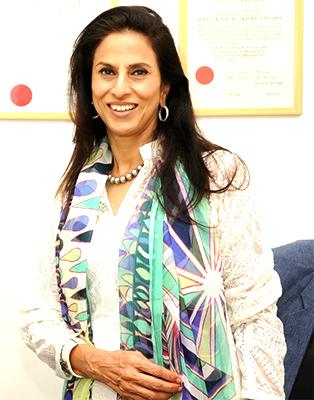 Why is her past as a television actress and a model being raked up as a seeming disqualification?
That was inevitable. I am sure Smriti was prepared for it. But if former royals with all their decadent pomp and show can make it as chief ministers and more, why can't a former actress?
This is a very sexist, narrow minded way of pre-judging a woman. A foolish carry-forward of the old 'All models are dumb bimbos' adage.
What changes would you like to see her bring into the system?
There are many. Education for the girl child should top her list. And the general overhauling of our system... those dreadful text books and the entire approach to education itself, which is so dated.
Do you believe that, as a woman, she will bring any additional benefits to her vision for the ministry?
I hate to bring gender into this argument. I hope she proves her competence minus bias.
How should she tackle the nay-sayers?
She should ignore them and get on with her job.
Finally, what advice would you give her?
I am not Smriti Irani's agony aunt! No advice whatsoever...