But the presidency of India then won't be the same, author and columnist Shobhaa De tells Rediff.com's Savera R Someshwar in a no-holds-barred conversation.
Videos: Rajesh Karkera/Rediff.com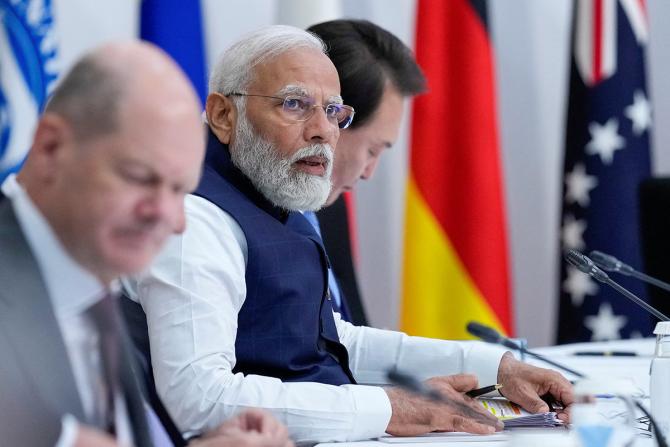 No, Shobhaa De does not want to talk about politics.
Surprised?? We were too.
Known for her no-words-edited, straight-from-the heart opinions that often get her into trouble, both politically and otherwise, it does make you pause for a second when the wielder of one of India's most pungent pens says that's the one topic she won't talk about.
But that, she smiles, is only with reference to Insatiable: My Hunger For Life, her latest book that is, in a way, a landmark birthday present to herself -- her 25th that has released in the year she turned a glorious 75.
It is a rather unexpected book from the De stable -- it's deeply personal, peels off the veils that otherwise form Brand Shobhaa De and has pages that almost feel wet with tears.
It reveals a woman who dared to -- with an invisible self-created shield that allowed her shrug off the criticisms that sought to bind her spirit and her pen -- create something new.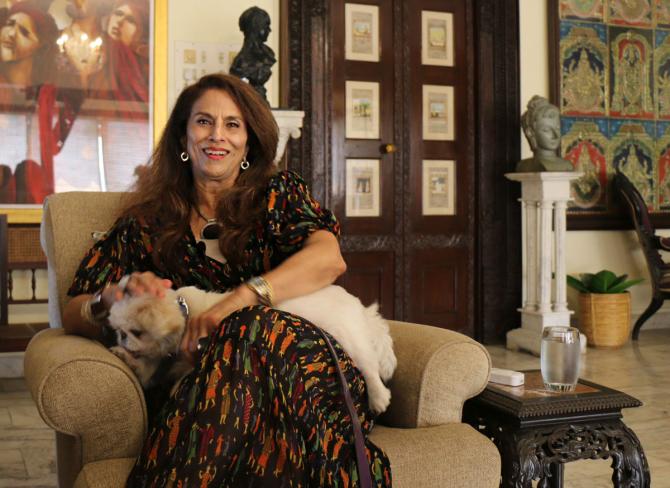 De is insatiably interested in everything -- marriage, her family, their collective dog brood, politics, films, travel, food, clothes, festivals, parties and the lives of everyone who enters her world, be it the socialites, the stars and Pushpa (one of the few people De cannot live without), who pops in pretty regularly in Insatiable.
As does her husband, whom she calls Mr De, and whom she has married five times; the last time she did it, in 2022, she wore a 'trad Kanjeevaram sari' and exchanged garlands in front 'Goddess Meenakshi Amma' in Madurai.
But that story, she reveals, came with a twist.
While talking about the suite the newly-wed (again!) De couple were going to stay in, the general manager of the hotel proudly told them, 'Our Prime Minister Narendra Modi slept on this very bed during his recent visit.'
And here's what De thinks about that.
As De says, in the video above, "If not PM, Mr Modi will be the President." And, she believes, "Mr Yogi" could be the next prime minister.
There is another political leader, she says in the video below, who is definitely "not prime ministerial material", but who, "unlike the current prime minister, has achieved something constructive and positive" by walking across the country and "actually interacting with the people without any barricades".
In a democracy, she says, "and India is one", a leader should "meet his own people and let the people get to know him or her. You can't behave like you do in China or Russia or (North) Korea..."
Unfortunately, she says, India has a "prime minister who refuses to talk to the people."
And while there is one person who could be prime ministerial material, that person, she says, is not willing to directly put their hat in the ring.
"If you were to say to the people of India," she says she personally told that politician, "I am putting myself out there as a future prime ministerial candidate, you will see the response that you will get. There will be no ambiguity."
Though politics fascinates De, she wishes it were less murky. She is also aware of how it has created deep faultlines between family and friends, leading to the destruction of long-standing relationships.
And silence in such matters, she feels, can be revealing.
Now that Insatiable is on the bookshelves, what is De looking at next?
Will she return to becoming -- yes, this is a description she doesn't like too much -- the Jackie Collins of India, as Time magazine had once dubbed her?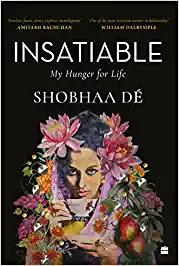 "Well," she says with an irresistible smile, "I would love to write 50 Shades Of De because it would be written from the perspective of a woman who is on top and in charge."
And those are exactly the kind of women you will find in her books -- vulnerable but strong and ready to take charge.
It is no wonder then that numerous universities have her books as part of their curriculum and even more numerous dissertations have been written about her work.
While that is not something she keeps track of, there is undeniably a lot of sexual tension in many of her books.
Which begs the question: Has De been attracted to other men and women.
"I am very, very," she says candidly, "vulnerable to beauty and perfection."
And then, she names names :)
So does someone who's lived a life as rich as De -- a life that is peppered with milestones, strong opinions and a passionate love for food, travel and people -- have regrets?
Yes.
And the biggest one is...
Insatiable: My Hunger For Life by Shobhaa De is published by HarperCollins Publishing, India.