'I have only one life and that is enough.'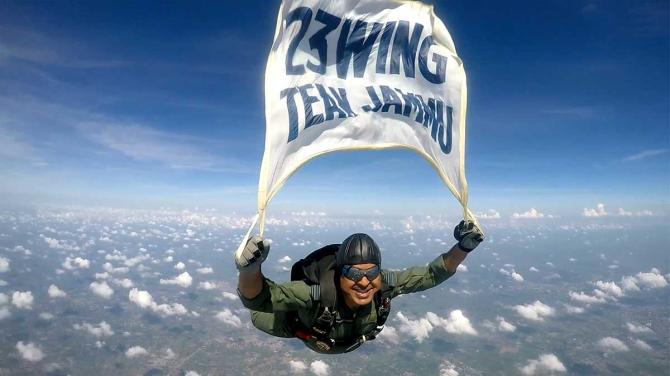 You are sitting in the warm interiors of the four engine C-130 Hercules which has taken off from Leh and climbed up to a height of 25,000 feet.
There is a sudden change in noise levels inside and the warmth in the cabin is suddenly replaced by cold and crisp air making your hair stand up on its end.
The ramp at the rear has opened.
At the green signal, it would be time to jump out of the safety of the cabin.
Terra firma is at about 18,000 feet, about 6,000 to 7,000 feet below.
One has to be a daredevil to leave a perfectly serviceable airplane from its rear while it churns through the air.
Having been a pilot and having donned the parachute while flying, I always dreaded the thought of leaving the aircraft in this manner, although a grievous emergency would have forced me to do the same.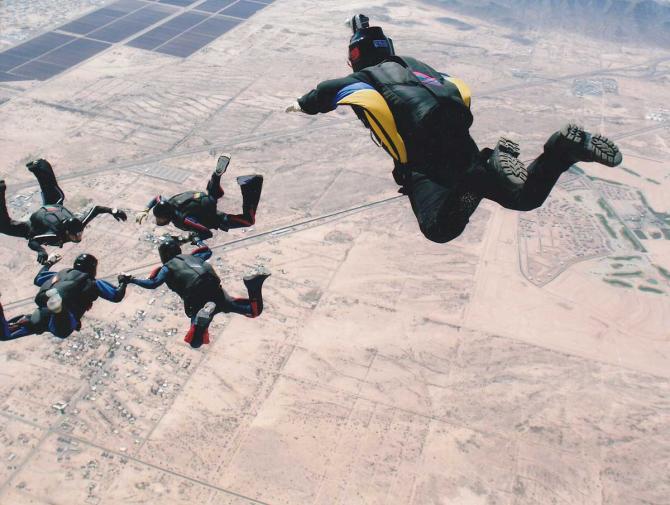 So here you are, doing the last-minute checks on your equipment, adjusting your goggles and checking if everything is snug and tight.
At the green light, you jump, and after rocketing through the air for a while, deploy your shute and plan your landing.
The parachute has hopefully been packed well by the technicians and if it fails to open, you have a reserve parachute too.
The green light finally shows up while your heart is beating fast and the adrenalin has kicked in.
With a war cry that is only yours, you take the plunge.
You are attempting to break the record for the highest parachute landing at 17,982 feet at Khardungla Pass, the highest motorable pass in the world located in Ladakh.
It is not over till the time you land in the restricted area designated as the LG (landing ground).
You will plummet through the icy cold atmosphere with insufficient oxygen. The rarified atmosphere would mean that your rate of descent is going to be high.
You will need to pull the relevant strings of your parachute and manoeuvre it to the point of landing.
This is what would have happened when Wing Commander Gajanand Yadava and Warrant Officer A K Tiwari of the IAF achieved their feat last fortnight. The wing commander and warrant officer sky dived on October 8, the 88th anniversary of the founding of the Indian Air Force.
Wing Commander Yadava and Warrant Officer Tiwari achieved this rare feat to commemorate the occasion and enter the history books, doing the IAF and the nation proud.
To understand more about this aerial feat and skydiving, Senior Rediff.com Contributor Air Commodore Nitin Sathe (retd) spoke to Group Captain Kamal Singh Oberh (retd), a veteran parajumper.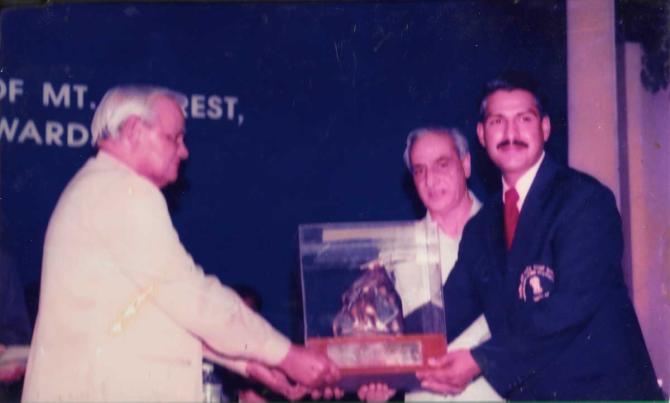 You were selected to join the Indian Army and were training at the Officers Training Academy when you decided to switch to the IAF.
What prompted you to do so, especially when you come from an army background?
My father and brother were both parajumpers in the army.
I had passed the exam for both the short service commission in the army as well as the ground duties branch of the IAF.
When the call for the IAF came, my brother encouraged me to change over to the IAF.
There was no one in the family who was in the air force and this was an opportunity to be the first of the family!
I have never regretted this decision.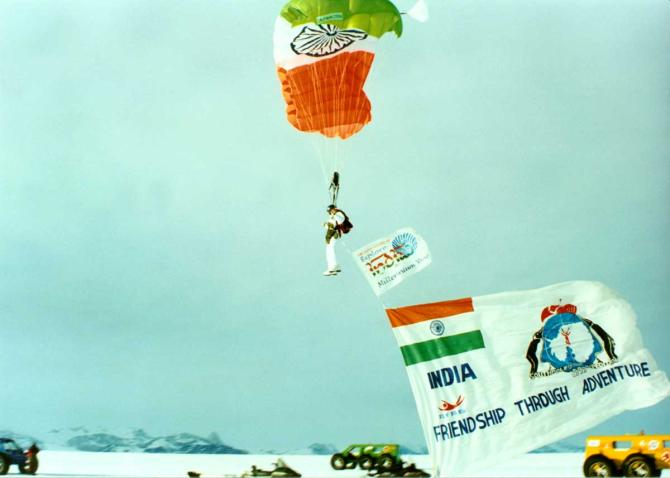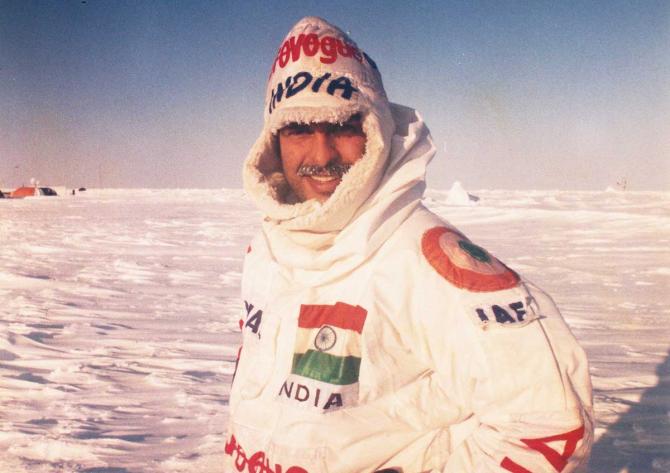 You hold the unique record of being the first Indian to sky-dive to the extremities of the earth -- the North Pole as well as the Arctic Circle.
It was Wing Commander Thapar, my instructor at the training school at Agra, who had jumped at the North Pole just as we had commenced our training to jump.
When I heard the news, I pledged that I would excel in this sport and jump at Antartica one day.
Earning my wings in 1996, I worked very hard for the next four years to become a free fall specialist and achieve this feat.
The opportunity came by at the turn of the millennium.
In January 2000, a team of 32 jumpers including three ladies from 20 countries were selected for what was called the Millennium Jump.
I was the youngest in the team and carried a small nylon flag barely weighing 35 grams in my pocket.
As I set foot at the other end of the world, I had to unfurl this flag as India's representative.
It was an overwhelming occasion; and our Tricolour that I held fluttering above my head felt like a few hundred kilos!
I can never forget the enormity of the occasion. I get goosebumps thinking of the same.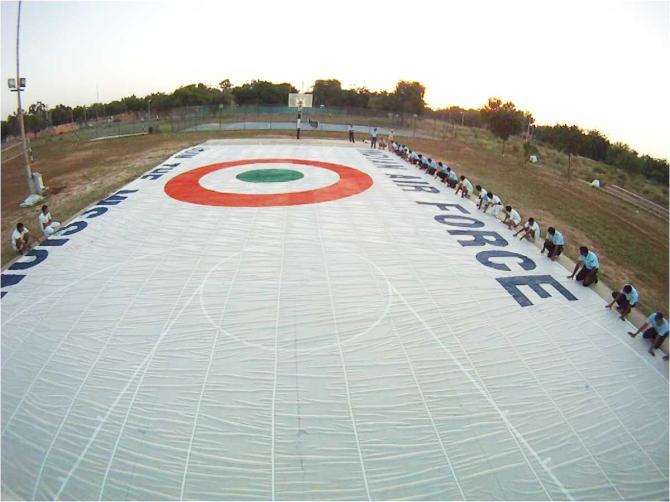 Another record that you hold is of sky diving with the largest flag of our country.
What was its size and what were the difficulties faced in such a dive?
Thapar sir again held a record of unfurling the largest flag during a jump; a record that remained unbeaten for almost 18-19 years.
I decided to try to beat this national record first before attempting a world record.
This time, the flag weighed almost double than that of Thapar Sir's and much more than me!
It was all of 77 kgs and measured 51 feet by 81 feet.
There were a few failed attempts before I finally managed the feat at the NDA (National Defence Academy) in 2016.
I had to do it thrice for it to be recorded as a national record.
It was extremely difficult to take out the big cloth out of its bag and then unfurl it as I hung from my parachute heading towards the LZ (landing zone).
I remember that I had to use every ounce of my energy to get it out and unfurl it fully.
And when it unfurled, it was more difficult to control the parachute itself.
My only regret is that I could not get an opportunity to break the world record!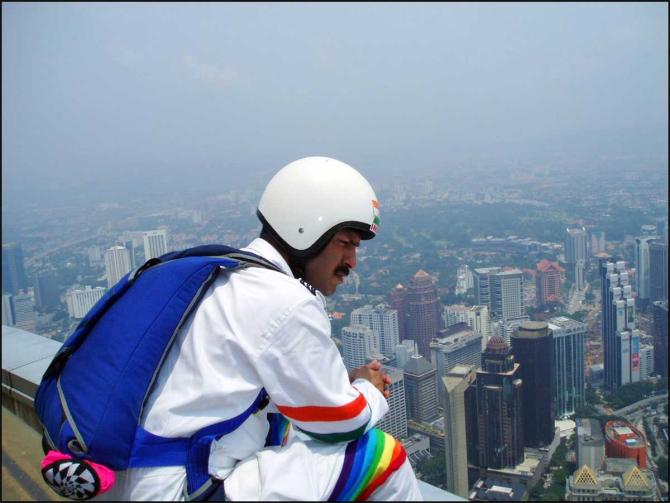 Please give us a glimpse of any heart stopping moments that you will never forget.
Being a skydiver and a free faller, I have more than 1,300 jumps to my credit.
I have flown the paramotor glider, taken part in a tri-services sailing expedition from Lakshadweep to Cochin in 1997 as part of the 50th Independence Day celebrations, done more than 150 BASE jumps (BASE jumping involves jumping from buildings, towers, cliffs bridges etc, with parachutes), and almost all aero-sports like paragliding, parasailing, aqua parasailing, and wind surfing, besides camping and other similar adventure sports.
Whilst posted at the National Defence Academy in 2004, you were in charge of initiating young rookie cadets to the spirit of adventure. Tell us about how you went about training these young boys and what all did they achieve.
This was quite an exciting time in my career to mould young trainees to take to adventure sports.
In my tenure at NDA, I revived sky diving for cadets, took them for adventure activities to Port Blair and also started their participation in the 'Enduro' race -- a gruelling triathalon held in Pune with international participation.
The Enduro involved long distance cycling of more than 150 km, trekking of about 50 plus km and rowing -- all to be completed within a 24-hour period.
All in all, the boys were very enthusiastic to take to the unknown and I had to actually rein down their 'josh'!
At the academy, I used to spend a lot of time with the cadets who were afraid of jumping into the pool from 10 metres, a mandatory test of courage.
I remember that not one cadet under me ever failed to jump!
Post retirement from the IAF in 2019, you are continuing to pursue your dreams as an adventure enthusiast.
I have always wanted to live an adventurous life.
After retirement, I am in the process of setting up an amusement park for children very near Jammu, the equipment for which has already arrived as we speak.
Other than that, I have realised that the youngsters of today do not have any good camping or adventure activities in the entire Jammu region.
Towards this, I have just acquired a three-acre plot close to Udhampur.
This is where I plan to hold camps for 100 children at a time and make them learn to appreciate nature and take to give them a real taste of adventure.
These days, I see youngsters only enjoyment is to go to a hotel to dance and party.
This is a pure waste of money and I sense a business opportunity here to give them something different.
The IAF recently achieved another sky diving record at Khardungla Pass. These boys must have been trained by you. Tell us about how they would have trained for the same and executed the same with precision. You must be proud of this achievement of your boys.
The 'boys' that you speak of were my friends and comrades and we trained together.
They are the best of the lot and I am so proud of their achievement.
To get this, they must have trained for months, planned in great detail and then executed to perfection!
It is not easy to 'fly' the parachute at that altitude.
Added to that is the difficulty of movement due to the extreme cold climate gear that one has to wear.
The temperature at that altitude would have been at least minus 20 if not lesser.
Without oxygen, one can barely survive a few minutes at that altitude.
All in all, a fantastic job done and I am so proud of them and our Air Force!
What would you be your message to the young and old of our country to take to adventure sports especially in the backdrop of the pandemic?
Many years ago, I was quite mesmerised by the caption below an advertisement in black and white of some jewellery.
It read: 'I have one life and that is enough.
I do keep reiterating it to all whenever I get a chance to motivate people to take to adventure.
Whatever we have with us, make the best of it.
Don't merely exist, live life kingsize!
What the IAF achieved a few days ago showcased to the world the world the spirit of adventure of an Air Warrior.
To make it happen, the parachute technician had to do his job well, the para jumpers had to train hard, the pilots of the aeroplane had to fly it accurately, the meteorology man had to give accurate wind forecast and, above all, we had to have the blessings of the Almighty!
After all, success is all about team effort, isn't it?
Feature Presentation: Ashish Narsale/Rediff.com