'Even if the BJP does not come to power, the system has changed.'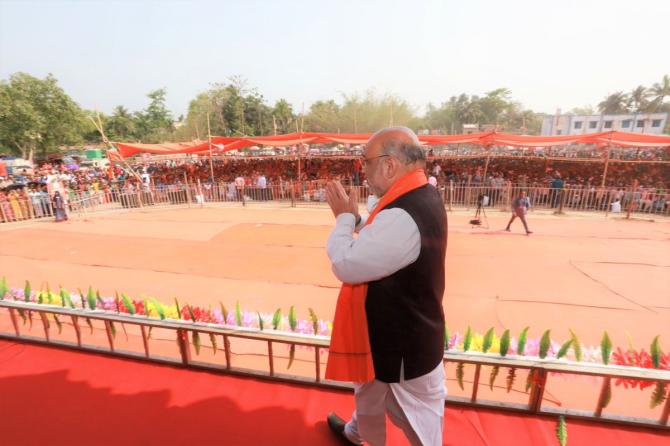 In the first part of his interview, Dr Afroz Alam, professor and head of the political science department at Maulana Azad National Urdu University, Hyderabad, told Syed Firdaus Ashraf/Rediff.com that 'The BJP will be a dominant opposition in West Bengal.'
In the concluding part of his interview, Dr Alam, who has studied the voting behaviour in the West Bengal assembly election till March 15, 2021, says, "Muslims too want change but they have no other choice and a sizeable number of Muslims will vote for the TMC."
Muslims dominate 60 assembly seats in Bengal and the rest 234 are dominated by Hindus.
One analyst told me that the people are not seeing this and therefore the BJP will win.
Muslims are 27 per cent and you are right, that in these 60 constituencies they are directly able to influence the voting outcome.
But then, there are around 60 constituencies where Muslims are in a sizeable population of 30-40 per cent.
In these constituencies, polarisation is very high.
Then there are another 100 seats where Muslims are least in number and there is no polarisation on the ground.
Wherever Muslims are in sizeable numbers, polarisation is very high.
The whole campaign that Muslims are wholly backing Mamata Banerjee is having a counter-mobilisation.
This is affecting on the ground because if there is Muslim mobilisation, then there will be a Hindu mobilisation too.
One has to realise that the BJP reached out to those people who were completely neglected on the ground by the TMC.
This was the strategy by the BJP.
In my study, I found that Muslims too want change, but they have no other choice and a sizeable number of Muslims will vote for the TMC.
The Left and Congress too have realised this fact and they are concentrating only in a few constituencies.
How did the BJP gain so well in West Bengal and that too so soon?
My proposition is that RSS (Rashtriya Swayamsevak Sangh)-like institutions do not work on the politics of immediacy.
They chalk out a plan for a longer period of time.
The rise of Modi is 50 years of manthan (churning) by the RSS and team.
How to build bricks between them and the corporate sector and then local political parties, they worked on it for the last 50 years.
Earlier, they did not focus on that.
They know that people will not accept immediately what the BJP's politics is.
The BJP, therefore, created local allies first.
For the BJP, Mamata Banerjee was a force to dismantle the Left bastion in West Bengal earlier.
RSS workers supported the TMC to come to power initially to finish the Left Front government.
Since the transition was over from the Left government, they then took on Mamata.
Mamata was not like the Left with any core committed ideological voter.
In Delhi too they did the same thing.
They made a transitional politics (working with Arvind Kejriwal during the Kisan Baburao 'Anna' Hazare-led movement) and finished the Congress party forever in local elections.
Now we are into a saffron system.
It is a new system where local to mainstream institutions are experiencing a new shift.
Can we say then that saffron politics is the only future of Indian politics?
Yes, saffron politics is the only future of India.
Earlier there was a time when the Congress system was in place and this was there for decades.
Now, India is in a movement of a saffron system.
Even if the BJP does not come to power, the system has changed.
If you go to clubs or bank offices or even from your families to bureaucracy or business, there will be a saffron way of doing work.
If the BJP is defeated in Bengal what will it mean for Modi?
The BJP takes every election very seriously.
Imagine, they are deploying their central minister (Babul Supriyo) to contest assembly elections.
You then have a Rajya Sabha leader in Swapan Dasgupta who is contesting an MLA election.
It is immaterial whether the BJP wins or loses elections but they keep the tempo of their cadres very high.
They keep their cadres very charged and that is very important for political parties.
If you have a campaign and narrative, then you cannot sit idle and depend only on social media.
You as a political party have to be visible on the ground and the BJP works very hard on the ground.
Other parties must learn from the BJP.
Even if they lose by winning only 70 seats out of 294 like Mamata Banerjee is predicting, you know what they will tell their cadres.
They will say, look we had only four seats in the 2016 West Bengal assembly elections and see where we have risen.
The BJP winning 70 assembly seats is a win-win situation for them.
In the Hyderabad municipal elections, they came second (up from 4 to 48 councillor seats) but they made their workers feel that they have won the elections.
Why cannot other parties replicate what the BJP is doing?
Where do you draw inspiration when you work for a political party?
A. From the leader;
B. Programmes that the party offers;
C. Money and,
D. Ideological conviction.
Opposition parties somehow failed to recharge their workers and the voters see this.
Now opposition parties are lacking the resources, narrative and energy of their leader.
If top level leaders are not able to give inspiration to their local leaders, then no party can sustain.
These days ideology is the biggest casualty.
Today I am in the Left and tomorrow I will be in the BJP.
People are shifting their ideologies overnight and therefore elections have become more strategic than ideological.
There is a loss of morals and ideology.
The only thing that you have is politics of immediacy and politics of strategy.
And the most important thing is the use of IT and social media in influencing voter behaviour.
Data is important.
There is a use of meta data.
There is an algorithm which will give you the exact picture of the affiliation of voters.
If you have data of 5 crore (50 million) people, I will be able to plan my data.
We have highly technocratic elections and older leaders are nowhere in this.
Earlier, when lakhs of people used to come to rallies, it used to be the talk of the town.
Today you need social media influencers.
In one nano second you reach millions of users.
Trump did that and Capitol Hill happened.
Older political parties are not able to get this, but the BJP gets it.