'The youth associated with this movement were extremely talented.'
'But I personally believe violence cannot change anything in the world.'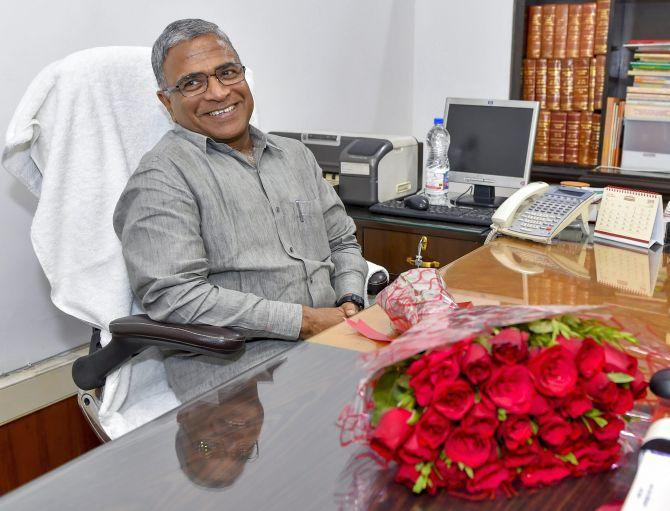 Harivansh Narayan Singh, the newly elected deputy chairman of the Rajya Sabha, tells Shikha Shalini about his new role in the House, how he will put to use his journalistic and other experiences and what he expects from the leaders in the House.
How will you deal with challenges, like maintaining peace in the House between the ruling party and the Opposition, to improve the level of debates, and maintain the dignity of the Rajya Sabha?
I was the candidate of the National Democratic Alliance, but now I am a non-aligned member in the House.
I will try my best to maintain the dignity of our Constitution and work in accordance with the rules and procedures of the House.
Prior to the four years in politics, I was in journalism for about four decades, from where I observed politics closely.
When I became a member of the Rajya Sabha, I went to Bihar to participate in a programme in the land of Babu Kunwar Singh who fought against the British in the Revolt of 1857. During that programme, people asked me questions and I put forth the same questions in Parliament.
A child asked me, "Our entire parliamentary system is based on the Westminster model; we follow the same democratic system but why don't we follow the same decorum in our Parliament? If Members of Parliament disrupt sessions, why are they allowed to avail of the facilities in Parliament?" I couldn't answer the question.
Earlier the level of debate and dialogue in Parliament was very high. However, we all have to find these answers together because I believe politics ultimately changes the system.
Today, the country is facing so many pressing issues. Issues like population density, employment opportunities, safe drinking water, migration from villages to large cities -- many leaders across party lines want to discuss these meaningful issues.
There could be some usual ideological differences in democracy, but we need to find solutions.
I will try for a mutual and cooperative communication process in the House for which I will need the support of members of the House.
The Bharatiya Janata Party has the maximum number of MPs and legislators with serious criminal charges. What would you suggest to political parties for improving the level of politics?
Political parties and leaders will have to consider why they are in politics.
Apart from creating a welfare society, our aim is to give strength to the weaker sections of society like the Dalits and Adivasis.
To be relevant among the people, all parties have to look within.
You cannot diagnose the problem until you reach the depths of any crisis.
Without considering the basic problems, the parties cannot make their roots strong.
You said that Mahatma Gandhi and Jayaprakash Narayan were your ideals. They were not MPs but were a source of inspiration for millions of people in this country.
Don't you think some efforts are on to make them irrelevant?
You are right. Gandhi and Jayaprakash Narayan were never involved in the politics of power. I come from Jayaprakash Narayan's village.
Once people of our village met him and asked him to use his reputation to build a road to the village so that the villagers don't have to cross a river by walking 20 km.
He replied that while the road would be constructed if he asked someone to do so, he was also answerable to other five-and-a-half million villages of this country.
That was the politics of selfless concern. He showed dignity in politics.
In that era, leaders could afford to leave the politics of power.
But one who chose the politics of power also marked their impact on Indian politics.
There are so many leaders and chief ministers of different parties whose contribution motivates us.
There are many who have made parliamentary democracy enriched with their debate.
You can count dozens of names like Atal Bihari Vajpayee, Prakash Veer Shastri, Nath Pai, Indrajit Gupta, Bhairon Singh Shekhawat and Nitish Kumar.
Today, political leaders face the challenge of ensuring credibility in politics.
On my part, I will try to ensure there are meaningful debates in the House.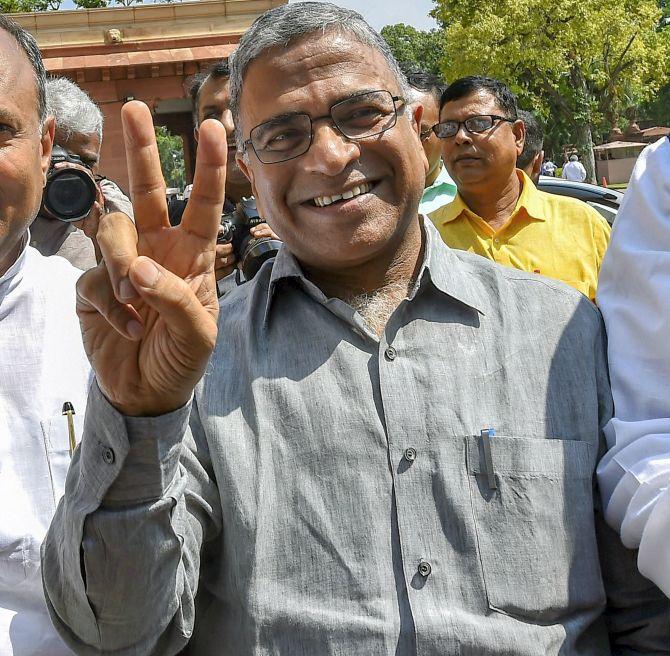 You have been a journalist. You are now an active parliamentarian. What will be your next step?
Life has been challenging for me since childhood. For about four to five months, my village used to be flooded. Children in our village would study under trees. This is how I started my journey.
The social concern that I got from my village led my way.
I never thought that people like us could be part of the power centre in Lutyens' Delhi, the place meant for the elites.
Take the examples of the French Revolution, Russian Revolution, the Revolution in China that inspired society to move forward.
In the freedom movement, you see the ideological battle changes the system.
The idea behind the Naxalbari movement too was great.
The youth associated with this movement were extremely talented. But I personally believe violence cannot change anything in the world.
The JP movement brought new energy into politics.
After that, ideological politics went backward and now, technology is changing the world.
As far as my role is concerned, I will have to be impartial towards everyone because this is the demand of my Constitutional position.
I would urge my political allies to think about current problems otherwise we will lose the ground.
When the media favours a government, its credibility decreases. It is seen more often nowadays. What's your opinion?
Since 1991, our country followed liberalisation, which was aimed at profit maximisation. This has led to major changes in our media too. Consequently, the media became capital-intensive.
The media that changed the country and contributed in the struggle for Independence was not capital-centric. Then, journalism was not a business.
Today, if you wish to set up a media empire, you need loans and, of course, it costs money to maintain that.
To maintain an independent existence in that scenario is tough.
However, no one is stopping committed journalists from making a dedicated cooperative and starting their independent ventures. Why can't India have such experiments?
In London, such experiments led to the birth of The Independent, which came into existence but failed later.
I personally almost revived a dead newspaper of merely 400 copies. There was a challenge before me to establish Prabhat Khabar in front of big business houses' newspapers.
The question of forest and tribal land was very important. We will discuss this some other time.
There are allegations that your paper had a big role to play in bringing together the Janata Dal-United and BJP and it favoured the present government. What do you have to say about that?
I can invite anyone for a social audit of the newspaper when I was editor. But it has to be a public body headed by people who are unbiased.
The then Press Council chairman Justice Markandey Katju targeted the Bihar government, alleging that the media wrote in favour of it. He formed a committee for an investigation.
Prabhat Khabar had written a two-page letter replying to his allegation and said that our newspaper published reports against the government. We provided a list of reports that was against the government.
It is very easy to make an allegation in our society. This too is the right of people and I have nothing to say on this.
We fought against the misdeeds that took place before 2005. We worked on serious issues including exposing the fodder scam.
I was editor in Jharkhand from 2000 to 2014, when ministers, administrative officials, a chief minister, and chairman of the state public service commission went to jail because they made a mockery of the selection process. It was the same newspaper that exposed this.
As far as Bihar is concerned, we have tried to show the good efforts that were being done.
I am no longer editor, but I would like to tell you that if Prabhat Khabar was a government-supported media venture, it would not have been able to raise its circulation from 400 copies to 1 million.
It earned credibility, that's why its circulation increased.
If differences on seat sharing were to erupt between the BJP and the JD-U for the 2019 poll, what will be your role?
The House has given me a Constitutional position. I do not have to deal with these things. I must be within the limits of my post.