'If he goes ahead with his plan, it might work.'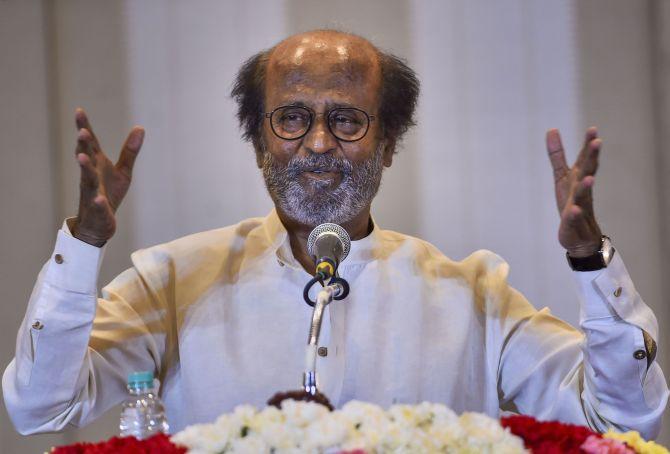 Tamil superstar Rajnikanth addressed a press conference in Chennai on Thursday in which he did not announce the launch of his long awaited political party, but instead spoke about what he was interested in seeing in the people and his fans before he launched a party.
He made it clear that he wanted youth and experts to come together to provide a corruption-free government.
He was not interested in being the chief minister at 45 when an offer was made to him, so how could be interested at 71, he asked, while presenting his idea of spiritual politics to change the present system.
Soon after the press conference, Dr Sumanth Raman, a seasoned observer of Tamil Nadu politicsr, told Rediff.com's A Ganesh Nadar, "Only Rajini knows when he is going to start."
What are your immediate takeaways from Rajinikanth's press conference?
It has confused people all the more. He has made it very clear that he is not the candidate to be the chief minister, but he has not made it clear that he will start a political party. He said he will wait for it.
His idea of 65% youth and 35% experts is also not very clear.
He met his fans last week to sound them out on his plans. Apparently, his plan to not become the CM did not go down well with them, which is why he made his 'disappointed by one thing' comment last week. So have his fans checkmated his plans for the time being?
I don't think so. If he goes ahead with his plan, it might work. If he tries, people will appreciate it. If he makes an attempt people will know that he is really interested in doing something.
At the presser Rajini seemed helpless. He wants to do something, but is unable to do so. Do you agree with this assessment?
He has always said that his party will contest all 234 seats right from the beginning. He has not confirmed or denied this. Only he knows when he is going to start.
Politics is the art of the possible. So why is Rajini sounding like an idealist even before launching a party?
He has always said that he wants to change the system. He has been consistent in that. How practical is this? We don't know if he will canvass all over the state, meeting people and explaining his views.
Do you think Rajinikanth's party will ever become a reality given that the awakening or revolution he is waiting for, may never happen?
That is a million dollar question. Only he knows the answer!
What do you think about his idea that political parties should have numerous posts only during elections and that they should be abolished once the elections are over, as it is a source of corruption?
It is the same idealism. All political parties are business enterprises and every person works for himself, the party and the people. You know you have to pay people to attend rallies and also do party work.
In the 1967 elections the DMK cadres worked without money, but you know what happened after that.
Rajinikanth also says 65% of the candidates should be less than 45 years old.
That is a good idea. Having youth with a certain amount of knowledge is good, but it is not a new concept.
Or that 35% of the candidates should be experts and also leaders from other parties who have not got a chance yet?
How do you decide who is the good guy, that also from a party that you have labeled as corrupt?
He has said that the party and the government should be separate and the party should function like an opposition and remind the government about its election promises. Is this viable?
This is not a new concept. It was that way for a very long time. Indira Gandhi changed that. She became both the party chief and the head of the government.
This is again an idealistic statement that he wants to follow.