'You bust one module and another one comes up.'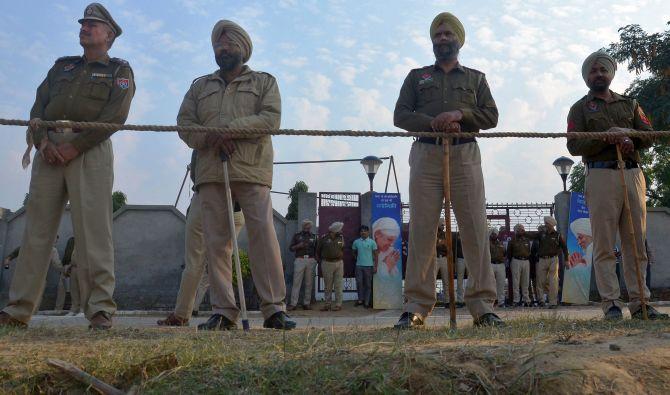 On Wednesday, November 21, Punjab Chief Minister Amarinder Singh announced that the Punjab police had arrested one person for the grenade attack on the Nirankari Bhavan at Adliwal village near Amritsar in which three men were killed and 20 others injured.
The Punjab CM also said it was evident that Pakistan had played a part in the attack, raising fears that terrorism would rear its ugly head in the state just as it had done in the 1980s.
"A young boy who has not seen the worst days of terrorism in Punjab is still vulnerable. And this vulnerability of the young boys is either through social media or for money," C Pal Singh, retired inspector general of police, Punjab's rapid action force, tells Syed Firdaus Ashraf/Rediff.com.
Do you believe that Pakistan engineered the grenade attack on the Nirankaris, and that it is a terror operation?
I am very certain; it has been engineered and Pakistan is responsible for this terrorist attack on the Nirankaris.
In fact, the Punjab police had busted a module earlier in June and subsequently two students from Jammu and Kashmir studying in a Jalandhar college admitted to being trained by the terrorist organisation under the control of Pakistan's ISI (Inter-Services Intelligence).
These students also indicated that they had links with Zakir Musa who has come to Jammu and Kashmir to start his own Al Qaeda organisation. Now Musa wants to create trouble in J&K and Punjab too.
As for J&K terrorist organisations, they have shown allegiance to Zakir Musa, but as far as Punjab is concerned they have started indoctrinating some youth of Punjab through social media.
In the process, some people have indulged (in terror activity) in Mohali six months ago and in Ludhiana too. One RSS (Rashtriya Swayamsevak Sangh) worker was also killed and they (the police) traced it back to the ISI.
It has been four days since the attack and so far only one person has been arrested. Is the Punjab police on the right track, you think?
Broadly, the Punjab police has said that the attack was a terrorist attack and the module that perpetrated the attack has links to the ISI.
They have also said they are working under the Khalistan Liberation Force. The KLF has one boy who has been working in Pakistan for long. He is known as Ilyas PhD. He was educated in Punjab and then ran away to Pakistan.
The police has identified that this Amritsar terrorist attack happened because of him, but to identify which module was behind the attack will take some time.
You bust one module and another one comes up. The Punjab police has busted 16 terrorist modules in the last six months, but a new module can surface at any time.
A young boy who has not seen the worst days of terrorism in Punjab is still vulnerable. And this vulnerability of the young boys is either through social media or for money.
Social media is available and as far as money is concerned it has got Khalistan footprints.
Money comes from abroad. Now the question comes: Who is the specific person and specific module who did it? It takes time before we reach there, but I am sure the Punjab police will find them. They are competent in their job.
Is it possible that the attack is because of the differences within the community -- after all, the Nirankaris are not recognised as mainstream Sikhs?
I am not ruling out this possibility. There is a grouse and this provides a fertile ground for any terrorist activity.
And when you have divisive politics going on, these things give them further strength.
If you go back to 2015, the sanctity of the Guru Granth Sahib's scripture was violated and neither the Akali government nor the Congress arrested the accused.
The Akalis are blaming the Congress and they, in turn, are blaming the Akalis for not finding the accused. This leads to sentiments being hurt and that is always good ground for instigating terrorist activities.
Whenever there is communal conflict, there is a natural fertile ground for terrorists to come in.
Sikh extremist Gopal Singh Chawla, who is based in Pakistan, has been making anti-India statements. He also hobnobs with the Lashkar-e-Tayiba's Muhammad Saeed, pointing to a link between them.
These are people who belong to old groups like the Babbar Khalsa in Pakistan.
Some people like Harmeet Singh are there and there are groups such as the Khalistan Zindabad Force and the International Sikh Youth Federation which are based in Pakistan.
In any counter-terrorist attack activity you have to find out as so many modules come in like Jaish-e-Mohammed, Lashkar-e-Tayiba in Kashmir.
And when some terrorist activity takes place, everyone comes forward and takes credit.
I am not sure how far Chawla is responsible for the Amritsar terrorist attack, but I am sure people like him are indoctrinating others through social media or some cells. They are influencing the youth by stating that their community is alienated.
I don't think in the long run terrorists will succeed in Punjab. The younger generation though can commit some odd act, but the rural population in Punjab is not inclined to terrorism.
Till last year Punjab was known more for its drugs problem thanks to its illegal import from Pakistan. So are terrorists now switching from drugs to weaponry?
In the heyday of terrorism -- in the late 1980s -- there were many people who were smugglers and indulged in anti-social activities. They were always involved in drug smuggling and in the process if they got shot by security forces these drug smugglers used to say they are getting martyred for the sake of the Panth. These people are involved in doublespeak.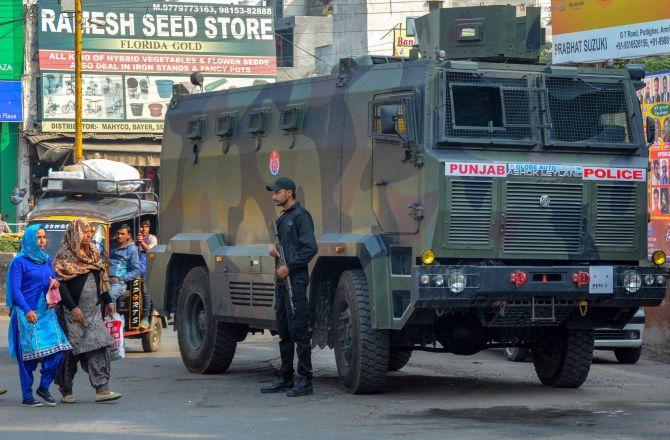 Can Pakistan revive terrorism in Punjab as it did in the 1980s?
My assessment is that Pakistan cannot revive terrorism in Pakistan.
The conditions are totally different today. Punjab has made a lot of sacrifices and as I told you earlier, the rural population is not likely to be influenced, as they did during the times of Jarnail Singh Bhindranwale.
It is not possible for Pakistan to create a separatist cadre inside Punjab now as they did in the 1980s.
The story is different now. You know what ended terrorism in Punjab was not because the security forces acted firmly, not because we gathered good intelligence, not because we had consolidated and concerted effort to beat terrorist activities, but terrorism was defeated because the Punjab population sided with us.
They were fed up of terrorism.
One incident here and there can happen and here it depends on how India acts.
We cannot go on accusing one party against another party and if we continue to do that we lose ground.
Our divisive politics creates such problems.
Would you say the Amritsar attack is a failure of the intelligence department as army chief General Bipin Rawat has said?
General Rawat had some intelligence which can only come from border intelligence. A month ago, the NIA (National Investigation Agency) had said that the Khalistan Liberation Force must be banned in India; it is not yet a banned organisation.
Zakir Musa appeared somewhere in February and it is well known that he has come to India. So Rawat must have been aware of this and he made this statement in a seminar which the media picked up.
I am of the view that the failure is that we did not anticipate these terrorists would attack Nirankaris in Amritsar.
You cannot have forces everywhere. Today it was Nirankaris, tomorrow it can be some other place.
You cannot be sure of the place where the terrorists will attack. Terrorists have the advantage as they have to target only one place but we have to guard hundreds of places.
Some Sikh groups abroad have started something called 'referendum 2020'? Who sponsors such activities?
They are not popular so far. They have deeper footprints in the European Union and the United Kingdom. They immediately caught the imagination of the younger generation.
We need to control social media and see that these kind (of divisive) groups don't gather any momentum in our country and start influencing our youth.
Last time, there was Dr (Jagjit Singh) Chohan who created a sort of Khalistan government in exile. It was finished.
These people are influential only outside. In our country they don't have a presence. They are targeting young people who are at an impressionable age.
I have a feeling these things have to be dealt with tactfully. You cannot handle Punjabi youth in a volatile way as they are very volatile.
We have to be careful. What happened during the days of Operation Blue Star and Operation Woodrose was that many youth got indoctrinated and went to Pakistan to come back (to spread terrorism).
So we need to have a soft yet stern approach in dealing with the youth of Punjab.