'Vote banks will change affiliations and the BJP will come out with good success in Kerala.'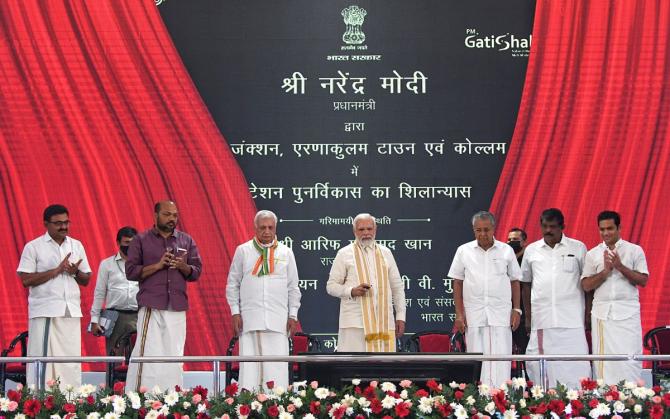 Former Union minister Prakash Javadekar, who is now in charge of the Bharatiya Janata Party's campaign to make inroads in Kerala, is upbeat about the BJP's prospects in the southern state which has so far been a hard nut to crack for his party.
In an interview with Rediff.com Senior Contributors Sunil Gatade and Venkatesh Kesari, Javdekar insists that "major turmoil" is on in Kerala where BJP supremo Narendra D Modi's outreach is being hailed by people as there is "no discrimination" in a state where Christians number 18 per cent and Muslims 28 per cent.
How do you say that the BJP will emerge as a major force in Kerala known for its bipolar polity divided between the CPI-M-led LDF and the Congress-led UDF?
After the new Lok Sabha came into being in which the Congress won 19 out of 20 seats, they (people) changed their attitude and in the subsequent assembly election, the Congress won only 21 out of 146 assembly seats.
Since then the Congress is on the decline and it will decline further with Rahul Gandhi as the leader.
But what is bringing about a change? On what factors is your optimism based as you claim huge changes politically in the 2024 Lok Sabha polls in Kerala?
Because we have started many good initiatives. First, Modi has shown the practice of good governance which Kerala has not seen earlier.
In Kerala, the beneficiaries of a scheme are selected on the basis of the voting pattern, but not so in Modi's case.
So, 5 crores 18 lakh vaccine (51.8 million) doses were given free of cost.
Then 1.5 crore (15 million) people got 150 kg of rice per person in the last 30 months.
Then, Rs 52 lakhs (Rs 5.2 million) of Mudra loans, 31 lakhs (3.1 million) farmers got Kisan Samman Patras and got Rs 26,000 each.
3.5 lakh (350,000) women got benefitted due to the Ujwala Yojana.
3.5 lakh toilets, five lakh (500,000) PM Aawas Yojana houses and 10 lakh (1 million) tap water connections. All this has changed the scenario.
Why do you say that Kerala in 2019 was an exception since Modi's emergence on the national scene?
Kerala will see a lot of changes in the election outcome of 2024.
In 2019, it was a peculiar situation. In Kerala, people are divided into a bipolar polity.
On the one side, it is the LDF. On the other, it is the UDF. Muslims and Christians generally vote more for the UDF.
Since that is the situation, in 2019, they thought that Modi is a one-time wonder and that he will vanish. Therefore, Rahul Gandhi will become prime minister.
So they voted en masse and this resulted in the Congress winning 19 (Lok Sabha) seats out of 20.
There was also another aspect. There was anger against the CPI-M on the Sabarimala issue.
People thought we must teach a lesson to the CPI-M and for that reason, they voted for the Congress.
So the Congress got a lottery type of situation by winning 19 out of 20.
After the new Lok Sabha came into being, they changed their attitude.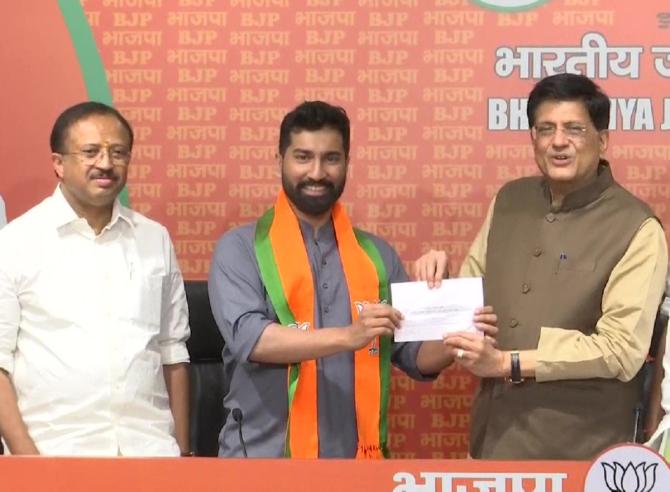 With Rahul representing Wayanad till recently, the Congress has high hopes from Kerala. Your claim runs counter to that.
Christians and other communities have also started looking for other alternatives.
Therefore, I see a major drop in the Congress vote bank. There will be major turmoil. Vote banks will change affiliations and the BJP will come out with good success in the Kerala Parliament elections.
Muslims and Christians have received in proportion more benefits from Modiji's schemes. Modi's approval rating (in Kerala) is 40 per cent. The majority of this will also convert into votes.
He is doing this for empowering the poor. So we don't attach politics to it.
When we visit people, they proudly say we got benefits of these-these schemes. Nandi Modi (Thank you Modi).
We are going home to home and this is going to make a major change.
In the state, there are 18 per cent Christians and 28 per cent Muslims.
The prime minister has given a vision of Snehsamvad, Snehyatra.
From Christmas, thousands of our workers have visited thousands of Christian families and participated in their joy. Gave them a cake, invited them for lunch or dinner. All were very happy.
There was no message of whom to vote or any such thing.
Now there is a plan of party karyakartas to visit 100,000 Christian families.
More importantly, on the 15th there is Vishu (the Malayali new year), which is the most important function after Onam.
Hindu karyakartas will call their Christian and Muslim friends and neighbours to their houses to participate in their festivities.
And on Eid, we are definitely going to say Eid Mubarak.
In Kerala, there is a mixed population and there is general goodwill that holds in Kerala and that is what the BJP stands for.
What other things are helping the BJP?
The LDF, which is ruling the state, is known for six things -- crime, corruption, guns, smuggling, liquor and drugs.
We have also unearthed a waste management scam.
We are taking up all local issues. With people's support, our organisation is growing very fast.
We are sure in the 2024 elections we will win at least five seats in Kerala.
And on the India level, I am sure Modi will win a third term with a more strong mandate.
We will get more than 303 seats and we will also expand the NDA (National Democratic Alliance).
We will give good governance.
Our agenda in Kerala and all India level also is development, development, development.