'I have to fight to ensure something like this doesn't happen to any other child, that no other parent faces what we are going through.'
'That is how I will find strength,' murdered Ryan International School student Pradhyumn's father Barun Chandra Thakur tells Rediff.com's Swarupa Dutt.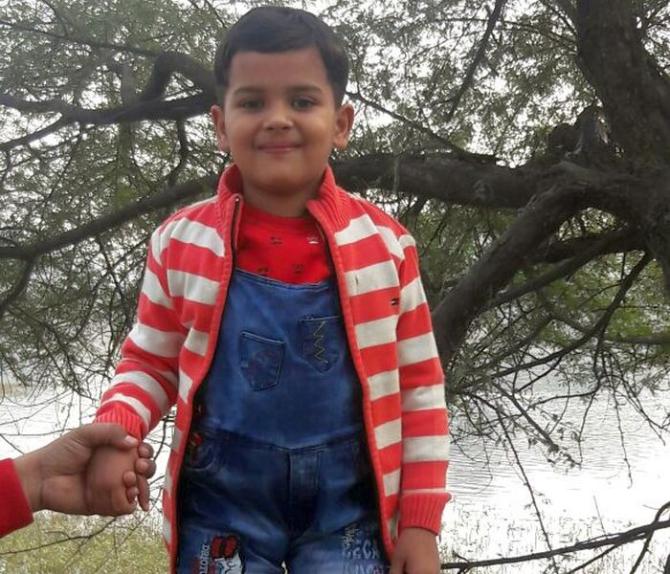 On September 8, at 7:55 am, Barun Chandra Thakur dropped off his son Pradhyumn, a Class 2 student, and his daughter Vidhi, a Class 5 student, at the Bhondsi branch of the Ryan International School in Gurugram.
The children hopped out of the car, waved goodbye and walked into the gates of the school.
Pradhyumn went straight to the washroom.
At 8.08 am, he was found bleeding profusely outside the washroom. He was taken to several hospitals, administered oxygen, but his wound was so grievous that he was declared dead at the third hospital.
The autopsy report says he died as a result of shock and haemorrhage and that the external injury was caused by a single-edged sharp weapon.
As the grief-stricken family tries to come to terms with their colossal loss, the boy's father draws strength from his dead son.
"Pradhyumn is not dead. He is alive.
"Till he gets justice I will not accept that he is dead.
"He is alive in our hearts. Alive in the hearts of everyone who loved him," Barun Chandra Thakur says.
The father says he wants the nation to gain from his loss.
"I want every school to enforce strict security measures so that no parent, no child, will face what we are going through," he says.
The fight for justice is long and hard, he admits.
"But the fight is being fought by Pradhyumn. Not me. He is giving me the strength to fight.
"Bahut innocent tha (He was so innocent).
"Koi (the murderers) bach nahin sakta. Mujhe nahin lagta koi bachega ismein (the culprits will be brought to justice)."
Rediff.com's Swarupa Dutt spoke to the bereaved father on Monday.
Ryan International school reopened on Monday. Will the probe in the murder be affected? (Later in the day, following Pradhyumn's father's objections, the district administration decided to close the school till September 25).
Yes, of course.
The people who did this to my son are still in that school. Evidence will be tampered with.
I feel the authorities should have waited for the probe to end before reopening the school.
Till you don't know who are involved, till the inquiry is not over, till the crime scene is not defined, keep the school closed.
It has remained shut for 10 days, a couple of more days would not have made such a big difference to students, as much as it would to the probe.
I think the CBI (Central Bureau of Investigation) will take a handover in the case in a week.
A CBI probe can take months, years...
(Haryana) Chief Minister (M L) Khattar was here on Friday ( September 15), and announced that the probe in the murder would be handed over to the CBI.
Till the primary investigation is not done in the case, till the CBI team sanitises the scene of the crime, speaks to people who may or may not be involved, till then what is the logic in reopening the school?
I was reading in the newspaper that the CBSE (Central Board of Secondary Education) has held the school responsible for Pradhyumn's death.
The report says there are major security lapses by the school. So till such time these lapses have been resolved, why reopen the school? I just don't understand it.
Did you send your daughter Vidhi to school on Monday?
Koi sawaal hi nahin. There is no question of her going back to that school.
The case so far
>> Police report
Ashok Kumar, the bus conductor, had gone to the washroom to relieve himself when Pradhyumn Thakur entered. He allegedly tried to sexually assault the child but when the boy started screaming for help, Kumar panicked, pulled out a knife and slit the child's throat. The report says that the conductor had found the knife in the bus and stolen it to use in his kitchen.
>> CCTV footage
The last moments of the child have been captured in footage that shows him trying to crawl out of the bathroom, holding his neck with his throat slit. But since the knife had severed his wind pipe, he could not scream. The boy then collapses near the door of the washroom. The autopsy report said Pradhyumn had a 18 cm long wound a little over his neck which cut through his ears.
>> Haryana govt to amend laws
Haryana State Education Minister Ram Bilas Sharma has said he will ensure strict implementation of the rules and regulations relating to the safety of students in schools. The government has decided that the relevant Act would be amended in the coming Assembly session.
>> Supreme Court plea
A plea seeking the framing of "non- negotiable" child safety conditions and implementation of guidelines to protect school children from sexual abuse and murder has been filed in the Supreme Court. The court will seek responses from the Centre and all state governments.
>> CBSE Board report
The Ryan International School is affiliated to the CBSE Board, which has issued a showcause notice, asking school authorities why the affiliation should not be revoked.
I don't think she wants to go back, anyway.
She has been going to school with her brother for the last three years and I think she has been the most emotionally traumatised among all us after this incident.
When she is ready to back to school we will send her to another school, not Ryan.
Have you been considering other schools since it is the middle of the academic term?
For now, we have not done anything about this. But whatever school she goes to, I will ensure, I will check, that security measures are in place.
It may be a small school, nothing fancy, but it has to be safe.
Did Pradhyumn like going to school?
If you see his attendance from April onwards, when the session began, he has never been absent for a single day.
He loved going to school.
Abhi tak toh, bechara, ek bhi absent mark nahin tha (poor thing, he hasn't been marked absent for a single day so far).
How would you describe him?
Very energetic. Very ambitious.
He wanted to be somebody. Do something.
Sometimes he wanted to be (Mahendra Singh) Dhoni, sometimes a pilot.
Sometimes he wanted to be Virat Kohli.
It was never 'I want to be a doctor or an engineer', and he stayed with that.
He wanted to be whatever inspired him.
He was such an intelligent boy.
What did Chief Minister Khattar tell you when he met you and your family on Friday?
He said he will ask for a CBI inquiry into the case. That's about it.
He gave a statement to the media also saying the state government would take over the management of the school for the next three months.
You have asked for a CBI inquiry right from the beginning. Do you believe the Haryana police will be unable to give you justice?
It's not that we have lost faith in the Haryana police. We are not questioning their motives or their inclination to get us justice.
It is just that this matter is sensitive, complicated that we need an extremely detailed investigation in the matter.
Every other day statements change.
We have been following media reports and we can't find any link between statements.
Aaj kisine yeh kaha, toh kal aur kisine aur kuch kaha (One day someone says something, the next day someone says something different).
What happened to my son happened under very suspicious circumstances.
So I have been requesting the government, every person we have met so far, that a CBI inquiry be called. So that ultramodern investigation techniques can be used to solve this case.
Do you think the CBI will be able to solve the case?
The attention that this case has received from people in general, from the media, even from the Supreme Court, I somehow feel that something positive will happen in the case.
The CBI inquiry is just the beginning. Abhi to bahut aage janaa hai (we have to take this much further).
I had made a request that rules and regulations be instituted, accountability be set for all schools. Not just Ryan International.
Today this incident happened at Ryan, tomorrow it can happen at some other school.
It's another matter that it should not happen at any school, whether it's Ryan or othewise.
Rules and regulations for schools should be laid down and there should be an independent body that will honestly monitor whether the rules are in fact being followed.
Aur bas, kuch kanoon aisi hone chahiye, kuch neeyam aise hone chahiye (there must be laws, processes) so that no such incidents happen in the school premises.
This should not have happened at any cost, this is unacceptable under any circumstances.
The system should be such that charges are framed quickly, accountability is fixed quickly, punishment is given quickly.
The fear among people, parents, children, should end. They should have the confidence that such crimes will be dealt with severely.
This is the only way in which the spiralling crimes against children can be controlled, may be even reduced.
The punishment should be so severe that it will act as a deterrent for criminals and encourage victims to speak up and get justice.
I do believe that the CBI will be able to look into this case positively, but it isn't just about this case. It is a larger issue.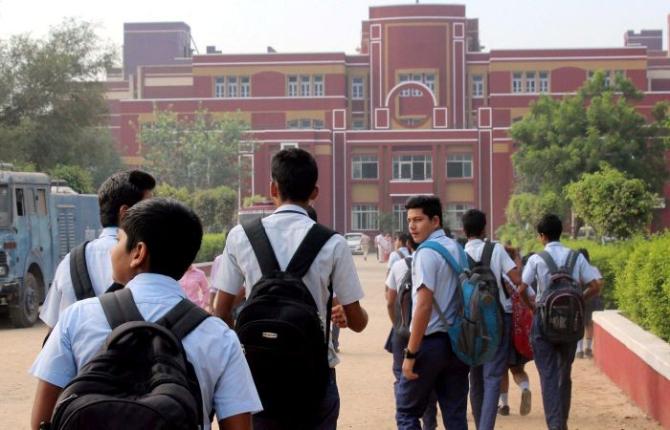 IMAGE: The school reopened on Monday, September 18, but following Pradhyumn's father's objections, the district administration decided to close it till September 25.
Photograph: PTI Photo
Will severe punishment deter crime? Rapes haven't reduced even after the Nirbhaya rapists were given the death sentence.
This case has got every parent on to the streets protesting at the lack of security in schools.
Every parent with a young child in school understands what we are going through.
The issue of security concerns every parent.
The coming together of parents, the government, the courts, will ensure justice is met.
When that happens, it will deter further crime.
What punishment would you want for his murderers?
You decide. Aise brutal, aise chhote se innocent bachche ke saath... whoever did this deserves nothing less than hanging.
Do you think the prime suspect in the case, the conductor, is guilty?
Ho sakta hai (maybe). It is possible he is guilty.
But the reason behind why he did it is still not clear. Also, there are a lot of loopholes.
If he has indeed killed my son, why did he not run away from the scene of the crime?
Why did he leave the murder weapon in the bathroom?
There are other people involved. There is some sort of conspiracy.
I don't know why one person killed my child or many more were involved.
Reports say the conductor was given the third degree and he was forced to say he was guilty.
I don't want to comment on this because the matter is sub judice.
Do you believe more than one person could be involved in the murder?
Yes.
Look at the circumstances of the incident. How can one person plan everything?
It is also possible that just one person could be involved. But I somehow feel that more than one person is involved.
I have no proof obviously, but since you are asking me, that's what I believe.
But only one person, the conductor, has been arrested.
This means that the people who are behind my son's murder are probably in the school at this very moment. It is possible.
Do you feel the murder could have been prevented?
Obviously! Obviously!
If you allow persons like this (drivers and conductors) to use the washroom meant for the school children, something like this bound to happen.
I would place as much blame on the school for what happened.
In fact, they are equally responsible for the incident.
What was that day like?
It was a regular day. And like any other day, I dropped him off to school.
The routine was that I used to drop him off to school and his mother used to pick him up at around 2 pm.
So, he hopped off the car, took his bag and bounded off.
In fact, as compared to other days, he got ready for school all by himself. He was excited to go to school that day.
It was his friend's birthday and he told me, 'Friend ka birthday hai. Aaj toh chocolate milega' ('It's my friend's birthday. We will get chocolates today').
So he just said bye and walked into the gates of the school. Bas.
Have you ever received any call from the school concerning Pradyuman before this incident?
No, no, never.
Also, there has never been any incident like this before.
So when they called me and said they were from the school, I was a little surprised.
When they told me he was bleeding profusely, I was frightened.
I rushed to the hospital to find out what had happened. But it never even occurred to me that my child could ever have been murdered.
I certainly did not expect this. That it could happen in a school. To a child.
I was shocked beyond words.
What did you think when they told you Pradyuman was bleeding?
I thought he was bleeding from the nose, kahin chot lagaa hoga (he was hurt somewhere).
I thought maybe he was bleeding from the ear and the bleeding was excessive.
But not once did it occur to me that this is the kind of sight that would greet me when I reached the hospital.
He was in the emergency room. The doctor told me that he was dead before he was brought to the hospital (sighs).
Did you go alone?
No, my wife was with me.
Who was there from the school?
There were three teachers. The principal, a supervisor and another teacher, who I did not recognise.
The postmortem report says Pradhyumn was not sexually molested. So why do you think he was killed?
This is what I don't understand.
That is why I have been saying repeatedly, that there should be a detailed inquiry in the case.
What were the circumstances, what were the reasons behind the murder? We need to understand it.
Main kuch nahin bata paaonga ki kis haal mein hum jee rahein hain (I cannot begin to tell you how we are coping) (his voice breaks).
But with the CBI taking over the case, there will be a delay in filing the chargesheet.
The Haryana police were on the verge of filing it on Friday when the probe was transferred to the CBI.
I don't know about that.
All I know is that I want the investigation to be done and the case to be solved as soon as possible.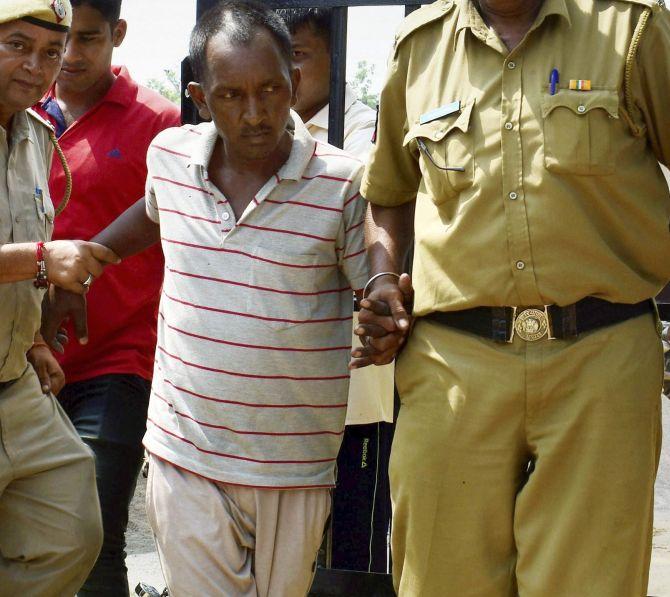 IMAGE: The accused, bus conductor Ashok Kumar, being escorted by the police. Photograph: PTI Photo
What were the lapses by the school?
There is a CBSE report which says there were lots of lapses.
Why was the conductor using the washroom meant for kids? Why wasn't there separate washrooms?
Before this incident, did you have any complaints with the school?
No, but before this incident I didn't even know that these people (drivers and conductors) were using the bathroom.
Nor did I know that the washroom had no grills.
I think other parents had complained about security lapses before this incident, but I don't know what had been done about it.
How do you follow what is happening in the case? Every day there is a new development.
There are at least 100 to 150 parents in touch with me at any point in time. They keep me abreast of what is happening with the case.
In fact, after the incident, parents from across India got in touch with me, to simply say they are with me.
I would put the number as thousands -- the parents who came to my home to meet me.
At least we know that we are not alone.
How are you coping?
(Sighs heavily) My wife hasn't been able to cope at all. Only I know how I have been coping.
But we have a long battle ahead. I have to fight for justice for my son.
I have to fight to ensure something like this doesn't happen to any other child, that no other parent faces what we are going through.
That is how I will find strength.