'As a police officer, it is a Catch-22 situation. You are damned if you do something, you are damned if you don't do anything.'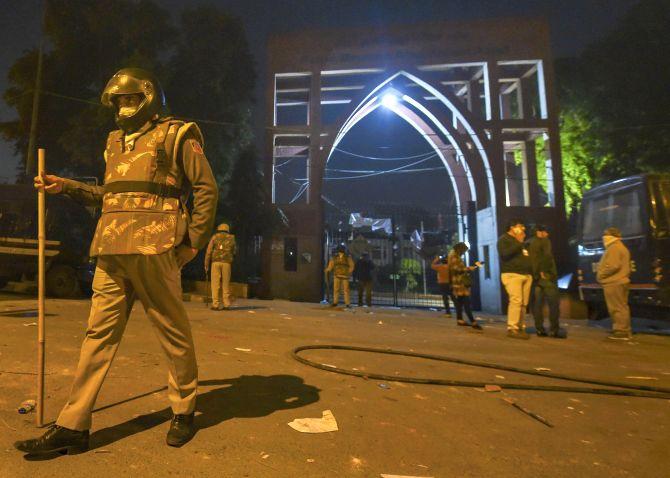 R Nataraj is the legislator from the Mylapore assembly constituency in Chennai city and belongs to the ruling All India Anna Dravida Munnetra Kazhagam. He is also a former Tamil Nadu director general of police.
Easily among the most accessible MLAs in the state, there is always a crowd outside his office and he makes it a point to meet everyone who comes there.
Many were disappointed and some surprised, when the AIADMK supported the Citizenship (Amendment) Bill in Parliament.
"Whenever people are protesting against the government, they first target the police," Nataraj tells Rediff.com's A Ganesh Nadar.
The top news of the day is not about the Citizenship (Amendment) Act, but about the police brutality both in Assam and Delhi. You have been an IPS officer. How do you view such action?
The police are there to maintain law and order. They are not concerned about why you are agitating.
When a situation becomes volatile they have to take action on the spot. It normally starts with an argument and you don't know when someone says something and ignites the passion, incites the crowd!
As a police officer, it is a Catch-22 situation. You are damned if you do something, you are damned if you don't do anything. It is our occupational hazard and we have learned to live with it.
You have to realise that the first response is always emotional. Once people start thinking rationally, they will realise that the Act has nothing to do with the people of this country.
Whenever people are protesting against the government, they first target the police who are representing the government right in front of them. They then target buses and trains as government property to show their displeasure with the government.
Politicians instigate this violence and the media adds to it.
The Act is about persecuted minorities in three neighbouring countries. Every country has a process for immigration and we are deciding ours.
What about the Sri Lankan Tamils? Why didn't you insist on making them part of this amendment?
This act is aimed at three countries only. The plantation Tamils from Sri Lanka have already been accepted by India long ago. Now the Jaffna Tamils are so proud, they think they are superior to us Indian Tamils. They will never ask for Indian citizenship.
I am not talking about the Jaffna Tamils, I am talking about the Sri Lankan Tamils who are in refugee camps all over Tamil Nadu, some for 30 years, many have been born here in Tamil Nadu.
The immigration law says that if you stay here for 11 years you can apply for citizenship. The CAA has made it 5 years for religious minorities from three countries alone.
It doesn't apply to Sri Lankan Tamils, but they can apply for citizenship.
The north east has rejected the CAA totally. They don't want immigrants irrespective of their religion.
It is not happening for the first time. Right from World War II, the north east has been objecting to outsiders. First, it was the influx from then Burma, and later from Bangladesh.
But they do have their Inner Line Permit to protect themselves from all outsiders
Why did your party vote for the CAB? Even your MP has said it was because of the alliance with the Bharatiya Janata Party.
The Act was necessary. From the time of Partition people have been crossing over from these countries. Don't think Tamils are not affected. A lot of Tamils went to these countries to work when it was still British India.
This Act was necessary and we supported it. Our MP doesn't need to be apologetic. Why was he apologetic? He needs to study the law and defend it after understanding it. It cannot harm the citizens here. The law is about citizens of these three countries who have come here before five years.
They have been used as a vote bank by the Congress, but they have not been given citizenship.
Are you saying they are not citizens of this country, but they have been voting?
Yes. Human trafficking from Bangladesh is a regular phenomenon. Those people come here to work or in search of greener pastures. They are all over the country. We are giving them legal recognition and making them citizens so that they don't have to live in fear.
Bangladesh Prime Minister Sheikh Hasina has said she is ready to take back citizens of Bangladesh.
If they wanted to, they would have gone back long ago. They are happier here and so they are staying here.
This discrimination against Muslim immigrants, will it not affect your votes among Tamil Muslims?
Muslims have always been treated as a vote bank. This bluff has to be called. Muslim men did not like the bill banning instant triple talaq, but Muslim women are happy.
They will realise they have nothing to fear from this Act. It is about people in other countries. They will realise they have been used as a vote bank by political parties with their own agenda.
The central government must be happy that with the anti-CAA protests, nobody is talking about the economy.
Trains are full, flights are full, theatres are full, but you people keep saying the economy is not doing well.
---
A Ganesh Nadar is based in Chennai and the author of two books. He can be contacted at ganesha@rediff.co.in