'The day the BJP has a majority in the Rajya Sabha, the cow will be declared 'rashtra mata.'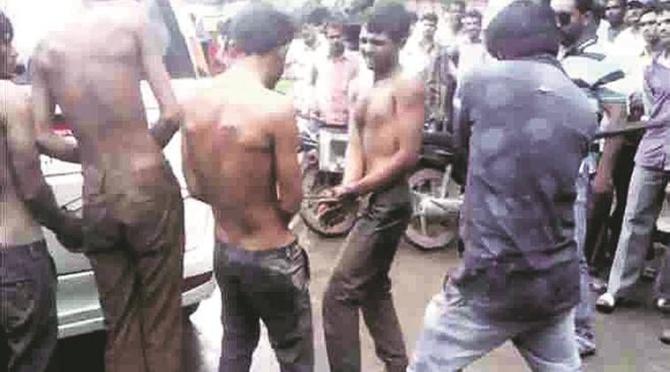 T Raja Singh, the Bharatiya Janata Party MLA from Goshamahal, Hyderabad, posted a video (external link) on Facebook, supporting the thrashing of Dalits by a cow vigilante group in Una, Gujarat.
His move comes as the BJP is trying to project that it is not an anti-Dalit party, following the national outrage over the Una incident.
Singh, below, left, spoke to Rediff.com's Syed Firdaus Ashraf about the Una incident and protecting cows.
Why are you supporting the shocking assault on Dalits in Una?
Today dirty politics is being played in the name of the Dalits. Due to a few Dalits, the entire community is getting a bad name as if they all are gau hatyaras (cow killers) and getting beaten up.
I gave that speech in favour of the Dalits by stating that all Dalits are not cow killers.
In Una, the Dalits (who were beaten for allegedly skinning a dead cow) are converted Christians. They are supported by anti-national elements who make these Dalits do this kind of work.
These anti-national elements have a big plan to divide Hindus.
This is news to me. You are saying that those Dalits were Christians?
This news has come from Una only. This news was given to me by gau rakshaks from Una.
When we started investigating, we came to know this fact that these Dalits were converted Christians, but they called themselves Dalits.
I want to ask: Are all Dalits killers of cows? Do all Dalits eat cow meat? The answer is no.
I am talking in favour of the Dalits, but it is being highlighted that I am their enemy.
I am a servant, a friend of the Dalits. I was in the TDP (Telugu Desam Party) earlier and joined the BJP under the leadership of Dr Bangaru Laxman, who was a Dalit.
You are giving a communal colour to the Una incident by bringing in the Christian community.
This is not a different angle. You ask your local contacts in Una and find out the truth. In Telangana too, there are some Dalits who say they are Dalits, but they go and eat cow meat.
You may recall that earlier, in Osmania University, the Dalits organised a beef festival. It was not by the Dalits, but by converted Christians.
At that time too I had challenged them to organise the festival. And even today, I say that all Dalits are not into slaughtering of cows.
But you are taking the law into your hands. Don't you think it is wrong?
If the law is enforced properly, then not a single instance (of cow slaughter) will take place.
Gau rakshaks will not intervene. If one goes to a police station (with a complaint against cow slaughter), the police says they won't intervene.
In Una, the same thing happened. The police said they are not working only to protect cows. They told the gau rakshaks that they cannot put the entire police force to protect cows, they have other jobs too.
If the police worked properly, then we wouldn't have seen such incidents in Una.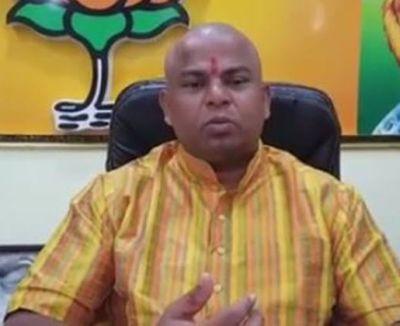 Dalits who transport dead cows have been doing this for years. Who will do this work if they stop doing it?
This is the municipal corporation's job. If they find a dead cow on the road, then it's their job to dispose off the carcass. It is wrong to take out the skin of the cow and sell it. Dalits don't do this job. This is wrong.
If you say it is the municipal corporation's job and if someone is 'illegally skinning' a dead cow, then isn't it the police's job to arrest these people? Why should the gau rakshaks get involved?
In Una, gau rakshaks wrote many times to the police how cows are being slaughtered illegally and that there should be some action against it. It was not done.
The police did not take action and, therefore, the gau rakshaks had to do something. Therefore, I request the police to take swift action in cases of cow slaughter.
You also said there are 'beggars who beg for votes in the name of secularism.' Whom were you targeting?
Rahul Gandhi, Mayawati, Arvind Kejriwal are beggars for the secular vote. They will do anything for votes. They are playing Dalit cards. I was talking against them.
You also said the cow must be made rashtra mata (mother of the nation). Can you tell us what you mean by that?
We do not have a majority in the Rajya Sabha. The day the BJP has a majority in the Rajya Sabha, the cow will be declared 'rashtra mata.'
We will 100 per cent pass a law banning cow slaughter across India.
I want to tell Mayawati and Kejriwal that when such a bill is presented in the Rajya Sabha, they must support it. Whenever such a bill is presented, they start opposing it.
But cow slaughter is a state subject. There is a BJP government in Goa, but the state permits cow slaughter because the BJP does not want to upset the Christian community.
You check the facts. I have been to Goa and told the government that they must stop cow slaughter. I warned them that they will have problems in the future.
Did your party support your statement?
This is my personal view. I got a phone call from my party leadership. I told them I am a Hindu first and a BJP legislator later. My job is to protect cows.