'Amit A Shah has assured us that the BJP will follow 'alliance dharma'.'
'If they follow it, the alliance will be intact.'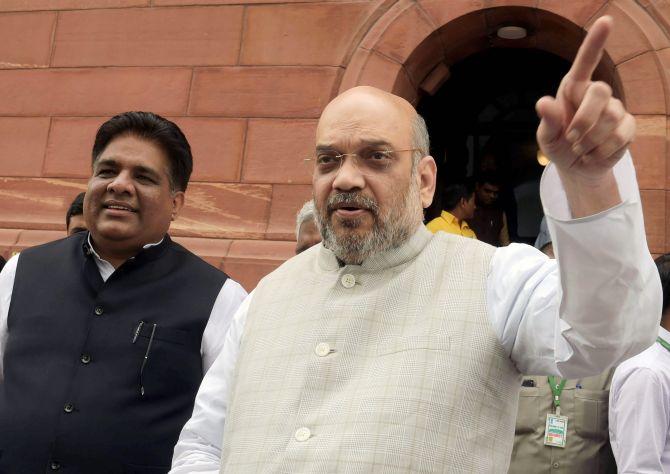 IMAGE: Bharatiya Janata Party President Amit A Shah. Photograph: Shahbaz Khan/PTI Photo
Om Prakash Rajbhar, the Bharatiya Janata Party's sulking ally in Uttar Pradesh, met BJP President Amit A Shah in New Delhi on Tuesday, March 20.
After meeting Shah, the Suheldev Bharatiya Samaj Party leader declared his support for the BJP in the March 23 Rajya Sabha elections in UPe.
Rajbhar, who had earlier threatened not to vote for the BJP in the Rajya Sabha election if the BJP did not follow 'alliance dharma', spoke to Rediff.com's Utkarsh Mishra over thephone.
What did you talk about in your meeting with Mr Shah?
The issue was the division of 27 per cent reservation for backward classes into backward, other backward and most backward categories.
Amit A Shah assured us the government would address it after the Karnataka assembly election.
So your differences with the BJP was only on the issue of reservations...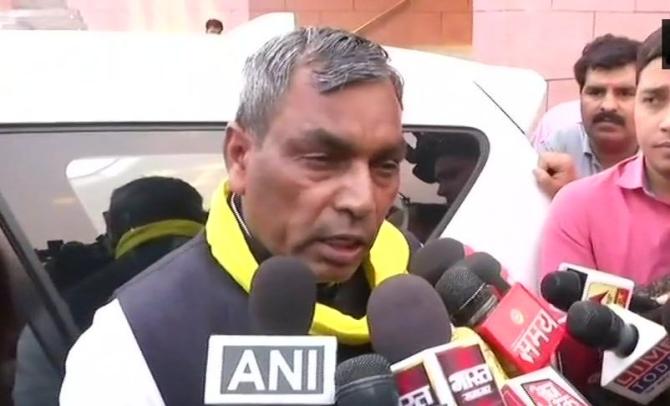 IMAGE: Suheldev Bharatiya Samaj Party leader Om Prakash Rajbhar after meeting Amit A Shah in New Delhi on Tuesday, March 20, 2018. Photograph: ANI
(Interrupts) First of all, it was about the division of 27 per cent reservation into three categories. The reservation is already there.
Also, schemes for poor related to housing, ration, pension, toilets and education etc are not reaching them, and are only on paper.
To address these issues Amit A Shahji is coming to Lucknow on April 10. He will speak to everyone, including Chief Minister Yogi Adityanath.
We will discuss how these schemes can be taken to the poor and marginalised sections.
You also expressed reservations earlier over the law and order situation in the state, and said the Adityanath government has not lived up to expectations. Did you also discuss this?
All this will be discussed on April 10.
You also said the Suheldev Bharatiya Samaj Party was ignored in the recent Lok Sabha by-polls.
Yes. That's why the backward classes did not vote for the BJP.
When they feel neglected, why will they vote?
The chief minister accepted that the loss was a result of 'over confidence'.
He has to accept this now.
so you feel it was because of this 'over confidence' that you were 'ignored'?
Yes.
In the Rajya Sabha polls, the BJP has the numbers to send eight candidates to the Upper House. But they still need more votes for the ninth one. Why do they need a ninth candidate when they didn't have the numbers?
Our party will vote for the BJP candidate.
The BJP allies are drifting away, be it the Telugu Desam or the Shiv Sena. Why is it so?
I can speak only for myself. You should ask them about their issues.
Did you also have differences with the BJP's central leadership, or was it limited to the state level?
See, we held talks with Amit A Shah over issues with our alliance agreement.
He has assured us that they (the BJP) will follow the 'alliance dharma'.
If they follow it (the alliance will be intact).