'That's the beauty of Naveen.'
His intermittent support to the NDA and Modi confuses BJP workers in Odisha.'
'It gives an impression that Naveen has a tacit understanding with the NDA and that the BJP will not really challenge him wholeheartedly.'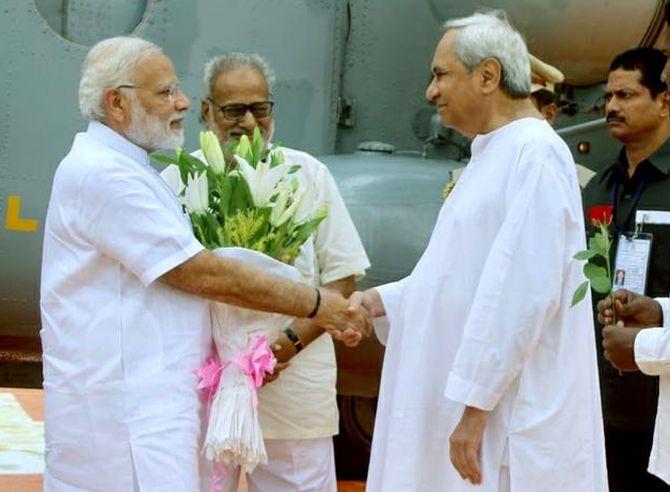 Unlike most politicians, Odisha Chief Minister Naveen Patnaik doesn't like to be in the limelight.
It is his fourth term as Odisha's chief minister. If he wins a fifth one and completes it, he will surpass Jyoti Basu's over 23-year stint as West Bengal chief minister, a feat that so far has been achieved only by Sikkim Chief Minister Pawan Kumar Chamling.
Little is known about Patnaik outside Odisha and even within his state there is a kind of enigma surrounding him as the CM himself doesn't want to be in the headlines much.
The state is scheduled to go to the polls next year and this time Patnaik faces a robust challenge from the Bharatiya Janata Party, with Prime Minister Narendra Damodardas Modi and BJP President Amit Anilchandra Shah visiting Odisha the state frequently and addressing rallies.
Petroleum Minister Dharmendra Pradhan, who is most likely to be chief minister if the BJP comes to power in Bhubaneswar, is also a frequent visitor to his home state and does not leave any opportunity to criticise the Biju Janata Dal government in the state.
It is against this backdrop that journalist Ruben Banerjee, who has covered Odisha politics for more than three decades and has known the reticent and reclusive chief minister since his pre-politics days, published his political biography Naveen Patnaik.
"We all thought he is a one-time wonder. But he has proven everyone else wrong," Banerjee tells Rediff.com's Utkarsh Mishra.
You start your book with a comparison between Naveen Patnaik and other political heirs like Akhilesh Yadav and Rahul Gandhi. Do you think Mr Patnaik would have achieved what he did had he not been in Odisha but a state like Uttar Pradesh or Bihar?
When Naveen Patnaik started out, no one really expected he would survive this long even in a state like Odisha.
We all thought he is a one-time wonder. He won only because of Biju Patnaik's legacy and sympathy vote.
But he has proven everyone wrong.
Would he have achieved it had he been in UP or Bihar? One doesn't know.
Maybe he would have again surprised us, I don't know. Or maybe he would have failed, it could have been either way.
The chapter on the BJP challenge to Mr Patnaik in 2019 in your book gives an impression that Dharmendra Pradhan will dislodge him in the 2019 assembly election.
It will be a bitterly contested election.
I wouldn't say with any authority that Pradhan will definitely dislodge Naveen Patnaik. But for the first time ever -- during the past 18 years of his rule -- Naveen Patnaik is possibly facing his toughest challenge.
The challenge all this while in Odisha was the Congress. And the Congress was very disorganised. They never had a leader; neither they had a conviction or sincerity to challenge Naveen.
In 2014, the BJP wanted to challenge Naveen, but did not have the organisation or strength (in Odisha).
Now for the first time, I think the BJP is more organised and Naveen is facing a tough challenge.
What will happen one doesn't know. I would still say that Naveen Patnaik has his nose ahead, but it will be a tough contest.
On one hand he faces such a challenge from the BJP, and on the other he supports the central government on every issue -- be it the no-confidence motion or the Rajya Sabha deputy chairman election.
It is in contrast to other regional players fighting an existential battle. Like the Telugu Desam Party which thought it fit to leave the NDA (National Democratic Alliance) fold and oppose the government.
This is exactly the speciality of Naveen Patnaik.
The NDA government wanted his support in the Rajya Sabha (deputy chairman) election. He extended that support.
He has even supported Modi on simultaneous (Lok Sabha and assembly) elections. His intermittent support to the NDA and Modi confuses BJP workers in Odisha.
It gives an impression that Naveen has a tacit understanding with the NDA and that the BJP will not really challenge him wholeheartedly.
That's the beauty of Naveen. He has successfully been sowing confusion within BJP ranks.
I keep saying that he is a great strategist. And this is also part of his strategy.
Since the question 'After Naveen who?' is so difficult to answer, do you think the BJD chief has done a great disservice to the party by not having a second-in-command?
Politics is all about staying in power.
For any successful politician, the priority is self-preservation.
For his self-preservation, Naveen has ensured that there's no second rung of leadership (in the BJD). Now what happens in the future, I don't think he is concerned about that.
Like any other politician, he has ensured his survival. Whether the party will survive beyond Naveen Patnaik remains to be seen.
He also faces a tough challenge from his former BJD colleagues whom he went on sacking often to absolve himself of any blame.
Now some of them, including Baijayant Panda and Damador Rout, are coming together and may form another regional outfit.
He will face new challenges, but whether the challengers will be accepted by the people remains to be seen.
So far as Odisha is concerned, Naveen Patnaik has the biggest charisma quotient as of now.
To measure up to him, the opponents will have to do a lot of ground work.
After a point, the 'incorruptible' image of a leader has little meaning. It did not help Dr Manmohan Singh when his government became unpopular.
See, you must give credit to Naveen Patnaik that he has already won three re-elections. One doesn't know what will happen the next time round.
If he could become the CM four times, he can become the CM for a fifth time as well. He may win the next time. He may lose as well.
A lot would depend on the BJP and Modi's popularity at that time, in 2019. If Modi remains very popular, then Naveen will be facing a stiff challenge.
But if the BJP loses steam, then it will be advantage Naveen. Because Naveen, individually, has a lot of charisma. And there's no immediate alternative.
Dharmendra Pradhan is trying very hard. Though he is perhaps the tallest leader of the BJP in the state, whether he will be able to measure up to Naveen Patnaik, that remains to he tested.
You mention in the book how, quite presciently, Naveen realised that Pradhan could be a problem when the latter had won his very first election even though the BJP was in alliance with the BJD at that time. It seems Naveen must have a strategy in mind regarding Pradhan.
Obviously he has. He is a very shrewd politician.
And also the fact that from time to time he is backing the NDA is also part of his strategy because the moment he does that, he confuses the BJP rank and file.
And that is detrimental to Dharmendra Pradhan.
Ehat role does the BJP's corporate backing play in a mineral-rich state like Odisha?
Like in every other state, elections require a lot of resources.
The ruling BJD has a lot of resources and hopefully the BJP will also not be short of resources.
So it will be a test of political strategy, political guile and also of who can marshal how much of resources.
What about the RSS (Rashtriya Swayamsevak Sangh) in Odisha? Has Naveen tried to check it?
The RSS has always been silently working in Odisha. They are all across the state. They are very deep-rooted. They have a huge support base.
And also the kind of branches and sub-branches they have, they earn a lot of goodwill on the ground. So there is a strong connect with the people of RSS organisations that work continuously in Odisha.
Some of it obviously will benefit the BJP.
The goodwill that the RSS and its organisations earn will all accrue to the BJP and it should help them in the next elections.
You have drawn a comparison in the book between the BJD post-Naveen and that of the AIADMK after Jayalalithaa.
That is a possibility. Anything can happen. In the absence of Naveen Patnaik, his nephew might step in...
If Arun Patnaik steps in, will he be treated like T T V Dinakaran was treated by the AIADMK?
In the first election he (Naveen Patnaik's successor) will benefit. Because evidently one can expect that there will be a lot of sympathy.
There will be a lot of goodwill. So possibly he will have an advantage.
But will the successor be able to emulate Naveen's longevity? That's going to be a tall task.