'Nowhere in the country, except perhaps Jammu and Kashmir, do extremist groups enjoy political patronage as they do in Kerala.'
'Terrorists are exported from Kerala to Afghanistan, Syria.'
VMuraleedharan is president of the Bharatiya Janata Party's Kerala unit.
Shobha Warrier/Rediff.com spoke to Muraleedharan, left, below, recently on issues ranging from the beef ban to disturbing reports of growing Islamic extremism in Kerala.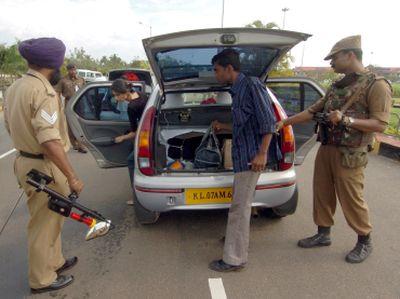 Let me start by asking you about the ban on beef by the Maharashtra government. Kerala is one society where even religious Hindus eat beef. As the state BJP president, what is your stand on this issue?
Your statement that religious Hindus eat beef in Kerala is not correct. In Kerala, in the name of beef, what is sold is buffalo meat.
Those who organise beef festivals here should understand that it is the slaughter of cows that is banned in Maharashtra and some other places, and in Kerala, people ear buffalo meat and not cow meat.
And the awareness that cow is gomata has not percolated into Kerala society. Even Tamil Nadu has mattu pongal in which animals are worshipped and only here, that concept is not there.
But when a pan Indian awareness campaign starts, Kerala will also subscribe to it.
Like the dragon is an identity of China, the cow is an identity of India.
Gomata is a concept of Hindus. Indians from other religion may not agree with such a concept...
I am not talking about any religion per se; irrespective of any religion, this is the country's belief.
Why does it confine to Hindus alone now? Because earlier, only Hindus were here and later on, people came here and converted.
Some people ask today, why do you name the award for the best coach as the Dronacharya Award and why an Arjuna Award for the best sportsperson?
That is because they are not just Hindu icons, but national identities.
National identity and religious identity are different.
All Indians should subscribe to the national identity while they can differ on religious identities.
Is eating beef not a personal choice of an individual? Can a state impose its views on people?
There is no imposition here. It is there in the Constitution. Mahatma Gandhi also opposed slaughter of cows. Cows are part of our agriculture.
Does that mean you will oppose the slaughter of buffaloes also because they are needed for agriculture?
This country considers gomata as sacred, and not the cat or dog. The basic issue is, do you subscribe to the national identity?
Anyway, I am not for imposing anything on people.
Will it be possible to have such a ban in Kerala where half the population eats beef?
I am not demanding any ban!
What is your stand on this issue?
I will take a stand when the time comes. We are not in the government. Let the government decide. Why should I give my opinion when we are nowhere near the law making body? I will think of it when I come to the law making body.
Mahatma Gandhi was against cow slaughter, but the Congress does not have the guts to follow his principles.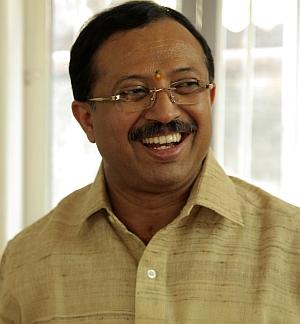 V Muraleedharan, Kerala BJP chief
Photograph: Kind copurtesy, Kerala BJP
'Islamic extremism is growing in Kerala because of the support they receive from the governments in power, both the Left Front and the Congress.'
Arundhati Roy says Mahatma Gandhi is the first corporate NGO independent India has seen...
Just because she has written a book that has won the Booker Prize does not give her the right to give a 'learned' opinion about everything in the world!
Let her comment on literature and on subjects she knows. What does she know about Mahatma Gandhi? I think her comment is not worthy of an answer.
Some Congressmen say the BJP is trying to hijack Mahatma Gandhi. Do you feel he has been forgotten?
The Congress wanted the nation to remember only one family. They pushed forward the Nehru family using Gandhi's name. That was because it served their political interest.
In fact, we are of the opinion that we should remember all our freedom fighters.
The Congress only used Gandhi's name for the benefit of the Nehru family, and not his principles. Naturally, they want Gandhi to be forgotten.
Right from the Jan Sangh days, we have never discarded Gandhi's principles. For example, more than the Congress, the BJP has taken his idea of swadeshi.
How do you view the fringe elements connected to the BJP indulging in moral policing in many parts of Kerala, one of which resulted in a protest in the form of Kiss of Love?
You people see only the fringe elements indulging in moral policing. Won't you see killings in the name of moral policing?
There have been instances where Muslim fundamentalists kill Hindu boys for talking to Muslim girls.
Does that justify the actions of the fringe elements of the BJP?
I am not justifying them. My only question is why was there no furore when killings took place in the name of moral policing, which could be charged under IPC 302? It was not made out to be a big issue. The big issue was about kissing in public.
Do you support moral policing?
There are things that can be done in public and there are things that shouldn't be done in public. The incident happened in Calicut where a hotel was run like a brothel.
When Yuva Morcha people went and enquired, they were manhandled.
Shouldn't the police be doing the policing?
Yuva Morcha people went and enquired, that's all. Do they not have the right to enquire? What's wrong in that? When they were manhandled, they retaliated, though I will not agree with any kind of violence.
When somebody slaps you, you slap back. When somebody beats you, you beat back.
Is that what is happening in Kannur where violent clashes happen regularly between RSS (Rashtriya Swayamsevak Sangh) and CPI-M (Communist Party of India-Marxist) members?
In Kannur, the Communist party is losing ground and cadres. In September last, the RSS district leader was killed in broad daylight.
Now, they are attacking BJP workers, especially those who have switched over from the CPI-M to the BJP. The attack is so violent that they cut off hands, legs, etc. The injuries are so severe that the person will be in bed for at least 10 months.
This is to create a fear psychosis among CPI-M cadres so that nobody else would cross over to the BJP.
Why should somebody from the CPI-M change to the BJP when we are not in power in the state?
It is only because of disillusionment; because the CPI-M has deviated from its principles. The CPI-M today has all the ills of a bourgeois party which they had been accusing others of.
They have only Tripura to hold back and they want to somehow come back to power in Kerala. But there is an understanding with the (Congress-led United Democratic Front) UDF in many matters.
When I spoke to (CPI-M leader) Pinarayi Vijayan, he said there was a tacit understanding between the BJP and the UDF... You are saying there is an understanding between the Left and the UDF.
It is like taking anticipatory bail. He knows what he is doing and that is why he is accusing us.
Where are we in Kerala? The Left started an agitation to block the secretariat indefinitely and said they would not stop until (Chief Minister) Oommen Chandy resigned.
They announced an indefinite blockade and on the second day, it was called off and the cadres were asked to go back. Did he resign? He didn't even order an enquiry.
Islamic fundamentalism is on the rise in Kerala. It was reported that Kerala has become a breeding ground for terrorists.
We were the people who first said that Kerala is going to be the next Kashmir. Then, nobody accepted it, but now people have realised that it is going to be true.
We are the only party that objected to the growing influence of the Muslim League in the Kerala government as we felt a section of the Muslim League was harbouring fundamental terrorist groups here.
Islamic extremism is growing in Kerala because of the support they receive from the governments in power, both the Left Front and the Congress.
We are the only party that says Islamic terrorism is on the rise in Kerala. In fact, in Kasargode, (Prime Minister) Narendra Modi said that Kerala had become a nursery of terrorists.
Terrorists are exported from Kerala to Afghanistan, Syria.
It is happening in the northern part of Kerala...
It is happening not just in the northern part of Kerala.
The situation in Kerala is very dangerous not only because extremist groups are growing, but also because they enjoy political patronage in Kerala.
Nowhere in the country, except perhaps Jammu and Kashmir, do extremist groups enjoy political patronage as they do in Kerala. All extremists consider Kerala as a hideout.
Image: Policemen search a car at a checkpoint outside an airport in Kerala. Photograph: Dipak/Reuters. Photograph published for representational purposes only.