'The ministry of home affairs has all records of money coming in from abroad.'
'Are they saying money is coming in without their knowledge?'
'Does the governor doubt the MHA?'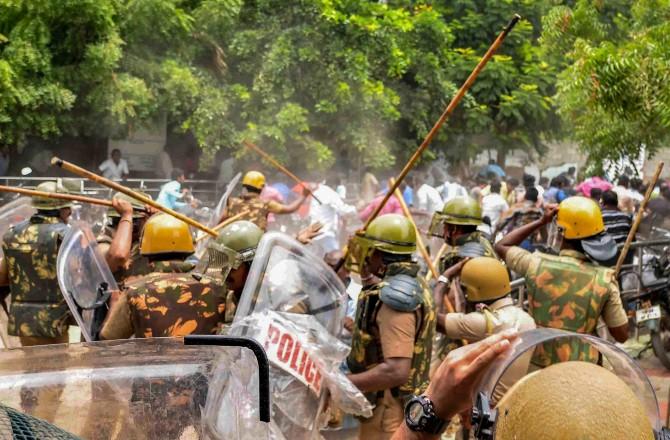 Governor R N Ravi, who has had a running bout of differences with the Tamil Nadu government, has now ruffled the feathers of protestors at the Sterlite plant in Thoothukudi by claiming that the agitation in 2018 to shut down the factory was fuelled by foreign funds.
The governor was referring to the protests of May 22 and 23, 2018, in Thoothukudi town against the proposed expansion of a copper smelter plant run by Sterlite Corporation, over claims that the factory caused air, water and soil pollution that affected the health of local residents. The police opened fire on the protesters, killing 13 people and injuring 102, reports PTI.
Ravi -- a retired Intelligence Bureau official -- was addressing civil service aspirants for the 'Think to Dare' series, at the Raj Bhavan in Chennai when he made the remarks.
A Ganesh Nadar/Rediff.com spoke to M Krishnamoorthy, coordinator, Anti Sterlite Thoothukudi District People's Federation, about the governor's statement.
Tamil Nadu Governor R N Ravi has said that the anti-Sterlite agitation was foreign-funded. So did you receive any overseas funding to run your agitation?
It is a lie. If they have proof, they should furnish it. A governor should not be indulging in politics.
The ministry of home affairs has all records of money coming in from abroad. Why don't they show us proof?
Are they saying money is coming in without their knowledge?
Does the governor doubt the MHA (ministry of home affairs)?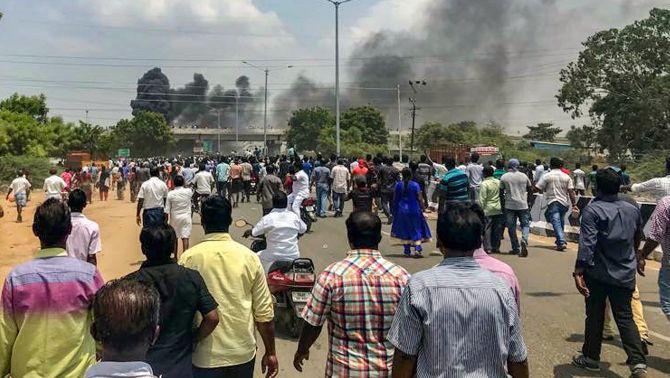 Did you receive any domestic funding at least?
We don't need funds. It is a people's movement. People protested in their own area. Why do you need money for that?
How did the anti-Sterlite protests sustain itself financially? Did all the protesters pool in money?
We did not need money to protest and thus we did not pool in money.
Why do you think the governor has made this accusation?
He speaks casually about serious issues. He says bills rejected by him are dead. He is not fit to be a governor.
The governor is not the first one to say so. Earlier, Sumathi Angusamy, the COO of Sterlite Copper, also made a similar accusation.
I am not aware of any such allegations.
Are you and other members of the anti-Sterlite movement willing to subject yourself to a government audit, if needed, to prove that you did not receive any foreign funding?
We do not collect funds. We do not have any bank account. We do not maintain any accounts because there is no money involved. So what is there to audit?
What is the state of the agitation today? Are the members of your movement as motivated as before?
They have approached the Supreme Court.
Do you know that the people of Tuticorin have more arsenic in their blood than people from other regions in the country?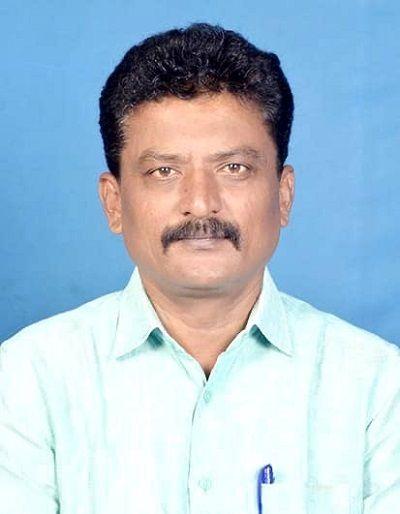 IMAGE: M Krishnamoorthy.
The Dravida Muneetra Kazhagam government in Tamil Nadum is more sympathetic to your cause, has it benefited the movement in any way?
How can you say that? Remember, 13 people were killed in police firing (in May 2018). They (the DMK) promised to take action against the police before the elections, but they have not done that.
They said they would bring a legislation to ban Sterlite permanently, but they have not done that.
Has any effort been made to work out a solution between the protestors and Sterlite?
(Laughs) No!
Sterlite was running for 20 years without any major issue or protests, yet you started protesting only when they announced that it was doubling their capacity.
It is wrong to say we started protesting only when they announced doubling of production. The protests were started before Sterlite started, it continued through the years.
It became more pronounced after they said that they will double their capacity.