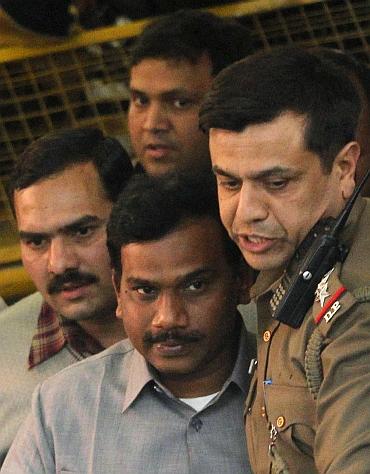 'Do you know there is a 500 page report prepared by an inquiry committee headed by myself? When I placed the report in Parliament, have you heard any single Opposition leader give a notice for discussion?'
'Why are they not demanding a discussion in Parliament on the report? They could have established that there was a scam. Today, a Parliament Committee report is as good as a Parliament report and this report says the 2G scam is no scam. Our government is suffering because of the media hype on these scams,' Congress MP P C Chacko tells Rediff.com's Shobha Warrier.
P C Chacko, the Congress MP from Thrissur, was the Chairman of the Joint Parliamentary Committee that probed the 2G scam.
Taking time off from canvassing for the Lok Sabha election, Chacko, below, left, spoke to Rediff.com's Shobha Warrier over the telephone on various issues ranging from the 2G scam to forming the United Progressive Alliance 3.
At a press conference you said the prime minister was responsible for the UPA getting a bad image as he never spoke to the media or tried to talk about the good things the UPA had done. Do you hold Dr Manmohan Singh solely responsible for the UPA's bad image?
No. In fact, my statement was only partially reported. I was explaining the UPA's achievements in the last 10 years. Somebody asked me why our party was on the defensive. I said we could not sell our achievements properly.
Then he asked me, whose failure is it? What I said was: From the prime minister to every member of our party, is responsible.
Our achievements should have reached the people, and if we couldn't do so, it is our failure.
We were not communicative as we should have been, and it was a collective failure. I never blamed the prime minister.
I also said, we would form the next government, UPA 3.
You spoke of the UPA's achievements. There were so many scams. Almost everyday, one scam or the other was being reported...
Scams did not really happen. Whatever others say, I am one person who can say that with all authenticity because I was investigating the 2G scam.
The 2G scam is no scam. The media must have celebrated the 2G scam, but it is no scam.
There was some impropriety in giving licenses irrespective of the priority of the application and that mistake was done by (former telecom minister) A Raja. He was in jail for that failure, but the government did not defend him. He is still undergoing trial.
According to the CAG (Comptroller and Auditor General), the government's mistake was selling spectrum at a lower price and not by auction. This is totally unfounded. That is the basis of the allegation.
So, I can repeatedly say that 2G is no scam at all.
A Raja said several times that the prime minister was fully aware of what he was doing. What does it mean?
It means that licenses were given at a fixed price. What is 2G? Rs 1,650 crore (Rs 16.5 billion) was the price decided by the government for a pan India license, which was the fee recommended by the TRAI (Telecom Regulatory Authority of India).
Whether that price should have been in the auction or not, was the question.
The prime minister only advised Raja to go for a transparent auction. Raja wrote back to the prime minister that the TRAI had recommended a fixed price. He said, giving at a fixed price would increase tele-density, and that would reduce telephone charges.
Today, if India is enjoying the largest tele-density in the world, it is all because we could sell (spectrum) at a lower price.
So there is no scam as reported or celebrated by the media.
You said 2G is no scam at all, but people called it the mother of all scams.
That is your problem. The media, once they break a story, they go on and on to substantiate it. You plant a story today and what do you want to do tomorrow? You want to substantiate that. You call it the mother of all scams.
But do you know there is a 500 page report prepared by an inquiry committee headed by myself?
Why are they not demanding a discussion in Parliament on the report?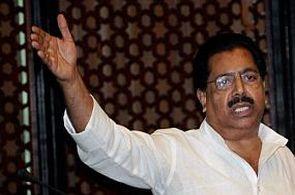 When I placed the report in Parliament, have you heard any single Opposition leader give a notice for discussion?
They could have established that there was a scam. Today, a Parliament Committee report is as good as a Parliament report and this report says the 2G scam is no scam.
Our government is suffering because of the media hype on these scams.
Now, we have to tell people the truth so that they will be the final arbiter.
Raja was in jail...
Why was Raja in jail? Because there was an impropriety in the first come first serve policy.
When that priority was overtaken, when the cut-off date for the application was advanced, it was found as an irregularity by the CBI (Central Bureau of Investigation).
That was why criminal misappropriation or forgery was placed against Raja. That was why he was in jail and not for any scam.
The DMK has given him a ticket...
I don't have anything to say about the DMK (Dravida Munnetra Kazhagam) giving him a ticket. We have nothing to do with the DMK. We severed our connection with the DMK on this issue. We said Raja was wrong on certain counts.
They wanted us to defend Raja and our government did not go to that extent. Had it been the BJP (Bharatiya Janata Party) or any other party, they would have defended their ally.
Why are we suffering in Tamil Nadu today? Why did we lose Raja's party? Because we put Raja and (another DMK leader jailed in the 2G case) Kanimozhi in jail for impropriety and not for the scam.
All the opinion polls paint a bad picture for the Congress.
Out of the ten predictions, five say the opposite. That is no prediction at all. The mood of the people is changing everyday. You see the fight between (BJP patriarch L K) Advani and (BJP prime ministerial candidate Narendra) Modi, (senior BJP leader) Murli Manohar Joshi and Modi, (expelled BJP leader) Jaswant Singh and Modi.
When such fights are taking place in a party, do you think people will repose their confidence in them?
You compare this with a leader like (Congress President) Sonia Gandhi who has sacrificed all power when all the positions were available for her. And here, veterans are fighting for a seat. So, the BJP's image is suffering.
So, I think we are gaining day by day and the BJP is losing day by day.
Many say there is a Narendra Modi wave in India...
Absolutely not. It is high charged publicity organised by Modi's media managers. Event management is popping up Modi and this has not happened before in Indian politics.
Moneybags and propaganda machinery is behind all this. Beyond that, there is no wave for Modi at all.
If he were to be the prime minister?
It is out of question. It is something that is not going to happen.
I have four decades of political experience, and I am telling you, Modi becoming the prime minister of India is not going to happen.
That is because India is a secular country, and I am not going to believe for a moment that the secular conscience of India will permit Modi, a hardcore communalist, to become India's prime minister.
He says he will develop India like he developed Gujarat.
Development of Gujarat is a bogus slogan. Kerala is far more developed than Gujarat.
There are half a dozen states in India that are far more developed than Gujarat.
What Modi did in Gujarat was, he sold public property to the bigwigs of Indian industry. It was an outright sale of Gujarat and nothing else.
Twenty years back, we started the Narmada Dam project, and it has not been completed and farmers are not getting water. Child mortality, maternal mortality... you take any parameter, Gujarat is lagging behind many states in India.
What is progress? You take any socio-economic index, Modi's state is far behind. His lies will come out and people will reject him outright.
Unlike the all India picture, the UDF (United Democratic Front) is said to be in an advantageous position in Kerala, according to most surveys.
That does not justify the all India projection. In Kerala, it is the unadulterated opinion of people with common sense, as there is no lobby working here.
But outside Kerala, stories are being planted and the media is being used. It is an organised big money business that Modi is involved in.
Here, the Marxist party is involved in killing people, finishing people. Anyone leaving the party is finished off. They are barbarians.
The Marxist party and the current leadership is highly dictatorial, anti-democratic. This is why the CPM (Communist Party of India-Marxist) is getting isolated in Kerala and its coalition partners are leaving one by one.
We got 15 out of 20 (Lok Sabha) seats last time, but this time we will recapture the ones we lost then. We will win all the 20 seats here.
You said the Communists have become undemocratic. We get the impression that in the Congress party, all the decisions are taken by the Nehru-Gandhi family.
Absolutely not. Where was the Nehru family in the last 10 years?
From (then prime minister P V) Narasimha Rao to Manmohan Singh, all the leaders were from outside the family.
The Nehru family could have captured power and Rahul Gandhi could have become prime minister any day in the last five years.
Sonia Gandhi could have become prime minister in the last ten years, but did they try to do anything of that sort? No!
I am the chairman of the screening committee (to choose candidates) for Punjab, Delhi and Haryana. Soniaji told me, 'We are not going to take any decision, you decide'.
We have internal democracy in our party and we see to it that nobody takes dictatorial decisions. What you said is an allegation and allegations will always be there.
The impression is that the buck stops at 10, Janpath.
That is the impression they want to spread. But those who know the inner dynamics of the Congress, even the journalists in Delhi, know that every decision is taken after wider consultation.
We have a Congress Parliamentary Board, we have a Central Election Committee, we have a working committee, we have a core group and all decision making bodies meet on a regular basis and their decision prevails.
The 2009 election campaign was spearheaded by Sonia Gandhi for the Congress. This time, it is Rahul Gandhi. Why does the party depend only on this one family?
It is not just one family, it is the conscience of the country.
They are not just individuals, they are the embodiment of the spirit of nationalism and the freedom struggle. So it is natural that the family will have a certain glamour and charisma.
In the Communist party, people like A K Gopalan and E K Nayanar had goodwill which a (Sitaram) Yechury or a (Prakash) Karat cannot get.
Those who cannot fight the Congress come out with such silly arguments.
You said UPA 3 will rule the country. If it materialises, will Rahul Gandhi be the prime minister?
We all wanted Rahulji to take over earlier itself, but he was not very keen on taking up any position. He wanted to strengthen the party and change the political culture of this country.
A totally new thinking was infused into the Congress by Rahulji. He represents the mature leaders of the country.
The Congress wishes that Rahulji take over, as India is a country of young voters. We want a generation change in the party.
That is not because he is from a particular family. That is because he is a young, hard working, man who has ideas to impress young voters.
Rahul Gandhi was in the forefront of the 2012 UP assembly election, but the Congress fared very badly. Do you feel he doesn't have the charisma to bring the Congress back to power?
Winning and losing are part of an election. We won the Himachal Pradesh election. We won the Karnataka election. And Rahulji was the main campaigner.
You are only counting where we lost. You are not counting where we won. You don't even remember his victories.
When you remember UP, you must remember Karnataka and Himachal also.
Image: Former telecom minister A Raja leaves a court in New Delhi. Photograph: Reuters.