'We had never imagined that the prime minister could use such language to win votes.'
'I was under the impression that the prime minister is a very knowledgeable man, but I was amazed to find that he doesn't know that India's Constitution.'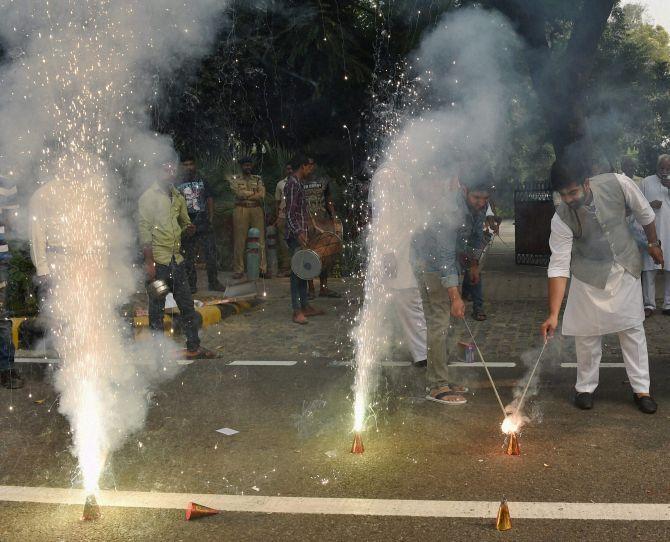 IMAGE: Firecrackers lit as the Grand Alliance triumphs, November 8. Photograph: Vijay Varma/PTI
She may have lost the 2014 Lok Sabha election from Bihar's Patliputra constituency as the Narendra Modi wave swept across India, but Misa Bharti Devi exults in her Rashtriya Janata Dal party's triumph in the Bihar assembly election and the victory of her brothers, Tejaswi Yadav and Tej Pratap Yadav.
A doctor by training, RJD chief Lalu Prasad Yadav and Rabri Devi's eldest child, along with her mother and younger brother Tejaswi, granted non-stop interviews and welcomed a continuous stream of visitors at 10, Circular Road.
Dr Misa, who is said to be her father's preferred political heir, tells Prasanna D Zore/Rediff.com there will be no tug-of-war between the RJD and Janata Dal-United because her party won 80 seats to the JD=U's 71 seats.
Who do you give the most credit for the success of the Mahagatbandhan's victory?
I would credit the three top leaders of the Mahagatbandhan -- Laluji, Nitishji (<em) and Soniaji (Congress President Sonia Gandhi) for this historic success.
The most credit should be given to and gratitude shown to the people of Bihar.
Obituaries were written about your father's political career.
In politics it is only natural that you win some, you lose some. Laluji is a mass leader. You must give him credit that the people agreed and supported the views he put in front of them.
These political obituaries were mistimed. There is enough energy left in Laluji to put forth his ideas and let people decide if he is right or wrong.
What's the secret behind the RJD's 80-seat victory?
We will credit this as not only the RJD's victory, but acknowledge that the coming together of the RJD, JD-U and Congress played a decisive role in us getting these 80 seats. The credit must solely go to the Mahagatbandhan for this performance.
The Lok Sabha election results amply proved the division of our votes in whichever constituencies we lost. The final benefactor of this split was hamare Narendra Modiji and the NDA (National Democratic Alliance).
This was not only understood by the top leadership of the Mahagatbandhan, but also by their supporters. There was pressure from the bottom too to forge a strong alliance to defeat communal forces in Bihar.
The Mahagatbandhan experiment was run on a pilot basis during byelections to the Bihar assembly. The results of the byelections proved what we were all thinking about. It was decided then that we will put a united face to the people of Bihar and fight the polls as part of a Mahagatbandhan.
The landslide we got on November 8 vindicated our belief and approach.
Do you believe the people of Bihar have indicated that the politics of intolerance is unacceptable to the Indian masses?
Absolutely. Absolutely. There is a limit to which people can let intolerance pervade through society. The way India's artists, historians, filmmakers and scientists are returning their awards and even ex-servicemen returning their medals sent a strong message to those who want to benefit from political polarisation.
I am amazed that despite such vitriolic and communal statements made by BJP leaders the prime minister has nothing to offer but his maun (silence). Ministers from Madhya Pradesh are asking Shah Rukh Khan to go to Pakistan and there is not even a faint murmur from the people who matter.
After a chain of such incidents, as a citizen of this country, I was expecting the prime minister to reprimand these hatemongers. But what you get from him is only his khamoshi (silence).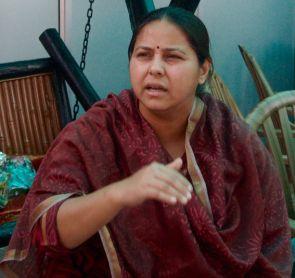 The RJD and JD-U alleged that the prime minister himself indulged in polarising Bihari voters.
We had never imagined that the prime minister of my country could use such language to win votes.
The more he abused us, the more it helped the Mahagatbandhan.
The people who crowded his election meetings -- be it farmers, youth or women -- they went with their problems. They expected the prime minister to assure them how he would help them with his governance, but what they got to hear from him was only foul language.
These people wanted him to say something about solving their daily issues. Instead, he spoke about tantra-mantra, 3 Idiots, beef consumption and god knows what else.
Do you think the people -- be they of Bihar or any other state -- were interested in these things?
On the one hand, you had (Rashtriya Swayamsevak Sangh chief) Mohan Bhagwatji calling for an analysis of the reservation system and the prime minister saying that nobody has the guts to touch reservations in India and that he would lay down his life and not let reservations on religious grounds.
Somewhere, the BJP was trying to play two cards at the same time: To appease the upper castes Mohan Bhagwatji gave a call to relook at reservations and our prime minister was trying to appease the Dalits by telling them that he would lay down his life for preservation of reservations.
The people of Bihar have decisively rejected both cards.
When they saw that they would not gain any electoral benefit by firing these weapons, their national president Amit Shahji crossed all limits by saying that firecrackers would be burst in Pakistan if the NDA lost the Bihar elections.
How much more could one humiliate the voters of a state?
Closely following this statement was the prime minister's statement that Laluji and Nitishji wanted to allocate 5 per cent from the quotas of Dalits and EBCs (Extremely Backward Castes) to Muslims.
I was under the impression that the prime minister is a very knowledgeable man, but I was amazed to find that he doesn't know that India's Constitution does not allow for religion-based reservations, but only permits caste-based reservations.
Do you believe the prime minister will now speak against his party leaders' communal statements?
I seriously doubt that he will break his silence and drill some sense into his colleagues, which is now fashionably referred to as the fringe element, but has become part of the discourse of mainstream leaders.
This mandate given by Bihar's voters is a message to him and all those who think that votes can be won by polarising voters in the name of religion.
The same message will echo in the elections in West Bengal and Assam.
What role will Laluji play in forging a secular alliance at the Centre?
Now that he is free from the Bihar elections, he will make an all out effort to strike an alliance of like-minded, secular, forces.
Nitishji, Laluji, Mulayam Singhji, (Om Parkash) Chautalaji, Deve Gowdaji had come together to forge a Janata Parivar. Now the efforts will be to get Mamta Banerjeeji, Naveen Patnaikji, Arvind Kejriwalji.
People are apprehensive that at some point in the next five years there will be a tug-of-war between the RJD and JD-U.
When we forged the Mahagatbandhan the people were sceptical even then about such a tug-of-war. They alleged that Laluji would never accept Nitishji as the consensus candidate for chief minister. But Laluji happily accepted that.
Then they said Laluji will demand more than 100 seats, but we settled only for 101 seats. We have proved our integrity by our conduct.
With the huge mandates that the people of Bihar have given us, all the constituents of the Mahagatbandhan are duty-bound to prove their integrity.
What will be the top priorities of the Mahagatbandhan government?
Law and order, good governance and development of Bihar. These are the issues we put forth before the people and since they believe us they voted for us in such large numbers.