'The only way to kill time in prison is to read and she can't even do that properly any more.'
'Her knees, too, are in terrible shape. I could see how she was trying to hide her pain every time she got up from the bench where she was seated.'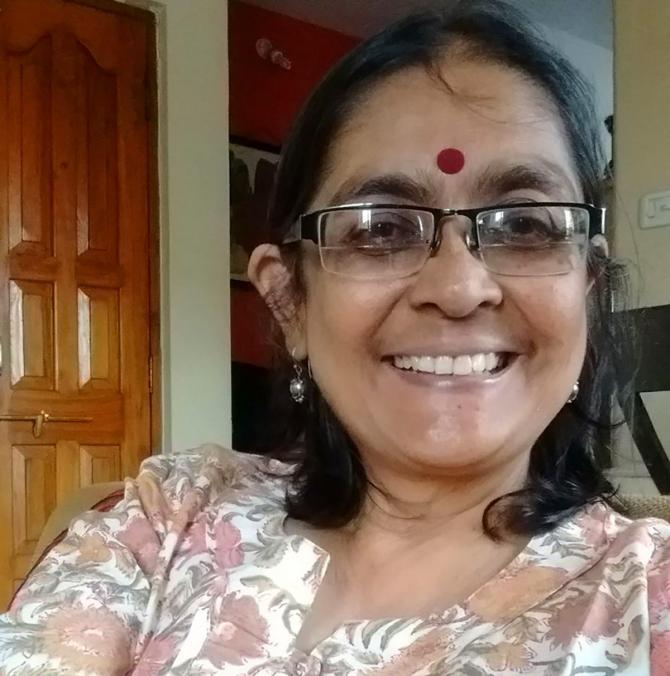 Three years, 11 months to the day.
That's how long Professor Shoma Sen, the former head of the English literature department at Nagpur University -- she was suspended after her arrest -- has been in prison for her alleged involvement in the *Bhima Koregaon case.
On June 6, 2018, along with Sudhir Dhawale (activist, actor and publisher of the bi-monthly Marathi magazine Vidrohi), Mahesh Raut (the youngest accused in this case, he works with the Adivasi community in Gadchiroli), Surendra Gadling (human rights lawyer and Dalit rights activist) and Rona Wilson (activist, researcher and a member of the Committee for Release of Political Prisoners), Professor Sen -- who is also a well-known women's rights activist and has worked with the Committee for the Protection of Democratic Rights, a human rights organisation -- was also arrested.
Koel Sen, her daughter, tells Rediff.com Senior Contributor Neeta Kolhatkar how this "travesty of justice" has taken a huge toll on the family.
In this first of a multi-part interview, the film-maker and columnist shares the shock of seeing her "Ma" suddenly age.
You met your mother in prison recently. How is she?
I met her properly after almost two years. It was such an emotional feeling to be able to sit next to her like that and talk to her.
The last time we met physically was in February 2020, just before the first lockdown, when she was produced in court.
Since then, depending on the COVID restrictions at the time, the jails have been open or shut for visitors. We had maybe three or four mulaqats (mulaqats are visitations allowed by the court where family members can meet their relatives who are in prison) during this period where we were allowed to see each other and speak but could not touch each other.
When we met this time, I was very happy because we were meeting after so long. At the same time, I felt overwhelmed just looking at her. When you physically meet someone you know and love after a long gap, you can see how much they have changed.
Even without their saying anything, you realise they have been through a lot. My mother has aged a lot quicker than she would have and I could see that her glaucoma and arthritis have become more severe.
There was a magazine next to her; she was looking through it, but not reading it. I asked Ma if she was okay and if she could read. That's when she told me she couldn't read easily any more because her eyes are in really bad shape.
She's had glaucoma for almost seven years now and it has clearly become worse.
One really feels bad. I was almost in tears but what can I do?
The only way to kill time in prison is to read and she can't even do that properly any more. She does read by bringing the books close to her eyes but you can imagine how much of a strain that is. It is very difficult to see my mother like this.
Her knees, too, are in terrible shape. I could see how she was trying to hide her pain every time she got up from the bench where she was seated.
When you go to meet her, there are two police constables who sit next to her. They let you sit as well and allow the family to speak without interfering.
After ages, we got a chance to speak properly and we spoke for almost an hour.
Emotionally, she is fine. She's pro-active (smiles) and talks about things she is doing inside the four walls she is limited to.
Women like Ma and Sudha Bharadwaj continue to help people even when they are in prison. They help them with their cases and other things; unko toh kaam karte hi rehena hai(they cannot stop themselves from working) even when they are in prison (smiles again).
I remember one mulaqat -- Sudha was there as well -- where they were talking about how a certain person got bail and how another person got surety. They were having what I call this 'intra-jail' conversation; it was very nice.
In a touching Facebook post, you wrote about how you stealthily gave her some food. It must be such a struggle to show your love to your dear ones who are in jail. Sudha mentioned how they didn't let her hug her daughter.
Yes, hugging is tough.
I remember, when I initially gave her a big hug, they stopped us and said we can't do that.
At one of the court appearances, one of our friends had brought kebabs and biryani and we wanted to give her some. There are times when the cops let the accused eat. but it depends on their mood. If they don't, then you need to take permission from the judge.
We are compelled to resort to subterfuges. We opened our dabbas and, as we ate, we fed her a few small bites.
She had a bit of the shammi kebab and the Theobroma (a popular dessert outlet in Mumbai) brownie.
I could see the excitement on her face; her eyes lit up after the brownie went into her mouth (laughs).
It was nice... that moment.
Obviously, the constable figured out something was happening.
So, like when we used to when we did something wrong in school, we apologised and defused the situation.
As far as the police are concerned, do you see a bias?
They are constantly keeping an eye on you and you feel that. But they do understand these kinds of humane things (like sharing food and hugging). Like, we could sense the constable knew that Ma was eating.
She needs to eat and there is nothing wrong with that.
As per jail regulations, only packaged foods like chips and biscuits are allowed; ghar ka khana (home-cooked food) is not as it can contain suspicious items.
The cop pretended not to know and then, when she caught us, we apologised and everything was fine (laughs).
Previously, they were allowed to eat home-cooked food. It all depends on the whims and fancies of the police people on duty.
Now, when the men are brought from Taloja Jail (Navi Mumbai), they are allowed to eat. It is weird.
The prison rules -- from Yerwada (Pune) where Ma was to Byculla (Mumbai) where she is now -- are arbitrary. It all depends upon the jailers. Also, women's jails have their own set of rules and the men's jails have their own set of rules.
Honestly, it seems as if there is no one book they abide by.
Feature Presentation: Ashish Narsale/Rediff.com