'Last year we had drought and this year flood. How prepared are we to face that?'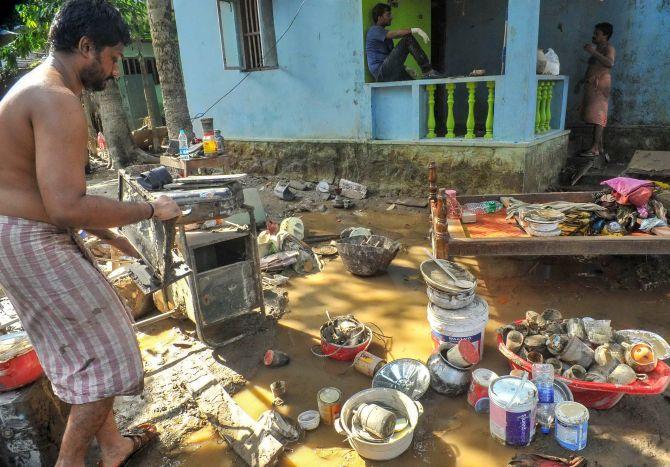 Kerala has seen one of the worst floods in its history during this monsoon.
From August 8 to 20, nearly 223 people have lost their lives, 33 are missing and around 1.2 million individuals from 3,02,441 families are in 3,941 relief camps. Initial losses are estimated to be around Rs 200 billion (Rs 20,000 crore).
With the rescue measures on its last legs, the Kerala government is looking at raising funds to rebuild the state.
In an interaction with Gireesh Babu and T E Narasimhan, Kerala Finance Minister T M Thomas Isaac says he has a three-pronged strategy to raise funds.
What is your estimate on the economic losses? How much would Kerala require to rebuild the state?
The initial estimate (loss) is around Rs 200-300 billion. We need to rebuild houses, roads and other infrastructures. We are currently working on the package, and are conducting meetings for that. We had a meeting with all the erstwhile chief secretaries of Kerala on how to bring in a method and agency for implementation so that the entire programme can be implemented in the next 24 months. We would finalise it in another week's time.
How is the state planning to mobilise resources to rebuild Kerala?
First, raising of the Fiscal Responsibility and Budget Management borrowing limits for at least two years and at least 1.5 per cent increase of the Gross State Domestic Product to be borrowed, which will entirely be spent only on capital expenditures. We will ensure that the revenue deficit goes down so that the additional borrowing will go entirely into capex.
Secondly, we want the Goods and Services Tax Council to permit us to impose a cess on SGST. The Centre wanted a cess for sugar. So in principle, they shouldn't oppose this.
Third, we are going to get a lot of private participation and will also utilise Centre sponsored programmes.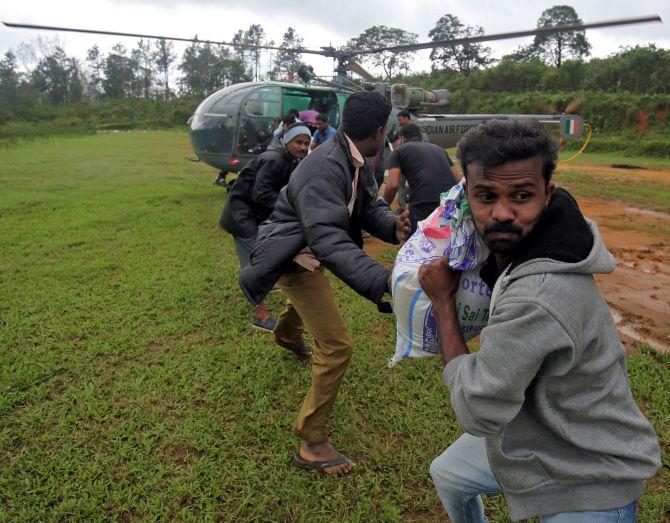 Is there any provision in the GST framework to allow such a cess?
Now, the Centre wanted to have a cess on GST for sugar. They have not done it, but if they can opt for that, they can equally permit Kerala. SGST is purely an intra state tax and does not affect the Centre or the other states. So there is no logic in denying. We want to have a 10 per cent cess on SGST, which I think will get us some Rs 10 billion.
How much can the state mobilise?
Revenue is going to be around Rs 10 billion, we are not going to get more from it. If I had my land tax, I would have put a 3-5 per cent tax without asking anybody and got my money. Centre schemes are also limited. So it means the package would be keenly dependent upon the central government raising the FRBM level. If they increase the FRBM limit by 1.5 per cent from 3 per cent of the GDP at present, for two years, that should fetch us something like Rs 250 billion and the rest we will raise from other methods.
Will rebuilding Kerala further worsen its current financial situation?
No, we are going to use this crisis as an opportunity. Like the rebuilding Kerala programme, we have created various special purpose vehicles through which we are attracting private capital and building up big infrastructure.
Measures of raising resources through SPVs and investing in the economy, infrastructure are not done very normally. The rationale for it is that this precisely is the crisis. That is what I mean converting the crisis into an opportunity.
Will you take the Gadgil committee report into account when you rebuild the infrastructure?
The debate is not going to be on the basis of the Gadgil report, which is about protecting the Western Ghats. That is unnecessarily going to create a division.
The current crisis shows serious indications of climate change. Last year, we had drought and this year flood. This is going to be a more common occurrence. How prepared are we to face that?
Water carrying capacity of river basins are sharply down, which resulted in flash floods. Focus would be how to rejuvenate the rivers, ponds, small canals, conserve the paddy field and also of course, discourage construction in the slopes, land slide prone areas etc.