'Kerala society is more advanced than any other society in India. Everybody is more aware of the laws and how to proceed against the accused.'
'So, you cannot blame Kerala based on the crime records,' state home minister Ramesh Chennithala tells Shobha Warrier/Rediff.com in an exclusive interview.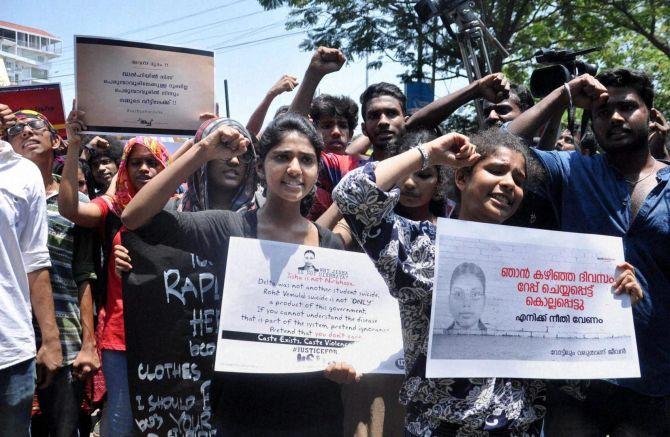 A gruesome rape and the brutal murder of a woman was the last thing a government would want in the last leg of the elections.
Ramesh Chennithala, Kerala's home minister, is bravely facing the issue and continuing to campaign from morning till night.
In the middle of his campaign tour, he spoke to Shobha Warrier/Rediff.com about the rape and murder of a 30-year-law student.
Did not the government machinery fail in providing security to women? A woman has been brutally raped and murdered near Perumbavur.
How do you expect the government machinery to give protection to a woman sitting inside her home? Do you think the police can go inside each house and see how things are?
You must understand that this is an isolated incident, and you cannot generalise. Our police are doing whatever they can to solve the case without any delay.
But the criticism is that earlier the mother had complained about some people harassing her daughter, but the police refused to help her.
She did not complain about any harassment; it was something else -- some quarrel -- and the police had called both parties and had settled the issue. It had nothing to do with the rape that happened.
As per the National Crime Records bureau, crime against women in Kerala is much above the national average and six times more than neighbouring Tamil Nadu.
The numbers are high only because they are recorded in Kerala unlike other states including Tamil Nadu. Here, because of the general awareness and high literacy, people file a report even if it i;s a minor offence.
If you look at the general crime rate also, it will be more in Kerala, and that is not because there is more crime committed here. It's only because people register an FIR (First Information Report) against every crime while in other states even some of the heinous crimes are not recorded.
Kerala society is more advanced than any other society in India. Everybody is more aware of the laws and how to proceed against the accused. So you cannot blame Kerala based on the crime records.
Kerala is the first state that started a Nirbhaya Cell to help women. Now an incident as outrageous as the Nirbhaya case has happened here.
You must understand that what has happened now is not because the police did not act; it is because of society. We are taking efforts to equip even young girls to face adverse situations.
Kerala is the first state that started many positive schemes like the She-Taxi to help women.
Despite taking so many efforts, it is true that society has not changed much and a lot of atrocities are being committed against women.
Kerala is highly literate and advanced, but after six pm, women cannot go out on the streets. Is it not a sad state of affairs?
I don't think there is any such problem in Kerala.
Yes, there has to be a change in society so that women feel more safe.
What is urgently needed is to make men understand the need to treat women with more respect and as human beings so that they feel safe.
A lot of social changes have taken place in our society and women are making their presence felt in every field. When they have to be out in the open all the time, society has to rise and accept these changes.
Deploying police everywhere will not solve the problem; creating awareness is what is needed.
Soon after the Perumbavur rape and murder, an incident similar to that has been reported from Varkala. As the home minister of the state, are you worried?
What happened at Varkala was not a gang rape. I am told that the girl voluntarily went with those men, and now she is saying she was subjected to gang rape. Anyway, we will catch the culprits soon.
Do you feel such incidents are being politicised now, especially because it is election time?
Yes, it is unfortunate that a brutal incident like this has been politicised by the Opposition in Kerala. What they are doing is cruel and wrong.
This is the time everybody should unite to fight against such criminals. Instead, they are trying to take political mileage out of it. They should not have mixed politics in such a sensitive issue.
Yesterday (May 3) when I went to see her mother, I was not allowed to meet her. The CPI-M people showed black flags and stopped me. I came back without meeting her as I didn't want any lathi charge there. They are using this as an election issue, which is very unfortunate.
What they are doing is morally wrong. They should understand that this is the time for all of us to stand together and fight against such crimes.
Do you think this will affect the UDF (United Democratic Front) adversely in the assembly election?
I don't think this is going to affect us. People of Kerala know what we have done and they are aware of the truth behind an incident like this.
After the Nirbhaya case, no case has shocked the nation like that of this woman because of the brutality involved. Don't you think this is going to be a black mark on Kerala itself?
Definitely. This is a black mark on the entire society.
We are trying our best to arrest the culprit and bring him before the law. It is our duty to see that he or they get maximum punishment.
You are campaigning now. If a woman asks you whether you can provide security to her, what will be your answer?
We have taken very strong action against crimes like these so that they don't occur again.
It was the CPI-M that protested against capital punishment. They saw to it that the man was not hanged. But look at the double standards of the CPI-M. Now that it is election time, they have changed their stance. I would say what they are doing is wrong.
If a man was hanged for raping a girl, it would have acted as a deterrent and incidents like these would not have happened.
If criminals realised that death would be what awaited them if they committed crimes against women, they would think twice before attacking a woman.