Journalist-turned-politician Jarnail Singh, who is known as chappal baba among the Delhi Sikh community for throwing his shoe at former Union home minister P Chidambaram in April 2009, is confident he will win the West Delhi Lok Sabha seat on an AAP ticket.
In an interview to Rediff.com's Onkar Singh, Jarnail Singh says the AAP 'is going to surprise all election pundits in the forthcoming elections. An excerpt: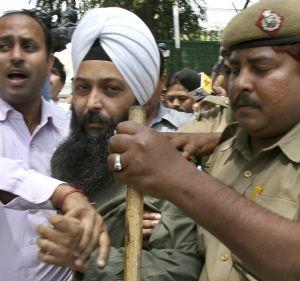 Why did you decide to join the AAP?
The Aam Aadmi Party is the only political party that can root out corruption. Other political parties follow certain ideologies, not the common people of this country. But AAP led by Arvind Kejriwal, has vision, dedication and honesty to clean and free the temple of democracy from the clutches of criminals, the corrupt and the communal.
What do you feel about the criticism of the AAP, that it is geared more for activism and protests and not governance?

We welcome healthy criticism. It is a bit natural as the party has evolved from an activist movement. In just 30 days the government took decisions that other parties couldn't in 30 years. Neeyat saaf hai (the intention is clean). We will learn more with experience. People were happy with our governance and this is the very reason they want us back in the government.

When did you decide to get politically involved? Will you describe the shoe-throwing as your initiation into politics?

I got associated with the AAP in May 2013 when I decided to join hands with Kejriwal. The AAP joined our fight against injustice.
I threw the shoe to protest against the clean chit to perpetrators of the November 1984 massacre and Lok Sabha tickets to Sajjan Kumar and Tytler for their insensitive remarks.
I violated the code of ethics for a journalist, but I did so for the thousands of widows and orphans who are waiting for justice.
I received offers to contest elections in 2009, but I refused. It wasn't my motive. I wasn't thinking of joining any political party till last year, forget contesting elections. I had lost my confidence in this corrupt system. But when I realised that a revolution had started and there was an alternative to root out corruption, I decided to join the movement to fulfill the dreams of our freedom-fighters. I want to fight for all the citizens of this country who have suffered at the hands of the corrupt political system.
Was the incident of throwing a shoe at Chidambaram then pre-planned?
Why talk about something that happened five years ago?

Do you foresee entering Parliament on an AAP ticket, and will you still continue fighting for the Sikhs?

Earlier, I was fighting for my own community, but now I want to fight for every Indian who is aggrieved of corruption, particularly the police and bureaucrats. I want to be an obedient member of Parliament. I hope to get elected.
How do you think the AAP will do in the forthcoming elections?
The AAP is going to surprise all election pundits in the forthcoming elections. There is a powerful undercurrent for our party. People are fed up of other parties and are looking for a change. We will do very well.
What are your views on Arvind Kejriwal?
Arvind Kejriwal is an honest messiah and the only hope for this country. He can bring about change.

Was your nomination to fight the elections decided by popular choice of the electorate, or was it decided in a closed room -- a system the AAP has been critical of?
Along with hundreds of other aspirants I applied for a ticket, filled in all the requirements (100 signatures from all 10 assemblies, affidavit etc) and was interviewed by the screening committee. They shortlisted a few names and then the party high command took the decision.

Don't you think the AAP is fighting beyond its level by contesting the Lok Sabha elections?
There is popular demand from all over the country. Nearly two crore people have become members of our party in a very short span of time. We were underestimated before the Delhi elections; it's the same story before the Lok Sabha polls.

Will the AAP really be able to put up a reasonable fight in the Lok Sabha elections?
Why just reasonable fight? People are looking for change and results will be very surprising. Wait and watch.
How involved have you been with the AAP's policy-making?
The party thoroughly discusses issues before taking policy decisions. They welcome all suggestions.
Anna Hazare, Kejriwal's mentor in many ways, has not backed him but (West Bengal Chief Minister) Mamata Banerjee. Won't that affect the halo around Kejriwal?
We will always respect Anna Hazareji.
The AAP is not part of the 11-party Opposition grouping announced by the Left and others. Why is that?
The AAP is not like any other party but an alternative for this country for a change.
Image: Police remove Jarnail Singh from the venue of a news conference after he threw his shoe at Union Minister P Chidambaram in New Delhi on April 7, 2009.
Photograph: Reuters