'He is exposing the failings of the BJP, which is rankling the party.'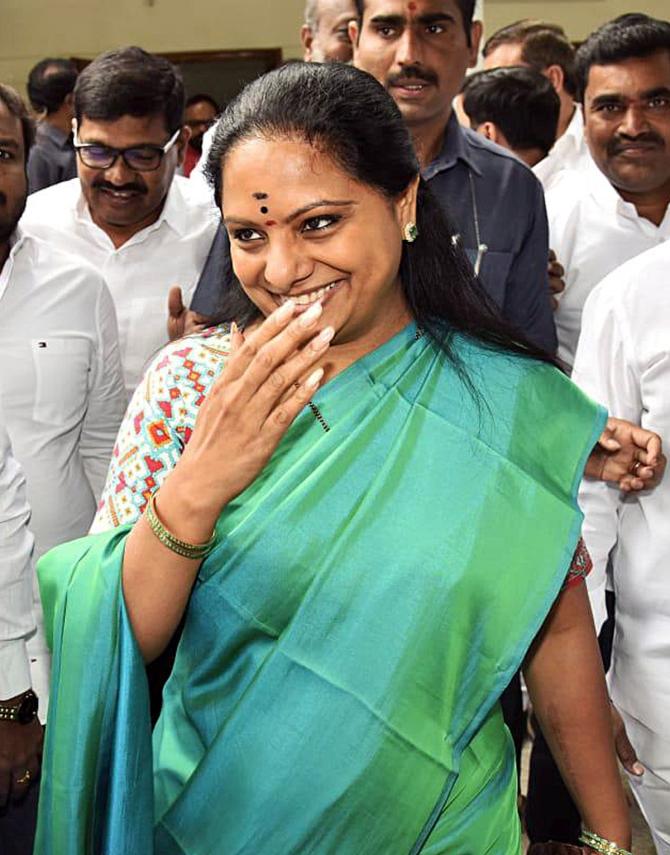 Kalvakuntla Kavitha, member of the Legislative Council and Telangana Chief Minister and Bharat Rashtra Samithi founder Kalvakuntla Chandrashekar Rao's daughter, is working on expanding her party's national footprint.
In conversation with Nitin Kumar/Business Standard, Kavitha talks about the BRS' expansion plans and the Telangana model for India's development.
She weighs in on her fight for the women's reservation Bill and being caught in the cross hairs of investigating agencies.
An investigation agency questioned you on the alleged liquor scam. Do you want to explain?
I am not the target, my leader KCR is. He is exposing the failings of the BJP, which is rankling the party.
Today, 95 per cent of cases registered by the Enforcement Directorate or the Central Bureau of Investigation are against Opposition parties.
Surprisingly, the conviction rate is not even 0.2 per cent.
BSR has national expansion plans as it pivots on the Telangana model. What is that model?
The Telangana model is one where the empowerment of citizens is the only goal of the administration.
It ensures everybody's needs are met -- from social security and education to employment.
The model ensures social security for its 4.4 million people. Telangana spends Rs 42,000 crore on pensions for its people, including women and widows.
We are spending Rs 7,000 crore (Rs 70 billion) to repair 26,000 schools.
In more than 1,000 model schools, the government provides world-class education to the Scheduled Castes and the Scheduled Tribes, the economically backward classes, and the minorities.
For educated and skilled labourers, our industrial policies have helped us get Rs 3.5 trillion investment in eight years.
Roughly 20,000 industrial units are functional in the state, employing 3 million people.
Through upskilling, we have pumped money into the rural economy.
At least 6.6 million farmers have been given Rs 65,000 crore under the Rythu Bandhu welfare programme.
How is it different from Arvind Kejriwal's Delhi model, M K Stalin's Tamil Nadu model or Mamata Banerjee's Bengal model?
We have not obsessively focused on one area to the detriment of others. We thrive on comprehensive development.
Besides input subsidy for farmers, we have quenched Telangana's thirst with the Rs 80,000-crore (Rs 800 billion) Kaleshwaram lift irrigation project.
The state also provides free irrigation water and 24 hours of power gratis.
In Telangana, farmers do not go anywhere to sell their produce; the state buys it from their fields.
Our approach is creating wealth and distributing it among the poor.
From a Rs 62,000 crore (Rs 620 billion) budget, we are now at Rs 2.92 trillion.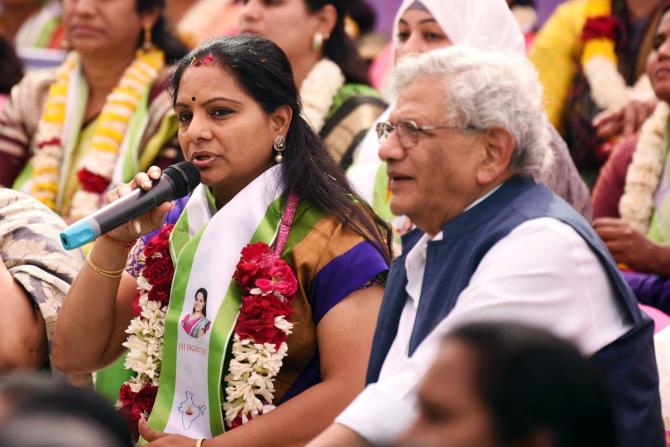 But economists raise concerns about the dangers of states spending people's money on social securities.
Prime Minister Narendra Modi also cautioned people against a 'revadi culture'.
The PM is insulting the poor by dismissing these schemes as 'revadis'.
These are revolutionary schemes to recharge the rural economy.
In just eight years of Telangana's creation, we have become a surplus state - both in power and water.
What you give to your people are not handouts, but a social security net.
Modi may refer to these social security schemes as 'revadis', but whenever there is an election, he increases the deadline of the public distribution system.
Which states are on your bucket list of expansion?
The BRS agenda is national. However, when it comes to expansion plans, our immediate goal is to enter states bordering Telangana.
Will you partner other state or national-level political outfits? Is BRS working on becoming the main Opposition party against the Bharatiya Janata Party?
We have many friends with common goals. There is no sense in stepping on toes. We will form a coalition of like-minded parties. Our common enemy is the BJP.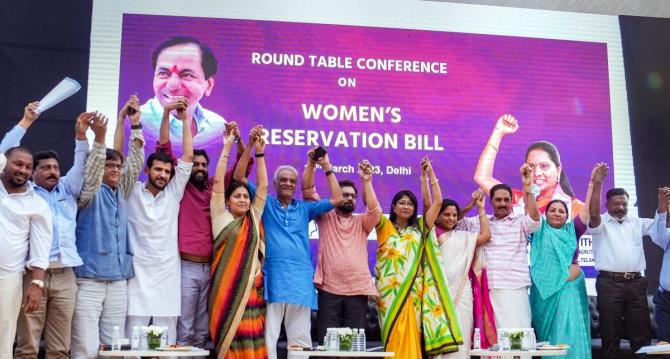 Union Finance Minister Nirmala Sitharaman has said that the Telangana government had pushed the state into such a debt crisis that every newborn child was born into a debt of Rs 1.25 lakh.
Sitharaman's government and her Cabinet decided to increase the debt of this country from Rs 50 trillion to Rs 155 trillion in nine years.
In Telangana, we are investing debt as capital expenditure. We are creating assets for the future by building a secretariat, schools, and hospitals.
These are projects which will bring governance closer to the people.
The central government is raising debt by waiving thousands of crores of their corporate friends and by giving subsidies to fertiliser importers. Where is the capital investment?
How are you planning to take up the issue of the women's reservation Bill after the recent protest in New Delhi?
It has been 26-odd years since the concept of women's reservation was mooted.
We have invited several non-governmental organisations working for women's empowerment.
Around 15-17 political parties have confirmed their participation.