'We told the government that we won't dance to their tunes this time.'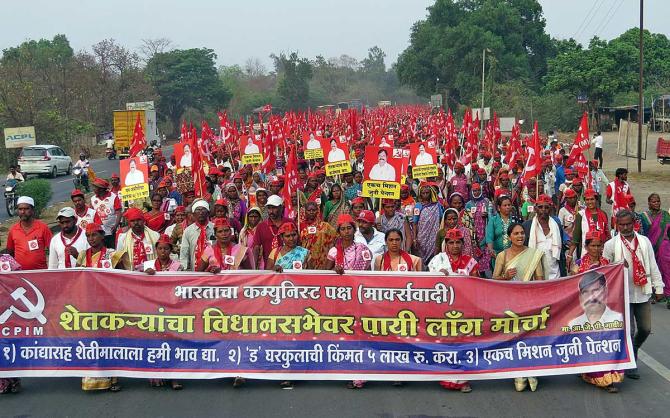 Seven-time CPI-M MLA from Maharashtra Jiva Pandu Gavit led the 200 km long march by farmers and tribals from Dindori in Nashik to Vasind, in Thane district, where the marchers stayed put even as Gavit, CPI-M MLA Vinod Nikole, Ajit Navale of the All India Kisan Sabha and Ashok Dhawale, CPI-M politburo member, held discussions related to tribals' and farmers' welfare with Chief Minister Eknath Shinde and Deputy Chief Minister Devendra Fadnavis over March 16 and March 17.
Gavit, 77, a veteran of two such long marches in 2018 and 2019, explains to Prasanna D ZoreRediff.com why those marches failed and how they ensured that this time they would make the state government accept their demands.
"We told the government that our demands were genuine. We demanded that the chief minister and deputy chief minister come to us to discuss our issues," says Gavit, who spoke on the telephone on his way to Mumbai to meet the Shinde-Fadnavis duo to thrash out unimplemented demands.
Why did the government accept only 70 per cent of your demands? What happens to the remaining 30 pent cent?
The government has only accepted 70 per cent of our demands, but we will keep this government's acceptance under our careful watch till the time all these accepted demands are implemented in letter and spirit on the ground.
Earlier, we had often experienced that even after the government accepted our demands at the ground level, the government machinery was very reluctant to execute and implement those promises. This time we put our foot down and insisted that we will not take back our agitation until the chief minister (Eknath Shinde) makes an announcement on the floor of the House (the Maharashtra assembly, which is currently in session
Even then we insisted that the chief minister and the top administration from Mantralaya make immediate phone calls to those who are tasked with converting this acceptance of demands into actual fulfillment of our demands.
With the farmers and tribals in no mood to listen to or accept empty promises, the chief minister himself directed the collectors of various districts to immediately begin implementation from March 18.
The district administration, especially in Nashik, immediately swung into action and visited various centres; taluka officials even visited the plots of farmers who have been agitating to get their lands registered in their own names.
Our workers present in these talukas gave us reports of the same and after satisfying ourselves that the government is sincere and serious about converting our demands into reality we decided to call off our agitation on the very same afternoon (of March 18).
Did you get these reports only from various talukas of Nashik district or from other districts of Maharashtra as well?
Yes, mainly from Nashik district; most of the problems are faced by the tribals and farmers in this district.
We got reports from three main centres of Kalwan, Surgana and Peth in Nashik.
Three teams under the leadership of the district collector, his deputy and upper district officer were raised who visited various villages in these three talukas (on March 18). In the coming days many more teams will visit different talukas in the (Nashik) district and ensure that whatever the chief minister and the deputy chief minister (Devendra Fadnavis) assured us in Mumbai will become reality on the ground sooner.
The chief minister had also called on the collector of Thane district, but I am yet (till the morning of March 20) to get reports from there.
Were the people who marched from Nashik to Vasind demanding rights to till their land, ownership of their farms and higher prices for their agricultural produce only from Nashik? Are there no issues faced by farmers and tribals from other districts in Maharashtra?
The important demands for which we started our 200 km walk belong to the poor people of entire Maharashtra.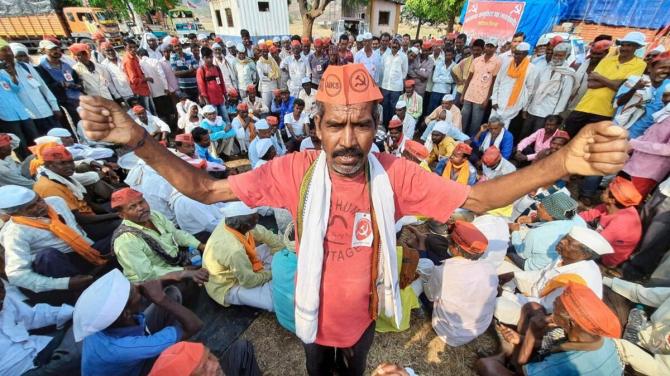 How will you find out if district collectors in other districts too have geared themselves up to implement the assurances given to representatives of the All India Kisan Sabha or if they are hesitating to implement the assurances given by the chief minister and deputy chief minister?
Honestly speaking, we will not get to know what is actually happening on the ground in other districts.
It is the duty of our workers in various districts to ensure that the district administration fulfills the demands that have been accepted by the state government.
We have asked all our workers to contact district officials at their headquarters and keep up the pressure on them till our demands are met on the ground across the state.
If they find that district officials are reluctant, then they should bring it to our knowledge and we will then again build up the pressure at appropriate levels.
I am on my way to Mumbai today (on the morning of March 20) to meet the chief minister and deputy chief minister to thrash out details about how the government plans to meet the rest of our demands.
What are these issues which you will be discussing with the chief minister and the deputy CM?
While they have accepted in principal that forest land should belong to those who have been tilling it for generations, there are many bottlenecks around it -- like there are improper 7/12 extracts of land, or those who have been promised five acres of land have been allotted only half an acre, etc.
We would be clarifying all these issues and expect the government to remove all such bottlenecks within a given period.
You have had several rounds of discussions with the chief minister and the deputy CM even before the 200 km long march started on March 16 and even between March 16 and March 18 when the farmers and tribals were marching towards Mumbai.
How serious is the Maharashtra government about solving all the issues that the AIKS has raised?
Both the chief minister and deputy chief minister showed sincere interest in solving the issues that we have raised and for which we have been agitating since 2018.
The CM (Shinde) and DCM (Fadnavis) are taking united decisions and both are on the same page about how to solve our long-pending demands.
It was not as if one of the two ignored us and the other attempted to build a good rapport with us.
We discussed all our demands with both of them and they would discuss the solutions with each other and accordingly convey their decisions to us. All the decisions have been made unanimously by both of them.
Could you elaborate some of the important demands that the Eknath Shinde government has still not accepted?
All those demands that involve discussions with various central and state agencies and with the Union government have been kept in abeyance for the time being. They informed us that they will need some time to thrash out the details and complexities of certain demands.
Like, for instance, they said a solution to some of our demands was not within their ambit and for which they will hold discussions with various stakeholders in the Union administration.
We have demanded a guaranteed price of Rs 2,000 per quintal (100 kg) of onions but they said they will first discuss the issue with (Union Commerce Minister) Piyush Goyal.
Their proposition was onion is a perishable commodity and they will need to speak to Goyal (about the infrastructure to store onions) and will decide upon a date when we will send our representative Ajit Navale to discuss the issue with him (Goyal).
Then, there is the issue of pension of semi-government and government employees who joined the state administration since 2005 and even those who are employed in private schools but draw their salaries from the state government. They have asked for a three-month window to find a solution to these issues which we have agreed upon.
Why did you accept an ex-gratia amount of Rs 350 for the loss of onion crop when you had demanded Rs 600 per quintal for the same?
We all know that when we sit at the discussion table such bargaining is part and parcel of price discovery. If we had demanded only Rs 500 as ex-gratia, then they (the government) would have given us much less (than Rs 350).
Is the onion farmer happy with Rs 350 per quintal as ex-gratia?
At least (onion) farmer in Nashik district is satisfied with the rate because till now they would get absolutely no ex-gratia if their onion crop suffered damage or loss due to whatever reasons.
The MLAs, MPs and other elected representatives of these farmers did nothing about this issue of onion farmers. We organised the farmers and successfully agitated so that their losses will at least be minimised with this ex-gratia amount.
The onion farmers also know that our major demands revolved around ownership of forest lands and fair rights over forest produce for the tribals, but the fact that we also included the problems faced by onion farmers have strengthened their resolve to demand compensation for their losses.
The tragedy is that the MLAs and MPs who get votes of the onion farmers keep quiet when it comes to demand damage compensation.
In this situation, the onion farmers are happy that the CPI-M, which has got nothing to do with their demand, agitated for them successfully and helped them get at least Rs 350 per quintal as ex-gratia.
We will fight for more ex-gratia so in that sense we are not happy with this amount, but I can safely say that the onion farmers are very much happy with how we have fought for their rights.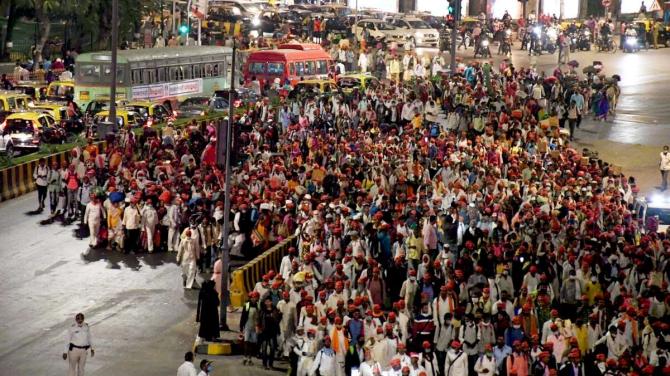 You have been agitating for the rights of tribals and farmers since 2018. You led marches in 2018, 2019 and now in 2023. What reasons would you attribute for the success of your agitation in 2023?
In the very first agitation of 2018 we were fighting for tribals' rights to forest land, pension for old people and bifurcation and renewal of ration cards, etc. These issues mainly revolved around and remained limited to the uplift of tribals in Nashik.
The then government (headed by Devendra Fadnavis) accepted our demands, but did not actually implement it on the ground. The same happened with the 2019 agitation.
Has the government accepted your demands and is actually implementing it on the ground this time with an eye on the assembly and general elections in 2024?
After the failure of the first two agitations we were aware that this time too the government would give us empty assurances and had our plan B ready.
First, they had called us for a meeting on the 14th (of March) but then for some reason they cancelled it.
Then they again invited us for discussions on March 15. We realised that the government may not be serious about discussing the issues with us and find a solution so we raised our aggression and gave all the indications to the government that come what may we were not prepared to back off from our march to Mumbai if our demands were not actually implemented on the ground.
We told the government in no uncertain terms that we were not their puppets and won't dance to their tunes this time.
We told the government that our demands were genuine and we are also citizens of India. We demanded that the chief minister and deputy chief minister come to us to discuss our issues.
They accepted.
Are you saying that you pressured the Eknath Shinde government to accept the demands of tribals and farmers? Or, do you believe that the Eknath Shinde government is genuinely sensitive towards the problems faced by farmers and tribals?
I am not saying that the government got scared of 25,000 to 30,000 people determined to march towards Mumbai, but the government realised that the agitators were disciplined; they were not marching towards Mumbai to create problems or pull up stunts, but fight for their just rights using democratic and peaceful means.
The fact that many farmers were falling seriously ill, some met with accidents and if these farmers were to continue their march towards Mumbai then there would always be possibility of more such tragedies happening. The movers and shakers of this government realised that if this were to happen it will bring more disrepute to the government.
This made the government willy-nilly accept our demands. We did not leave them much choice.