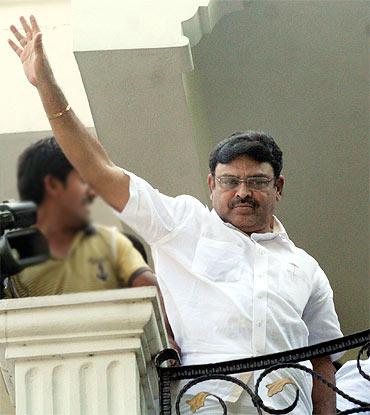 Jaganmohan Reddy's resignation from the Congress has had Andhra Pradesh buzzing. 
Ambatti Ram Babu
, one of his closest aides, who has been at logger heads with the Congress for quite sometime, says that the resignation was prompted due to a 'betrayal by the Congress'.
In this brief interview with rediff.com, Rambabu who has been suspended from the Congress tells Vicky Nanjappa that the ball is now in the court of the people.
What is your reaction to Jagan Mohan Reddy's resignation ?
It is sad to see how things have developed in the past few months. He (Jagan) has not voluntarily left the party, but the party made him leave.
Was Jagan not asking for too much, too soon?
No he was not. The YSR family has been serving not only the Congress but entire Andhra Pradesh for the past 30 years. I don't think Jagan deserved this treatment. He was just going on a Yatra commemorating his father and trying to serve the people. The party reacted very strongly to that. What was wrong in what Jagan did?
Do you believe that it was only the Congress party at fault?
The Reddy family has been with the Congress for three decades and have given the party their life and blood. Given a choice, Jagan would have never have left the party. Some people in the party have played vindictive politics and this is what has made him quit. In his letter too, Jagan says that there was an attempt made to split his family. That is what hurt him the most.
Don't you think that Jaganmohan Reddy has

acted in haste?
This is not a hasty decision. As I said, he was hurt. He has watched and waited patiently for the past 14 months and this time it got to him. As I said it is not Jagan who left the party, the party made him leave.
So do you say it will rain Congress MLAs in Jagan's camp now?
There is no attempt to split the party whatsoever. In fact I was surprised and touched with what Jagan had to say. He in fact made an appeal to all the MLAs and MPs who support him not to resign and that is a great thing that he has done. His resignation was not an attempt to topple the government of Andhra Pradesh. There are people, let them see, watch and decide.
What about you? You remain suspended from the party, now are you thinking of quitting?
Jagan has told all of us not to act in haste.
What about the plans to launch a new party?
It is too early to speak on that point. Let us see how things will shape up and it is entirely up to him to decide. This is something that we do not want to discuss as yet since a "wait and watch" policy has been adopted.
Had he been given the post of CM, do you think he would have stayed on in the party?
Jagan was not an aspirant for the CM's post. He was going about his job and people within the party decided to be vindictive and pull him down.
Image:  Ambatti Ram Babu at Jaganmohan Reddy's house in Banjara Hills, Hyderabad.
Photograph:  Snaps India