'Electricity, better roads and uninterrupted water supply are problems for everyone in India, not Muslims alone.'
'Regional parties are solving these problems much better. And for that reason, Muslims favour regional parties.'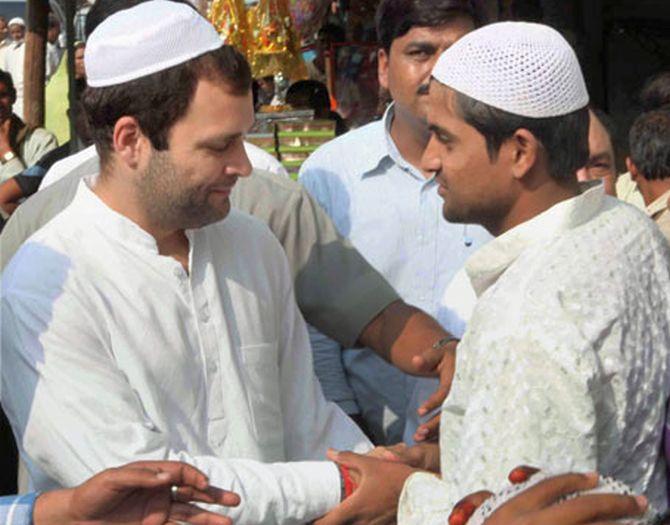 On Wednesday, July 11, Congress President Rahul Gandhi spent an hour meeting a dozen Muslim intellectuals at his Tughlaq Road residence in New Delhi where he is believed to have told them that his party would adopt an inclusive approach for all sections of society with an agenda to provide justice to all, allaying their fears that the party was adopting a 'soft Hindutva' agenda.
The meeting with Muslim intellectuals is part of a series of meetings the Congress plans ahead of the Lok Sabha election.
Ilyas Malik, an educationist, was one of the 12 Mulsims present at Wednesday's meeting with the Congress chief.
"Rahul said it does not bother him if the (Muslim) tag exists for his party," Malik tells Rediff.com's Syed Firdaus Ashraf.
How was the meeting with Rahul Gandhi?
It was a good meeting. It was just a courtesy call to meet the newly elected leaders of the Congress.
Muslim intellectuals met them and we discussed issues pertaining to the country as well as issues pertaining to the minorities.
It was just an informal meeting; nothing formal. It was initiated by Congress minority committee head Nadeem Javed. Salman Khurshid was also present.
Do you feel Muslims have distanced themselves from the Congress?
Rahul Gandhi spoke about this issue. Agar dooriyan hain toh hum mitayenge usko (If there is distance, it should be bridged). He said we must keep meeting regularly.
Dooriyan kam hongi ya na hongi, yeh to waqt hi batayega (It is to be seen if time will help bridge the distances
One meeting does not solve the problems.
What is the reason, in your opinion, that Muslims have distanced themselves from the Congress?
The issues of minorities weren't addressed.
Also, there was a gap between the party and the community which only grew as there were no meetings.
When it comes to local issues, Muslims favour local parties like the Aam Aadmi Party in the capital.
Following our meeting on Wednesday, the media asked me if we discussed triple talaq. I said, triple talaq and nikkah halala are not the only two issues for Muslims in India, there are many other issues too.
Electricity, better roads and uninterrupted water supply are problems for everyone in India, not Muslims alone.
Regional parties are solving these problems much better. And for that reason, Muslims favour regional parties.
Let me clarify, minorities alone cannot make a party win.
AAP won in Delhi because people from all faiths voted for the party in large numbers.
Somewhere the Congress distanced itself from minorities because it was tagged as a Muslim party in 2014 due to which it suffered badly in elections. Do you feel so?
Rahul Gandhi told us on Wednesday that the Congress has no problem if it is tagged as a minority party.
It is possible that after the (A K) Antony Commission report (on the causes for the 2014 electoral rout, when the Congress won just 44 Lok Sabha seats) came out, he too must have felt that, I guess.
Did Muslims benefit under Congress rule?
What Muslims have benefited from the Congress and what they have not is in front of your eyes.
I feel as an intellectual group, we must meet all parties.
Mayawati sometimes ruled Uttar Pradesh and sometimes Akhilesh Yadav ruled Uttar Pradesh, so we must meet everyone.
Many blame the Congress for the backwardness of Muslim society in India, as the party did not do anything substantive for the community.
It is true that they did not do anything, but somewhere Muslims too have shortcomings.
Right now, for instance, why don't Muslims go and meet the establishment (the BJP government)?
If there is someone sitting as human resource development minister I have to go and meet that person. And only if I do that will the problem get solved, isn't it?
The (Rajinder) Sachar Committee report proves that Muslims are backward.
Yesterday (July 11), when we met Rahul Gandhi it was not only for Muslim issues, but also other national issues.
Political leaders meet the Ulema for Muslim issues and not intellectuals like us.
The media asked whether we spoke on triple talaq; I said that is the duty of the (All India) Muslim Personal Law Board.
If there is pollution in Delhi, then Muslims alone are not affected, but others too.
If the roads in a city are in a pathetic condition, then Muslims alone do not suffer, everyone suffers.
It is only a few issues on which Muslims have different problems like land for graveyards.
Most of the issues that are apparently Muslim issues are issues for all Indians.
The BJP feels Muslims are only a vote bank for the Congress party.
That is wrong. Muslims are a scattered vote bank. They voted for the Samajawadi Party, Bahujan Samaj Party, BJP and Congress too in the past. Muslims per se are not a vote bank.
What did you discuss about the A K Antony Committee report?
We did speak a little, but the meeting was more of a courtesy call.
We did not discuss issues, but just had an informal chat. There were 12 people in all and we spent only an hour.
Were objections raised that the Congress is adopting a soft Hindutva policy?
We did not raise those questions. On the contrary, Rahul Gandhi told us that he goes to temples, mosques and other religious places.
Do you feel the Congress can win back the confidence of Muslims? Will Muslims vote for the party?
It is too early to say Muslims will vote for the Congress.
During elections, local issues are important. In parliamentary elections, there are totally different issues and right now we cannot predict what will happen.
Did you speak about the lynchings of Muslims over rumours of carrying or supplying beef?
No, we did not speak on this issue.
It was not a political meeting, but just a courtesy call.
People are writing all kinds of things in the newspapers which did not happen at the meeting.
It was reported that (Bollywood lyricist and poet) Javed Akhtar was present as well as (the well-known political scientist) Zoya Hasan. They were not present at the meeting.
What problems do Muslims face under Prime Minister Modi's rule? Was this discussed?
We did not go to speak on political issues.
The A K Antony Committee Report
Former defence minister A K Antony was assigned the responsibility of locating the reasons for the Congress rout in the Lok Sabha elections in 2014.
According to a report in the Hindustan Times, Antony and four other Congress leaders stated that fighting the polls on a 'secularism versus communalism' plank hurt the Congress that was identified as pro-minority, resulting in substantial electoral gains for the BJP.
The Congress also failed to drive home the point that minority and majority communalism were equally dangerous for the country.