'But India, increasingly, is not that far behind, which is a story I never expected to tell.'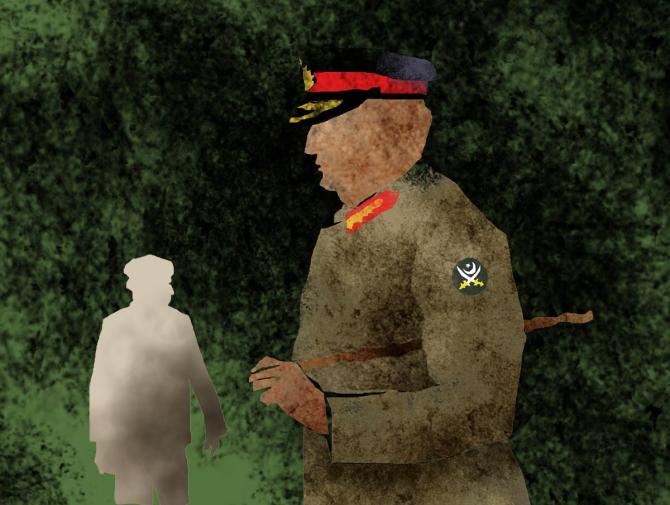 None of Adrian Levy and Cathy Scott-Clark's previous best-sellers on India and Pakistan -- Deception: Pakistan, the United States, and the Global Nuclear Weapons Conspiracy; The Meadow: Terrorism, Kidnapping and Conspiracy in Paradise; The Siege: The Attack on the Taj and The Exile: The Stunning Inside Story of Osama Bin Laden and Al Qaeda in Flight -- kicked up the kind of controversy which their latest book Spy Stories (Juggernaut) probably will.
Levy and Scott-Clarke reveal the cloak-and-dagger, hall of mirrors world that is spying in India and Pakistan, involving India's external intelligence agency, the Research and Analysis Wing -- RA&W -- and Pakistan's directorate of Inter Services Intelligence, the ISI.
In an e-mail conversation, Adrian Levy tells Rediff.com, "Truth is a battlefield as are perceptions, but particularly so when the security services of two States become ideological and communal."
The first of a multi-part interview:
How did you get the 'institutional support' to write the unprecedented book on R&AW? What made National Security Adviser Ajit Kumar Doval agree to co-operate with the book?
There was no institutional support, and I don't think that could happen in India -- directly.
It has happened occasionally in the UK, finally, where Christopher Andrew (an astute academic, already close to the intelligence establishment) was cherry picked to have privileged access to the archives of the security services -- better known as MI5.
But even then, while his books are extraordinary and insightful -- they include his work on the Mitrokhin Archive, papers stolen from the FSB (Russian Federal Security Service) that illuminated some of what the Soviets were doing around the world -- they are also limited by secrecy laws etc and play quite safe with contentious and explosive UK issues like domestic political manipulation and the Northern Ireland war.
In the US, the system works differently, where the CIA clears books about itself and written by former officers in an unwieldly process.
It reacts quickly when an institutional course correction is necessary -- after being accused of torturing detainees arrested in the US war on terror, the CIA in record time cleared books by officers and contractors that defended the interrogation practices.
But otherwise it knowingly leaks all the time to national security journalists, or more bluntly, goads Hollywood into making films that fetishize the covert world and Langley (the CIA headquarters).
The UK and US mainly build narratives about themselves through soft power, but are not adverse to hot power -- from plots to stage-managed coups.
In India and Pakistan, we are a long way from that kind of sponsored access to the security services -- because of draconian secrecy laws, but also because the institutions are not chartered and do not have a constitutional role, which hammers down oversight as well as security protocols.
The services are left insecure.
And the reason why your question and the answers are so topical is that in India but also in Pakistan, the functions of intelligence have outstripped legislation, even before a constitutional role is given to the services.
Obviously in Pakistan, another set of conditions is also present, where democracy is even less certain and almost always underpinned or sabotaged by the military that remains the dominant force, in a way that is not the case in India.
So in Pakistan, spies are rarely questioned by politicians, if at all, and almost uknowable to the people.
But India, increasingly, is not that far behind, which is a story I never expected to tell.
Look at Pegasus -- for a moment. It might or might not have happened. But it is likely that it did, given the accuracy of the leaks and comments made by NSO, but also Western intelligence officers on India's contract with the firm.
And assuming it did happen, this was a country-to-country deal, an intelligence buy-in by India, in a deal supposedly cleared by the Israeli defense ministry, that cannot or may not now be examined in India.
Parliament in India has been thwarted. The courts are gridlocked.
And the presence of a slow-moving court case is being used as an excuse to mount a subjudice defence whereby Parliamentary inquiry would be, the government argues, in contempt of court.
Self-censorship, and real fear of nuisance legal actions plus punitive tax raids has prevented the Indian media from pushing for more answers, and so one of the biggest breaking news stories in India goes uninterrogated while hacks continue to pursue weed conspiracies in Bollywood.
In France there is an inquiry, into (French President Emmanuel) Macron's security, and a hot debate with the US government, but also the NSO. In the UK too. In Israel there is an inquiry and a delegation sent to the US and France.
In Brazil and Mexico, in Hungary and elsewhere, parliamentary and private actions are being taken and deeply debated.
NSO is already being sued in the US courts by Facebook in an action that will involve massive discovery.
But in India almost nothing has been said -- or disclosed -- and more worryingly - even asked.
And this Pegasus development is not knew. Of course WhatsApp has claimed that it was 'hacked' by NSO in 2019, and possibly before then, in India but also elsewhere.
And prior to that there was the Centralized Monitoring System which India deployed to concentrate its intercept abilities in ways that also created enormous concern.
We know from one Freedom of Information application, it acted upon 9,000 official requests to eavesdrop a month in India, and these were only the official ones.
Plenty more, it is claimed, happened, without 'authorization', as we saw in Kashmir where eavesdropping on-the-fly -- and without sanction -- was routine.
And go back even further you hit on packages like FinFisher that India bought into, which enabled access to Android and Blackberry devices, and occasional to Apple ones if they were jailbroken.
Back further -- you see India in 2009, coming closer to US technical intelligence, via its National Security Agency, that after 26/11 and a period of intense debate and negotiation, between Delhi and Washington, inducted India into SSPAC (SIGNIT Seniors Pacific7), which was a kind of regional digital intelligence sharing group, which gave Delhi access to Highly Classified intel, and expected SIGINT in return.
But this was not the start of a technical intelligence capacity or impulse -- just its acceleration.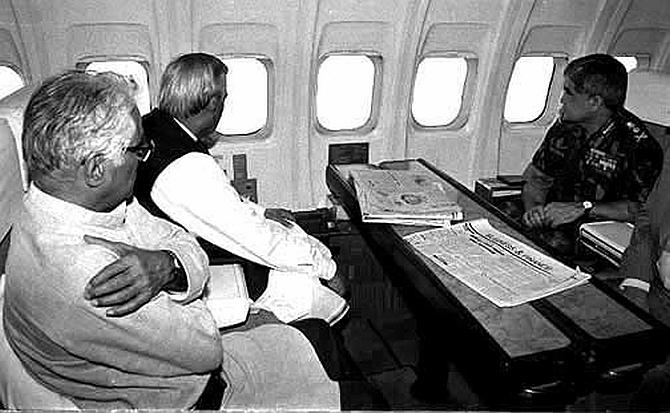 India showed technically advanced intercept capacities during the Musharraf period, eavesdropping one of many plots to kill him, and before then, caught him nattering on a hotel phone line in China to Pindi, exposing the lie that Kargil incursions were Kashmiri freedom fighters rather than Pakistan regulars.
Even before then, way back to the East Pakistan War, interceptions (line taps) gave India the upper hand, eavesdropping on Pakistan strategies, undermining their strikes in the air and on the ground, locating politicians and their bodyguards who were almost all knocked out in a bomb strike.
So wrapped up in this long answer are the reasons why India would never institutionally support a book on its intelligence services, which is connected to the failure to charter and make constitutional the security services.
But also, an argument as to why these unofficial histories, like ours, are vital.
If a writer lays out a timeline for these services, even without official sanction, what we can see is where its present strategies, capabilities and shortfalls, come from, and that enables readers, for example, to see how Pegasus came about.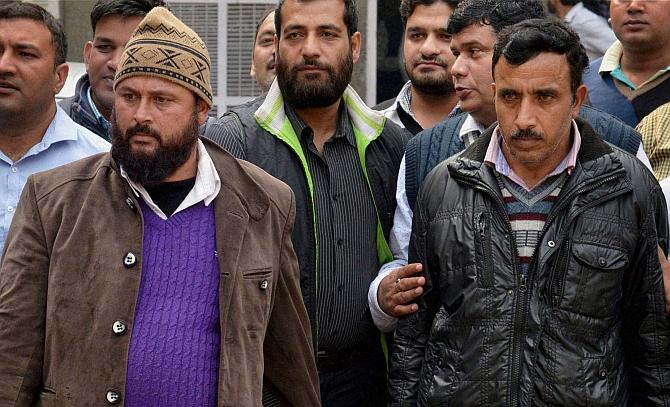 There are many things that a book like this can try to do.
One key aim is to illuminate something of the covert war between neighbours in the region --most broadly.
But it is also showing how the same small band of bad actors -- insurgents, Islamists and mercenaries -- caused so much blood to be spilled over almost three decades.
These handful of leaders who are directly involved in most things, or whose legacy organisation pick up where they left off, are pursued by an equally small band of spies and soldiers, in India and Pakistan.
The protagonists and their would-be captors remain constant until both sides have been in service for three decades or more.
Second, a book like this, attempts to identify trends, especially one that has seen greater sectarianism inside security services as well as society per se.
On the Pakistan side, the impact of religiosity -- or Islamism -- became clear before Musharraf signed up to a post 9/11 deal, by when sections of the armed forces and the security services retired, resigned or went AWOL rather than turn against the Islamic Emirate of Afghanistan.
That section gained in power and momentum until it almost consumed the entire State and even the region.
And this story, far more than suspicions that State itself was culpable for Islamism's outriders, is one of the most jarring revelation of the spy wars.
Entire sections of the Pakistan special forces, plus spies and airmen, fell away to fight the military State rather than it being complicit in the 9/11 wars.
But in India too, faith, and a new sense of an assertive Hindu State, also began to infuse the security services, and charting this, and these officers' increasing adventurism, became a major aim and a theme.
Pivotal events -- and only a few of them -- have been fundamental to motivating the insurgents and their pursuers.
And so knowing these better, and unravelling them, to understand their contested meaning -- in India and Pakistan -- might make clearer the methods used by both sides, but also the outcomes.
Clearly, hot wars, covert and overt, have been made far more dangerous by both sides capacity to exploit ambiguity -- see the contested stories emanating from Balakot, for example, but also from the Parliament attacks, and many of the atrocities carried out by all side in Kashmir.
What they tell us is that truth has become as central an issue to the spy wars, as history.
Both can be transformed. What we think we know and what we see are the two theatres of operation in which the ISI and R&AW most often involve themselves, altering, subtly sometimes, what we thought we knew, while reappointing what we have seen with analyses that cannot be proved or disproved.
Truth is a battlefield as are perceptions, but particularly so when the security services of two States become ideological and communal.
More so, when the producers of intelligence, the services that gather and analyze, also become the consumers, a role that should, in a democracy, be saved for the executive and legislature.
In a subtle way this book is about the power of truth and lies.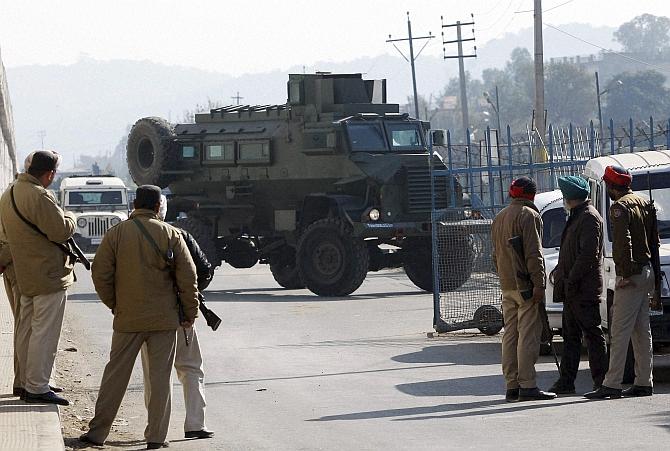 You have first-hand knowledge of RA&W and the ISI.
How different are are from each other, and what are the similarities? Why do you call them 'cousins'?
Obviously, the two countries came from one, at Partition. But it is also true that those conditions -- the great split -- characterised the security services in each State.
In Pakistan, Muslim officers from the Intelligence Bureau, but also from the police and military, arrived from India.
While, in India, services that were thoroughly mixed in terms of faith, became predominately Hindu.
To begin with in the two States there was only IB and the military, but Pakistan's poor showing in its very first Kashmir misadventure persuaded military officers of the need for a dedicated foreign intelligence services, that could assay India -- and other border States.
So both intelligence systems were steeped in the working methods of the IB, a police service, and not an intelligence outfit, and although afterwards they would gain different characteristics, R&AW and ISI shared common roots.
The similarities are significant, but also the differences.
Languages that fed into the new Pakistan were often beyond the reach of India, where specialists failed to learn them quickly enough and so were limited in their effectiveness.
Religion -- single and dominant, rather than pluralistic -- came to limit and dominate both services.
R&AW would send Hindus disguised as Muslims into the arena.
Muslims were similarly dispatched to spy in India. The results were often horrifying in terms of misperceptions, but also the dangers extended to those spies.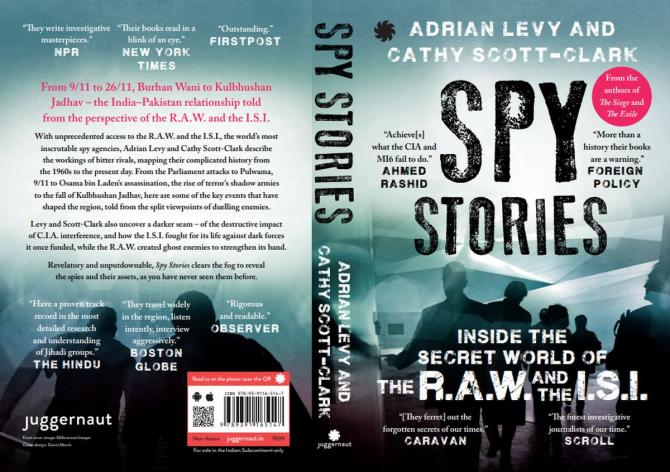 Both sides learned, via their sponsors abroad, to use proxies.
Pakistan notoriously, became reliant on them from its first Kashmir foray onwards. And then utilised them in Punjab, Kashmir, and India's North East.
However, India did the same, but with far greater secrecy, sending officers over to the UK to be trained, especially in Northern Ireland where a brutal, costly and bloody counter insurgency had been fought by Britain.
These Indian officers returned to work in the Marxist battlegrounds, then the Punjab and also Kashmir -- experimenting with proxies divide and rule strategies, double blinds -- where both the asset and the service were kept in the dark.
From this arose outfits like Ikhwan and others in Kashmir.
But further afield they also popped up, in Baluchistan, and in the Sindh where factions of the MQM (Pakistan's Mohajir party,the Muttahida Qaumi Movement) became R&AW assets, including weapons and drugs traffickers, but also hitmen and explosives experts.
These R&AW-IB ops ranged across Baluchistan, in FATA and even Iran -- using cutouts and proxies.
Feature Presentation: Aslam Hunani/Rediff.com