J K Dutt, who headed the National Security Guard when the terrorists attacked Mumbai two years ago, reveals new insights about that operation in an exclusive interview with Rediff.com's Vicky Nanjappa.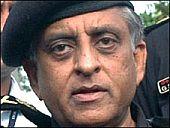 J K Dutt, director general of the National Security Guard during the 26/11 operation, believes India is more prepared to handle such terror attacks.

Two years have gone by. How do you view the nation's preparedness in combating such an operation today?
We have not had any serious incident of terror in our country since the 26/11 attacks. To that extent we are prepared.
The security forces have updated themselves and are better trained today.
However, what I must add is that being prepared should not be restricted to a particular period of time. It has to be a continuous effort.
We have to continue the process of updating our security, our methods and also weaponry.

Do you think our weaponry and methods are being constantly updated?
It appears so. I see proposals being expedited today and there are no delays to this extent. We have to keep looking for new technology in the market and should not hesitate in updating.
However, this is a challenge before us. Improvisations can happen in a period of six months. So does that mean we have to discard equipment that has been purchased six months back? This is a call that one needs to take.

Is it enough if we keep looking for new technology or do you think there is also a need to look at the upgrades terror organisations are undertaking?
Of course, we need to keep a tab and constant check on their increasing capabilities and we need to better them all the time.
During the 26/11 attacks our security forces at first did not have the sophisticated machinery to counter them and that is why we did not win the first half of the battle.
The Intelligence Bureau has a big role to play in this and they are the ones who have to keep giving information on the upgrades that the terrorists have. They have to keep telling us what the terror groups have procured and we need to counter that in the interest of the safety of the nation.

I read an interview recently where you said that then Maharashtra Director General of Police A N Roy was more interested in 'getting PR' than getting into action and solving the problem?

There have been a lot of things that were said in that interview and I was misquoted on that point. I have no intention of tarnishing anybody's image. The things I said were completely different and some other meaning was taken.

So what did A N Roy do? Was there some coordination problems?
As far as the coordination was concerned, I was very much in touch with Roy. As the head of the NSG at that time, I had no problem. I coordinated with the police over there and on arrival at the airport, the vehicles were lined up for us.
We needed a control room and we got that too. I didn't have any problem. At no point of time did Roy and I disagree on anything.

Neutralising an attack is one thing and investigations are another. Post 26/11 the National Investigating Agency has been set up. What are your views on this?
I had retired by the time the NIA was set up. According to me if the NIA is going to look into such matters then it ought to play a useful role in it.
I think such an agency was required since terror-related matters should be probed by an exclusive agency. The Central Bureau of Investigation cannot do it since it looks after other matters as well.
While probing matters pertaining to terrorism, there is an element of intelligence sharing which is needed to build up a data bank.
If the NIA is equipped with these factors then I am sure it will be an effective agency.

The nagging question in all our minds is how did ten terrorists wage a battle for so long?
They had come completely prepared and their training was precise. The manner in which they moved around the targets it looked as though they had visited the places earlier.
Whether they had come and inspected the places personally or did they watch videos of the targets is something that the investigation needs to reveal. These men had military precision and it was obvious that such an operation could not be carried out by a novice.
There was perfect thinking among them and every little detail they had taken care of.

Are you satisfied with the manner in which the NSG handled the situation? Or do you think you could have done better?
Once the NSG arrived at the scene, we ensured that no innocents were killed. I regret losing two of our men during the operation and wish we could have saved them.
Our job was to secure the innocents first and we did that. The problem was that the media had not budged from the scene. Their cameras were giving out pictures which was helping the terrorists carry out their operation.
We did move the media out, but with their sophisticated cameras they managed to zoom onto the targets and also capture our operation.
The targets which the terrorists had picked had so many rooms in them and the local authority had clearly failed to prevent any of these terrorists from taking their position.
Once the NSG arrived at the scene, it was important that we moved carefully and checked their positions. Had we not checked the ground well, then the possibility of them coming from behind and attacking could not have been ruled out.
If I had to do this again I would have wished we had better equipment so that we could have taken them on easily.

Did you face any red tape issues during the operation?
There were no such issues whatsoever. There is a procedure that needs to be followed and I had to keep New Delhi informed.
This attack was gaining international attention and world leaders were getting in touch with our leaders to find out what was going on. Leaders and bureaucrats in New Delhi needed to know what was going on and they could not get information about the progress through a media channel.
They kept asking me about the number of terrorists on the ground and I was able to give them proper information at that time. There was a need for me to announce that we were making progress.
This was being telecast nationally and if I didn't keep updating the progress then it could have been very demoralising for the nation.


In last year's interview you said there could have been more than ten terrorists. What is your take on that now?
Last year I had told you that going by the manner in which they carried out the operation, I felt that there could have been more.
Since I felt that way, I had told the local authorities to screen every hostage who came out of the building.
Whether there were more than ten terrorists it was for the investigation agency to find that out and today they say that there were ten terrorists only who carried out the operation.
We were told that there were ten of them of which two were neutralised by the police. We neutralised the remaining eight, and this was accounted for.

Was the operation at the Taj Mahal hotel most challenging?
It was tougher when compared to the other targets. There was some confusion while operating at the Taj. We were told that the terrorists kept moving between the Taj tower and the heritage structure.
One employee also told me about a tunnel that connected the sea from the heritage structure. We then had to ensure that none escaped through that tunnel only to be told later by a senior official of the hotel that no such tunnel existed.
The operation at the Trident too was a bit confusing at first. It was only on landing that we realised that there was an independent structure called the Trident and hence we had to change our strategy very quickly.

Do you think that there was a breakdown of the police process?
Yes, there was. I did not find enough policemen on the streets. The two terrorists (Ajmal Kasab and Abu Ismail) should have been contained at the Cama Hospital itself.
ALSO READ: 'I felt there were more than ten terrorists'