'We should expect a cold-blooded, transactional relation that requires a lot of engagement and mutual trust to sustain.'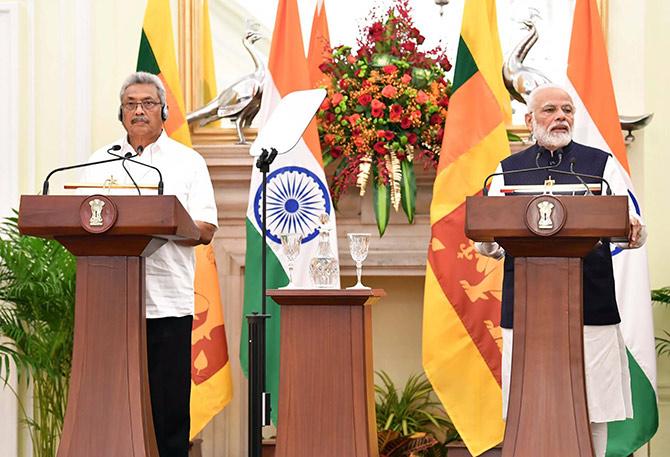 China would always respect Sri Lanka's sovereignty and not allow any 'outside interference' in its internal affairs, Chinese Foreign Minister Wang Yi said on Tuesday, January 14, as he met President Gotabaya Rajapaksa and his brother Prime Minister Mahinda Rajapaksa, PTI reported.
'As Sri Lanka's strategic partner, China will continue to stand by Sri Lanka's interests,' the visiting Chinese state councilor and foreign minister was quoted as saying by Gotabaya's office.
'China stands for the country's sovereignty, territorial integrity and independence. We will not allow any outside influences to interfere with matters that are essentially internal concerns of Sri Lanka,' Wang said.
Gotabaya said Sri Lanka is ready to enhance Sri Lanka-China ties, strengthen bilateral win-win cooperation in various fields and actively promote the joint development of the Belt and Road Initiative to build regional shipping and logistic hubs, China's State-run Xinhua news agency reported from Colombo, PTI reported.
'China stands ready to work with Sri Lanka's new administration to carry forward the traditional friendship, strengthen political mutual trust, dovetail development strategies and bring bilateral relations to new heights,' Wang added.
"If Delhi wants Gotabaya to stick to its red lines, for example not allowing China to militarise Hambantota port, then it may have to put the Tamil and decentralisation issues on the backburner," Constantino Xavier, Fellow, Foreign Policy, Brookings India, tells Aditi Phadnis.
How do you see the outcome of the presidential elections in Sri Lanka impacting domestic politics in Sri Lanka?
The result reflects a return to the majoritarian Sinhala current that emerges cyclically in Sri Lanka, beginning with the election of S W R D Bandaranaike, in 1956.
Except for Mahinda Rajapaksa's resounding victory of 2010, the last president to be elected with a larger margin than Gotabaya was Chandrika Kumaratunga, back in 1994.
This reflects the electorate's sense of exhaustion with four years of chronic instability, including a failed alliance between (em>then) president Maithripala Sirisena and (then) prime minister Ranil Wickremesinghe, marked by chronic infighting.
Governance suffered and the economic growth declined to a record low in two decades.
After the post-war high under Mahinda, with growth rates of 9 per cent in 2012, this slowdown was the main reason why voters backed Gotabaya.
There is concern especially among urban and upper-income voters that a return to the Rajapaksas will also mean curtailing of civic rights and growing authoritarianism.
Mahinda's extra-constitutional attempts to topple the government in 2018 also raised eyebrows internationally.
But he ended up backing off then and now a clear majority voted for his brother Gotabaya, even while expecting him to continue to command the country's destinies, in parallel as the prime minister.
Mahinda's last tenure was seen as skewed to accommodate China's interests much more than India's. Is this accurate? Do you see a course correction this time, given that both Sri Lanka and China's priorities are slightly different?
Indian concerns about Sri Lanka's proximity to China are mostly an expression of its own insecurity, failure to communicate clearly with Colombo, and inability to deliver credible economic alternatives.
For example, back in 2005, Mahinda had offered India first to develop several infrastructure projects, including the infamous Hambantota port now leased to China for 99 years.
Unfortunately, due to domestic pressure from Tamil parties, (then) prime minister Manmohan Singh never ended up in Sri Lanka between 2009 and 2014, and even refused to attend the 2013 Commonwealth summit hosted by Sri Lanka.
While the Rajapaksas may have understood the UPA's domestic compulsions, the relationship suffered.
So Mahinda and Gotabaya naturally looked elsewhere for economic support, and China was more than willing to step in.
After 2014, already under Prime Minister Modi and the new Neighbourhood First policy, India might have then overcompensated and put excessive emphasis on coercive policies, hoping that Sri Lanka would somehow fall in line again.
So, India reportedly played a background role in facilitating a new alliance, led by Sirisena, which defeated Mahinda Rajapaksa in January 2015.
With the subsequent election of Wickremesinghe, Delhi thus hoped for a 'pro-India' regime in Colombo, but that soon proved to be an illusion as China continued to strengthen its economic, political and security influence on the island.
As with the blockade on Nepal, in Sri Lanka, Delhi's security establishment realised that Indian sticks are of little use against Chinese carrots.
This forced India to rebuild its bridge to the Rajapaksas, which were courted again since 2017, with several visits between Modi and Mahinda.
The lessons for India are obvious: Sri Lanka will keep balancing between India and China, and Delhi will have to focus more on economic delivery, rather than the traditional policy of denial and coercion.
While Mahinda has always been the charismatic political leader, Gotabaya has focused on leveraging Sri Lanka's situation at the heart of the Indo-Pacific, where Chinese, Indian, American and other interests are competing for influence.
This means that despite his campaign proclamations about 'equidistance' and 'geostrategic neutrality', Gotabaya will be willing to prioritise relations with India as long as he gets something in return.
So we should expect a cold-blooded, transactional relation that requires a lot of engagement and mutual trust to sustain.
If Delhi wants Gotabaya to stick to its red lines, for example not allowing China to militarise the Hambantota port, then it may have to put the Tamil and decentralisation issues on the backburner.
India cannot take Gotabaya's goodwill for granted.
To avoid surprises and miscommunications as in the 2014-2015 phase, Delhi will have to invest in continuous dialogue, at the highest level, followed up by constant bureaucratic engagement.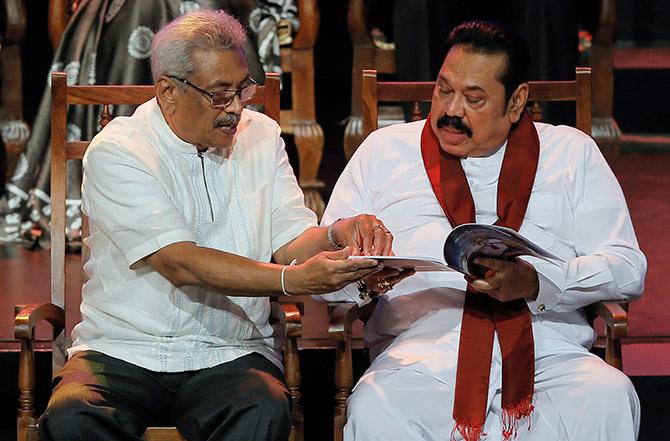 Should minorities in Sri Lanka be more afraid now?
In 2014, I visited Jaffna and many other Tamil cities in the north, including the LTTE's former capital Kilinochchi.
This was just five years after the end of one of Asia's oldest and bloodiest civil wars and the defeat of one of the deadliest insurgent and terror organisations the modern world has seen.
People there were hardly supportive of Mahinda who was then the president, and the army remained firmly in control, running most of the economy and accused of many civic violations.
But the road, telecommunication, public services and other critical infrastructure had been modernised formidably, which might explain why we have not seen a single major incident of Tamil terrorism since then.
People seemed concerned, but partially also content with the new peace and economic modernisation.
Poverty incidence in the northern and eastern provinces reduced massively, and growth peaked at 25 per cent between 2009 and 2012.
Many developmental challenges remain and political reconciliation and transitional justice have made no progress, even under Sirisena and Wickremesinghe.
But the older generation of Tamil political leaders has been unable to engage with the post-conflict reality: minority identity claims remains salient, but voters in the north and east now place greater emphasis on how parties deliver on economic development.
So while Gotabaya failed to win in the Tamil and Muslim-majority northern and eastern coastal areas, and in the central highlands, the electorate there will be focused on his ability to revive economic growth.
What is your assessment of Gotabaya's India visit?
These high-level visits are excellent optics to signal that the relation is on a positive track and has political investment from both leaders.
For Modi, it was the successful culmination of two years of silent background work, rebuilding relations with the Rajapaksas based on the assessment that they would return to power, sooner or later, in one way or the other.
For Gotabaya, on the other hand, the visit was a low-cost affair to signal that he is willing to repair the relationship with India, not offering any concrete commitments.
But the challenge is for both sides to now follow up.
The greatest concern is that Gotabaya will repeat the game Nepal's Prime Minister K P Oli played with India over the last three years: He gave in to all of Indian protocol demands and political optics, visited Delhi first, proclaimed India first, then waited for India to forget about him, and went on to do more business with China.
So with Sri Lanka, this visit was only the prologue to a long game where India is required to keep Colombo constantly engaged at all levels.
Just five or 10 years ago, I complained that Delhi invested too little in high-level summits with political leaders from neighbouring countries.
Except for Rajiv Gandhi's troubled trip to sanction the IPKF, before Modi went to Sri Lanka in 2015, the last proper State visit by an Indian prime minister had been in 1979.
But today, we have come to the opposite extreme: It often feels like too many visits and too little follow up in substance.
Hopefully we will see more concrete achievements over the next year, including many pending announcements since 2015, for example in regard to upgrading Trincomalee port or reviving the rail and ferry links with Tamil Nadu.
The second challenge will be to balance the security and economic dimensions of cooperation with Sri Lanka.
Especially after the Easter terror attacks, India has pursued several new counter-terrorism and intelligence sharing initiatives, but the endgame will be to achieve greater economic interdependence.
This is why India's connectivity efforts are so important, including the new air link to the renovated airport in Jaffna, the new Colombo port terminal developed jointly with Japan, and various other investments in the rail, energy and port sectors.
These are the important, silent successes of India's new connectivity strategy, which require more diplomatic and technical investment.
During this visit, India announced another loan of $400 million for such infrastructure projects.
Most importantly, there has been no progress on the Comprehensive Economic Partnership Agreement, which was supposed to have been announced two years ago.
Delhi conveniently points the finger at Colombo's concerns about liberalisation of migration in the services sector, but where there is a political way there should be an economic way.