'If this is the India you're talking about, where there is no space for minorities, where you have hate, where people can enter universities and beat students up, let me be anti-national.'
'I'll carry that as a badge of honour.'
The weather was slightly nippy in Chennai.
The sun had risen at 6.30 am, but its rays were yet to spread their warmth.
On most Sundays, Besant Nagar -- home to Chennai's affluent -- would be peaceful and quiet at 7 am.
December 29, 2019, was different.
There were 50 odd-policemen at the ready, waiting for a small group of women who had thought of a unique way to protest against the Citizenship (Amendment) Act, the National Register of Citizens and the National Population Register.
They would draw kolamS, the beautifully intricate, traditional, rice flour based rangoli you will spot in most Tamil homes.
The next few hours turned out stranger than anyone expected, and the days that followed left Gayatri Khandhadai, activist and lawyer, facing death and rape threats, she tells Savera R Someshwar/Rediff.com.
You called for the kolam protest on December 28 on Twitter. Can you tell us how the idea came about and why you thought it would work?
We've been trying to protest in Chennai for weeks now.
Unlike the rest of India, we are not yet being lathi-charged or shot at. But there's a different kind of repression at play here.
Under the Madras Police Act, if you want to protest, you have to go to the police five days before, give a written request and get permission.
The police have been routinely denying permission for CAA-related protests, no matter who asks for it, no matter if it is peaceful or not. As a result, people are either forced to shut up and sit at home or come out and protest at the risk of being arrested or having a case filed against them.
This is an affront to freedom of assembly and association, which is guaranteed to each one of us under Article 19.
We realised we needed to find another way to express our dissent.
In Tamil Nadu, the ongoing month is called Margazhi during which every household draws a kolam outside their house. We decided to register our dissent by exercising our cultural right.
Every time we went to an organised protest, we went with a mental mindset that we might get arrested. This time, we decided there would be only two or three people per kolam so that it cannot be called an assembly.
We planned to draw kolams on Sunday morning (December 29) at Besant Nagar early in the morning. But, to our complete shock, the police called us the night before.
When we reached the venue on Sunday, the police were already there, so we started drawing kolams a little bit before that area. The police started yelling as us, saying we were irritating them, we were a headache and we were being silly.
Then, they said we could not be on the road we were on and asked us to go to a side road. They also asked us to take people's permission before we drew a kolam outside their houses.
Within a few minutes of our reaching the side road, the police brought a bus and started throwing us into it. We were really shocked! There were 50 police officers and only five or six of us, mostly women.
I refused to get in. I told them I was a lawyer and asked them what laws I had violated. Drawing a kolam does not violate any law.
So they got eight police officers to pick me up and throw me into the bus. They first took us to the police station and then to the community hall opposite the police station.
At around 8.30 am, three of our lawyers showed up. To our compete shock, they detained our lawyers too, saying they were encouraging us to protest.
In the hour-and-a-half that they held us, the news that we got arrested for drawing kolams went viral. People started pushing back and the police were forced to release us.
In Tamil Nadu, nobody is going to tolerate you if you go against our cultural right.
Assistant Commissioner Vinoth Shantharam V, who ordered the detention, said the police had the right to take action as a small group could grow and disturb the law and order. Was the protest in any way disturbing law and order or obstructing traffic?
You are talking about Besant Nagar at 7.15 am on Sunday; first of all, there is no traffic at that time.
Secondly, there were five women and 50 police officers. So who was obstructing the traffic?
Thirdly, how can five women drawing kolams be a law and order situation?
Yes, we did raise slogans, but only after we were detained.
Are they saying I'm not even entitled to the basic act of raising a slogan against the police when they've completely taken my civil liberty away?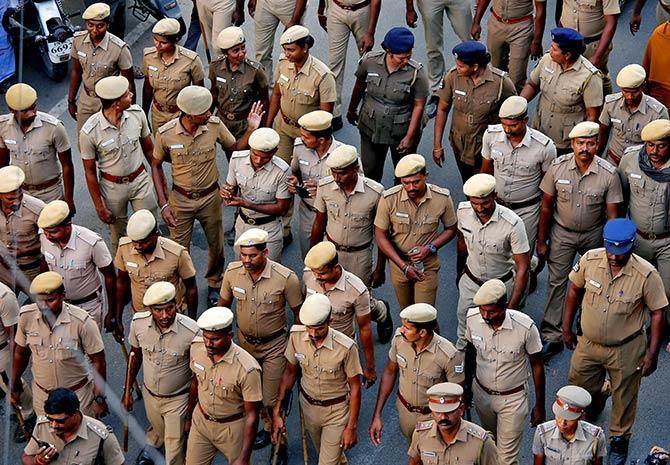 There are reports that a 92-year-old man objected to your drawing a kolam outside his house and that is why you were arrested.
The News Minute published an article that refuted the narrative of the (Chennai police) commissioner.
They reported that the media was present when we were drawing the kolams.
You can look up the newspapers from December 29 and 30. There are no reports of our getting into any altercation with anyone.
If it had happened, wouldn't that have been the first thing the media would have reported?
We never met a 92-year-old man. If there was indeed such a person, why is he not the complainant?
We have looked at the FIR; the police are the complainants.
There is an alleged video, but, if you look at it, you can neither see the complainant nor us. Anybody can take a video like that.
Let them submit the original video to us. I can assure you the timestamp is much after we left, which is what The News Minute is saying, that the whole thing was set up later.
None of this happened. It's complete nonsense.
Whoever filed the complaint should file a police case against the 50 police officers who were blocking the non-existing traffic.
This FIR is begging to be quashed. We are going to court and it is going to get thrown out.
It has also been alleged that you drew anti-CAA slogans over previously drawn kolams?
We are perfectly capable of drawing kolams and writing on it. We don't need any shortcuts.
At all times, we knew where each of us were.
We were having conversations with residents. There were a few who said they support the CAA, so we didn't draw kolams outside their houses.
We only drew kolams after getting the residents's permission.
On January 1, Chennai Police Commissioner A K Vishwanathan told a press conference that they are investigating your alleged links to Pakistan because your Facebook profile said you are a researcher for Bytes For All, which is part of the Association of All Pakistan Citizen Journalists.
The problem, for the police, was what happened after the arrest. Everyone started ridiculing them because what they did was a ridiculous act.
People started drawing kolams outside their houses throughout India and throughout Tamil Nadu.
And then, on January 6, people drew a kolam outside the Indian high commission in London that said 'No to CAA, no to NPA'.
In the middle of all this, leaders of all the major Opposition parties in the state were meeting us. They too started drawing kolams and called for their party members to do so as well.
All this was happening on December 29, 30 and 31 and has clearly irked the police.
On the night of January 1, I was stunned to see the video of the police commissioner's press conference about crime statistics in Tamil Nadu. He casually announced that my links to Pakistan need to be probed.
He based this allegation on my Facebook profile, where I say I have collaborated with a human rights organisation called Bytes For All.
Yes, I have collaborated with them, and with multiple organisations across Asia, because my area of work is freedom of expression and religion.
Clearly, when he talked about this so-called connection with Pakistan, he never bothered to read the report I had written, which I've also published on my Facebook page.
In this report, I've talked extensively about the situation of religious minorities, including Hindu minorities, Ahmadiyyas, Buddhists, LGBT women, women, atheists in nine countries in Asia, one of which is India and another is Pakistan. It also covers, among other countries, Bangladesh, Indonesia, Vietnam, Sri Lanka and Myanmar.
Now, my question is quite simple.
If the CAA is indeed enacted by the central government to protect religious minorities, shouldn't the BJP be calling me and congratulating me for my work instead of asking the police commissioner to make a most absurd allegation that I'm connected to Pakistan because I wrote about the religious minorities there who happen to be Hindu?
I would have thought that (Union Home Minister) Amit Shah would have cited my report in Parliament if he was serious.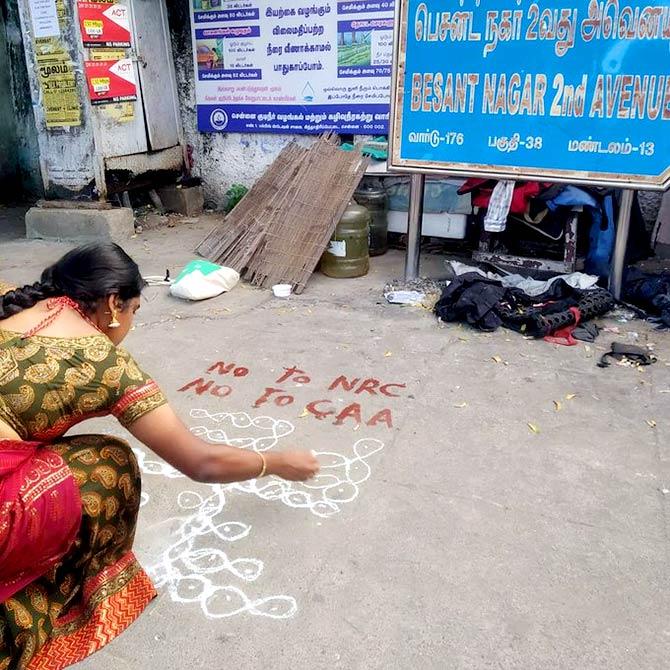 You've said that, as the result of the police commissioner's statement, your safety is at risk.
You can't say someone is connected to Pakistan because what will happen is a lynch mob.
Which is what the commissioner wanted.
Unfortunately for him, the report that I wrote was about religious minorities and he again got ridiculed by everyone.
Also, sharing my Facebook details was an unacceptable violation of my privacy by the commissioner. Yes, my profile is on Facebook, but that doesn't mean the police get to take a printout and circulate it.
I've been getting great messages of support, but I've also been getting threats. It doesn't deter me.
I've been going to protests as usual. I've been speaking at protests as usual. And I'm going to continue doing that.
This anti-national tag doesn't make a difference to me. If this is the India you're talking about, where there is no space for minorities, where you have hate, where people can enter universities and beat students up, let me be anti-national. I'll carry that as a badge of honour.
You have modified your Facebook page after the press conference. Were you forced to do so because you were being trolled?
The police are trying to intimidate me, but I have not deleted anything from Facebook. Everything that was there before is very much there.
I changed my privacy settings to prevent crazy hatemongers from saying what they want on my page.
I have started getting rape threats; I am being called a Pakistani whore.
Let's assume for a minute that I'm some sort of an ISI operative or Pakistani agent.
Isn't it crazy then to call a press conference and make an announcement about an investigation without actually holding one? It shows how serious they are.
They are basically throwing me to the wolves.
The situation is scary, but I'm not scared. But that doesn't mean that it's okay to do this to a woman, to a human rights defender.
What if I was not a lawyer? What if I did not have the exposure that I do?
What if I did not have a career defending other human rights defenders who have been targeted and attacked? I would have been really shocked at what happened to me.
It's because I've repeatedly defended people, worked with people who are under attack in their countries, worked with human rights defenders who are constantly in vulnerable situations -- and not just in India. I am talking about Pakistan, Bangladesh, Maldives, other countries -- that I was able to immediately act and protect myself.
But I shouldn't have to.
In all this, I'm still going to give the commissioner the benefit of the doubt. Maybe he was briefed wrongly.