'The incidents that used to happen in our time, have they stopped now?'
'Can you imagine they made an acid attack victim consume acid? And when did this happen?'
'When the CM was inspecting the thana...'
'History tells us that a party does not remain in power permanently.'
'Finally, they will have to deliver.'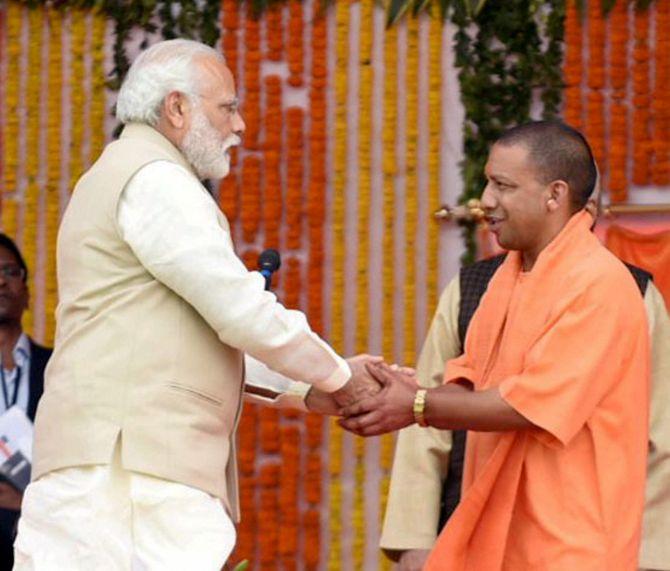 IMAGE: Prime Minister Narendra Modi, left, congratulates Uttar Pradesh Chief Minister Yogi Adityanath after he was sworn in, March 19, 2017. Photograph: PTI Photo
In the final segment of his exclusive interview with Rediff.com's Archana Masih -- his first interview since the election results in Uttar Pradesh -- Akhilesh Yadav ponders on the challenges that lie ahead for his successor, Chief Minister Yogi Adityanath, Prime Minister Narendra Modi and, of course, himself and the party he leads.
What is the way for the Opposition to counter the BJP which is taking state after state?
That's what I am thinking... who will be the leader who will take them on...
I am sure in every state there is a leader, in West Bengal there is Mamtaji, Bihar has leaders which includes my leader, the SP state president who was a minister before in the Centre.
In the south there are also many leaders, but who will bring everyone together is the challenge.
Arvind Kejriwalji is a strong leader; in Punjab there is the Congress...
But you do look at an alliance to counter the BJP, don't you?
I can say in the context of UP that the BJP cannot win more seats than this. It can't go higher than this.
Unless they win all seats (laughs).
And for you it can't get worst than this?
The worst is over for me. One or two more days and the worst will be over.
In hindsight, do you feel not having your father campaign affected your performance?
I wouldn't say anything about that. Politics is a mela, jo aa jayega aa jayega, jo nahi aayega nahi aayega (Politics is like a mela which sees many people come and go). I am no one to say anything.
Of course, netaji (his father Mulayam Singh Yadav) went to two, three places.
How will the result in UP impact national politics?
They (the BJP) have a positive message for themselves, but UP will not do this again.
In times to come, UP will not offer such a result for the BJP.
With the alliance they have 325 seats, it can't go higher than this.
How difficult is it for Opposition parties when faced with that kind of majority in the assembly?
I will see it in the assembly. History tells us that a party does not remain in power permanently.
Finally, they will have to deliver. Apart from issues like the slaughter issue.
They said they will write off farmers' loans.
My MP raised a question in the Rajya Sabha and the finance minister said they have no scheme like that for farmers.
It is the biggest scheme announced by them, but where will they get this money from?
They said they would stop slaughterhouses, but they added a new terminology 'legal and illegal.'
People did not know that chicken and mutton shops will be shut.
Thirdly, the CM and deputy CMs are a big surprise for the people.
You said your message did not go through, do you feel disappointed that the modernisation you tried to bring in the form of expressways, metros did not get you votes?
Do you feel concerned about how the projects you started will be carried forward?
I have travelled and found that the basic requirement for a developed state is infrastructure -- a road network, electricity, education, health and law and order.
I have done one of the best performances in all these five sectors. No other state has done this kind of work.
We joined the district headquarters with four lane roads.
You will not find a better expressway in the country.
We laid the longest electricity transmission lines. UP used to give 16 hours electricity in the cities and 6 hours in the villages.
Now the cities have 24 hour electricity and the villages 16 to 18 hours.
In medical colleges from Independence to now, however many MBBS seats were there, we doubled those seats. No other state has done that.
I have given the best police control system. It is the same system as New York.
If you call, the police will reach you in 15 minutes. The New York Times had a story on my 1090 service (the helpline for women).
This (work of the anti-Romeo squads) was being handled by 1090.
These anti-Romeo squads picked up a brother and sister and later went to their house to apologise.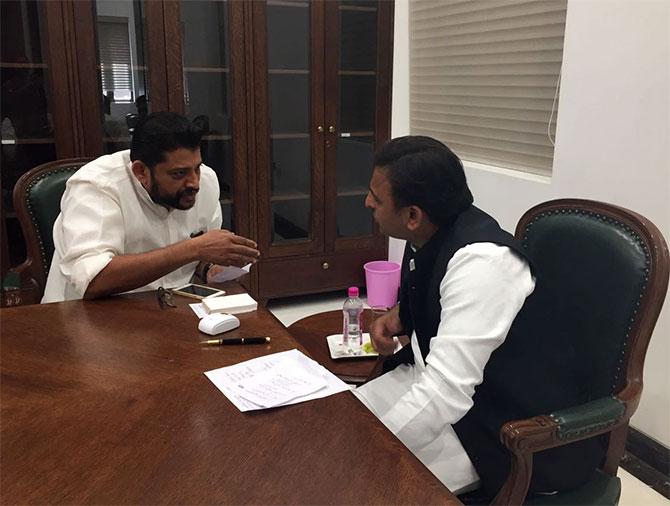 IMAGE: Akhilesh Yadav, right, confers with a Samajwadi Party leader at his Lucknow office, March 26, 2017. Photograph: Archana Masih/Rediff.com
People give a positive feedback about your infrastructure initiatives, but held the upholding of law and order against you?
The incidents that used to happen in our time, have they stopped now?
Can you imagine they made an acid attack victim consume acid? And when did this happen?
When Babaji was inspecting the thana, sorry when the CM was inspecting the thana.
Many incidents are happening in UP itself.
Today I am out of government, but what is the best system you can put in place for the police?
The first thing in law and order is response. That is a system that I have given. It is the system other developed countries have.
Dial 100 is centrally governed from Lucknow, it is not connected to the thana.
They are controlling television. In the UP election all the BJP leaders were on television.
Switch on the TV and you saw them. That was the poison.
They will not show us on TV.
When I suspended Durga Shakti Nagpal, not a single TV channel spared me.
When he (Yogi Adityanath) suspended an IPS officer, the TV channels hardly showed it and in turn started questioning the officer.
What are your big challenges?
To go and make people understand the difference between right and wrong.
Can you see sabka saath on the manch (stage)?
Did you get to see those with whom they have made this government on the stage?
Ek bhi nahi tha sabke saath wala, sabke saath mein joh tha uski toh nameplate hata di. (Not a single person representing sabka saath can be seen with them; while the person who was actually with everyone, his nameplate was removed).
Do you feel disappointed?
No. I am happy. I am free.
After one month I am going on a holiday with my kids. They will decide the destination.
I am meeting people and listening to them.
I am walking, cycling and sometimes I play badminton.
I am going to do a cycle rally on June 5, Environment Day.
Have you met the CM before?
Yes, we were together in the House (the Lok Sabha, when Akhilesh Yadav represented Kannauj and Yogi Adityanath Gorakhpur).
How will this election impact the PM and the other assembly elections that are to follow?
In the Lok Sabha election, people will ask him to show what he has done in the state and Centre.
How will people's lives change?
How will they get employment?
Unemployment has increased. Notebandi has affected employment too.
Did you misjudge the effect of notebandi? You could not take your argument against it to the people.
There are people in society who are happy when others are in distress.
The poor didn't come to know that the greatest loss is to him. He thought the rich have suffered, but the big guys didn't face any problem.
No big people stood in queues.
So it was the Opposition's failure to take its message across?
We tried, but we could not. I agree with that.
In all my speeches I said note is not black or white, but it is the transaction which is black or white.
Humney toh samjhaya, par log samjhane se kaha vote dete hai, behkane se vote dete hai (I tried to explain, but people do not give votes on the basis of that. They give votes on the basis of deception).
Is there a counter to Mr Modi?
How do I make people understand?
Is there a ghutti (concoction)) or dawa (medicine)) that I can give people?
I can't do the politics of dharm (religion) or jati (caste)) like them.
In today's time people get swayed by wrong news.
The RSS, BJP, TV, communication -- they took the help of all of these.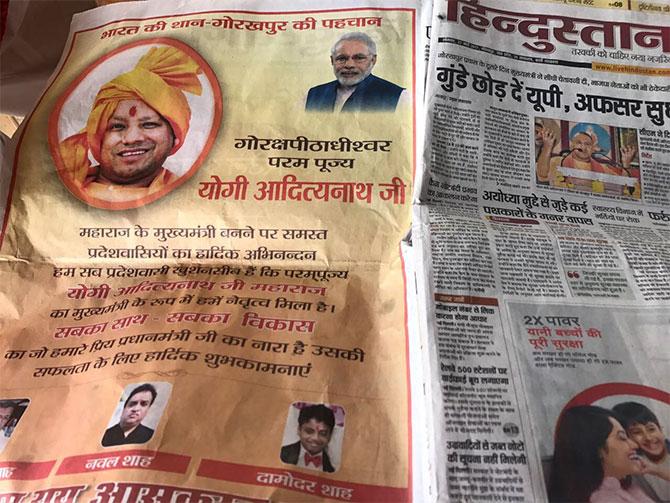 IMAGE: A full page ad, left, in the newspaper Hindustan welcoming Yogi Adityanath on his first visit to Gorakhpur after becoming UP chief minister.
Is there a counter to Mr Modi?
One who goes high also comes down.
If the media can make you, it can also break you.
The time will come when the same media that has created him will bring him down.
Will the PM be able to influence the UP CM like he does other CMs in BJP-ruled states? Or will Yogi Adityanath be his own man?
If not the PM, the RSS will. The RSS will control him (Adityanath).
How will the Samajwadi Party help people if they are harassed in any way?
The Samajwadi Party and the rest of society has this responsibility.
The same person who used to supply meat for the lion safari is being harassed today.
We will have to make people understand.
The greater responsibility is that of the government and administration. Everyone is equal before the Constitution and law.
We will stand alongside them when injustice happens, but the responsibility is that of the State.
MUST READ features in the RELATED LINKS below,...