'People thought the cyclone would miss their area as a short while before it struck, the sun was shining.'
'Some people had not evacuated, but stayed at home. They died when the walls collapsed.'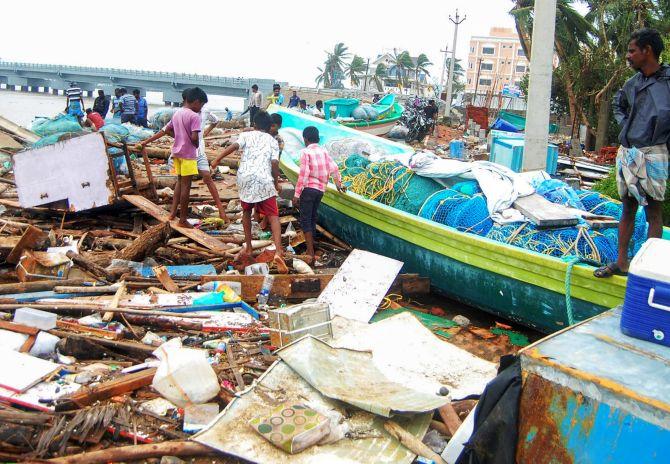 Tamil Nadu Additional Chief Secretary Dr Korlapati Satyagopal is also the state's relief commissioner and the nodal officer overseeing the relief and rehabilitation work in the wake of cyclone Gaja that devastated 12 districts of the state on November 16.
To everyone's relief, the state government machinery swung into action before the cyclone struck and minimised the damage, so much so that even the Opposition Dravida Munnetra Kazhagam chief M K Stalin praised the precautionary work done.
Post-cyclone relief work is now being conducted on a war footing.
"This cyclone affected a much larger area than (cyclone) Vardha," Dr Satyagopal, below, tells Rediff.com's A Ganesh Nadar.
Gaja's path was well defined and you had ample warning to enforce preventive measures.
A cyclone alert was sounded on radio, TV, print and the electronic media, and 82,000 people were evacuated.
Ministers and IAS officers were camping in the critical areas.
The government had declared a holiday and we told the private sector to allow people to go home at 3 pm.
When the cyclone struck, buses had been stopped.
In spite of the early warning, why did we lose more lives in Gaja than in cyclone Vardha which struck Chennai in December 2016?
One of the reasons is that people do not listen to the government.
If they had stayed indoors, the loss of lives would have been less.
People thought the cyclone would miss their area as a short while before it struck, the sun was shining and there was no rain in certain areas.
Some people had not evacuated, but stayed at home. They died when the walls collapsed, something they had not expected.
Another reason is that this cyclone affected a much larger area than Vardha.
There was a spike in the number of deaths reported after the chief minister announced compensation. Have you verified the actual deaths caused by the cyclone?
Many died because trees had fallen on them. This was known later and that is when the count went up.
We have received 63 applications for compensation. We don't pay compensation without a post-mortem and a detailed inquiry.
We have already rejected three applications and another 10 have been sent for a detailed inquiry.
We will pay only for cyclone-related deaths.
Though three weeks have passed since the cyclone struck, some areas are still without electricity. When will you restore power to all areas?
Some 130,000 poles have fallen down, 200 sub-stations have been damaged. 55 lakh (5.5 million) consumers have been affected. It is a gigantic task, and we are working on it.
This is the rice bowl of Tamil Nadu. There are lots of paddy fields. The delay is where the poles are in paddy fields.
We cannot take a vehicle into a paddy field, therefore the poles have to be carried in manually.
This is taking time. We will restore power to all in one week.
All the fallen trees have been removed, and the roads are all open.
The chief minister has announced constructing 100,000 homes in the wake of the cyclone' destruction. How will you decide who gets the houses?
All those who lived in huts will get the houses.
We aim to make better homes for the people. After the 2004 tsunami a lot of NGOs came forward to build houses. That has not happened this time.
What about compensation for farmers who have lost entire fields of banana, mango and coconut trees?
We will give them enough compensation to rejuvenate the plants and trees.
Mango and coconut trees take seven years to bear fruit again. How are you going to help farmers in that period?
After they plant their coconut and mango trees, we will advise them about inter-cropping where they can plant cash crops in the coconut and mango groves in between the trees.
We will also help them by setting up drip irrigation systems.
Will you give loan waivers and new loans in the affected districts?
That is a policy decision only the government can take. So far we have spent Rs 1,401 crore (Rs 14.01 billion) on rehabilitation.
The state has asked for Rs 15,000 crore (Rs 150 billion) as aid from the central government.
That money is for permanent mitigation. Immediate relief has already been provided.
The central fund will be used to lay underground cables, housing, and also to help the coconut farmers.
Once we have underground cables we don't have to worry about falling poles and cut wires.