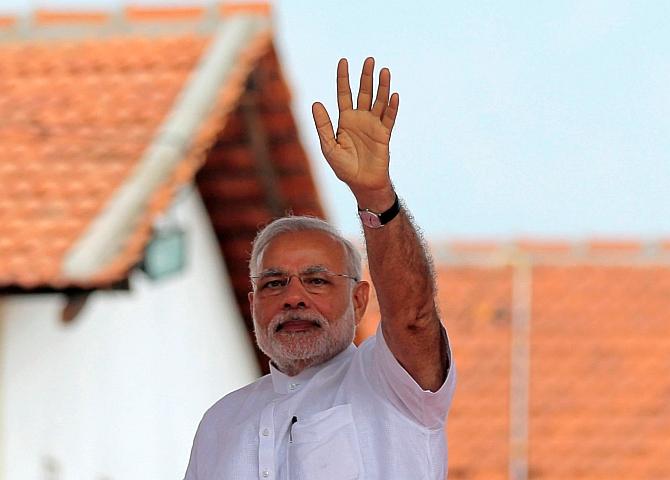 'When you see Modi standing there at the G20, or in New York or at the United Nations, amongst all the leaders, he stands out in the crowd.'
'He looks different, he sounds different, and he has something about his quality of presentation, his oratorical skills, which clearly set him apart from the crowd.'
'The relationship between Modi and the rest of the world and India and the rest of the world has been reset as a result of the election in 2014.'
Lance Price, journalist and author who has written an authoritative account of Narendra Modi's campaign to transform India, speaks to Sheela Bhatt/Rediff.com
You can't beat Narendra Modi in selecting the platform best suited to enhance his image or to document his success to the widest audience.
After winning a historic election mandate in 2014 the prime minister agreed to grant exclusive insights into the first-of-its-kind election campaign mounted by him and his thoughts on it not to an Indian journalist, but to Lance Price, a British journalist and author with impressive credentials.
Price has written an authoritative account of Modi's campaign to transform India in his book The Modi Effect. He met Modi at his 7, Race Course Road home four times, when Modi shared his side of the story on how he won the historic mandate.
Price worked for many years at the BBC as a journalist and then joined the Labour government where he gave a spin to the party line. He has worked in 10, Downing Street as then British prime minister Tony Blair's director of communications.
Soon after the launch of his book on Modi, Price, bottom, left, spoke exclusively to Sheela Bhatt/Rediff.com where he claimed that Modi agreed to speak to him because he approached Modi with no real preconceptions; he was not opinionated, as most Indian journalists are, about the Indian prime minister.
The first of a two-part interview:
Why Narendra Modi?
I find elections very exciting. I love elections and as a journalist I have reported many elections in the United States and in my own country and several European countries. I watched the Indian general election of 2014 and I could tell that something very exciting was happening and Modi was fighting a very unusual kind of campaign.
He achieved lots of things that many politicians in the West have tried to do. Like energising the youth vote, using social media effectively, controlling the agenda for mainstream media.
So I thought this was a fascinating thing to write a book about. Also, now we had a new leader on the world stage, Modi is travelling, he was in New York, he was in Washington, he was in Australia, and he was in Japan.
Everyone has seen this guy, big, very colourful, he has lots to say, he was drawing attention to India. But people didn't know very much about him.
I think one of the reasons I wanted to write this book was to introduce Modi to a wider audience who have this curiosity, they want to know what he is all about and to talk in particular about his election campaign because it was quite a special campaign.
You could have also written books on Barack Obama, Vladimir Putin or Angela Merkel. She has energised Germany. So I am asking again: Why Modi?
Because there have been so many books about Obama and Merkel and many other British prime ministers and they are very familiar. This was like a new challenge, something new to me and I thought that okay, well, I think I understand quite a lot about British politics and American politics and European politics, but let us go and see the things here.
We would get to learn from Indian politics. I was aware; I had studied international relations as a part of my undergraduate degree. So I knew about Indian politics. I know that your systems and structures are very much based on Western parliamentary democracy.
So how do you make that work in a country like India? I had never reported on an Indian election and it was like, new challenges.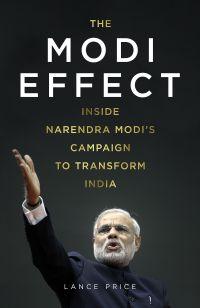 How is Modi, who represents the 1.3 billion people of India, quintessentially different from any of his contemporaries: Putin, Obama, Merkel or British Prime Minister David Cameron?
Modi is different for two reasons. One, he represents India. He represents India across the world, he represents the largest democracy in the world and he does it in his own style, his own way.
And when you see Modi standing there at the G20, or in New York or at the United Nations, amongst all the leaders, he stands out in the crowd.
He looks different, he sounds different, and he has something about his quality of presentation, his oratorical skills, which clearly set him apart from the crowd.
That is also because politics in India is done differently to the way it is done elsewhere and why not, it is a good thing.
There is also something from his own charisma I think, his presence; he is a much larger than life figure. He draws attention to himself almost effortlessly. I suppose he does put an effort into it, but it appears almost effortless.
That he excites people's interest. Also, he has this capacity to make news all the time every time, everywhere he goes.
There is this feeling among us that the Western world and media -- sorry to put it this way -- suck up to a leader of the developing world only when they are a big success or when there is potential for big economic opportunities. So you know, this kind of book coming after his success is seen differently.
I understand your point and I think it is partly true that now that he has suddenly become the prime minister, this man people did not know very much about, everyone is keen to meet him. Everyone is taking a plane and coming to Delhi to talk about India's future.
That is partly because of India's potential economy. The potential that you are going to be one of the largest growing economies in the world, with a lot of untapped possibilities in terms of market, in terms of your work force and all the rest of it.
So, yes, people are running to patch up and understand Modi.
Some countries recognise the need to do that faster than the others. To be fair to my own country, the British high commission in New Delhi was the first to go and welcome Modi back into the fold if you like, after he had been excluded somewhat diplomatically. The European Union followed after that.
America was a bit slow, to be honest, and that probably caused a few tensions in the relationship. President Obama made it very clear in his visit here on Republic Day how India is important to its foreign policy and to its administration.
So I think whether it has come a bit late in the day or not, I understand your point that the relationship between Modi and the rest of the world and India and the rest of the world has been reset as a result of the election in 2014.
America and Britain, both have coordinated and calibrated a lot of things during the Iraq war, in Afghanistan, in NATO. Both have a kind of stated agenda/goal for world peace, for the betterment and development of underdeveloped countries. Is it the case that the Western world and its agenda need Modi now?
It is absolutely true that Modi is an important leader for the West in all sorts of ways. Economically, of course. We talked about the potential of the Indian economy.
With the global economy the way it is at the moment, of course India is going to be very high on their priority list even if it was only about economics.
But it is not only about economics. India is also important strategically. I think stability in this part of the world is a priority for the West and others.
And so everything and anything that Modi and his government can do to encourage peace and stability in this region is important.
It is encouraging that Modi has made the effort to reach out to neighbouring countries since he became prime minister and he has been travelling even further. We always talk about the special relationship between Britain and America and your question alludes to that. I don't deny that is the case.
But there is a special relationship between Britain and India which is a part of our shared heritage and history, not always a happy one, but now I think a very productive one.
Many people in Britain recognised the importance of India, the importance of Gujarat.
I am not talking of the importance of India, which is always there because of its market and population. I am talking of Modi and what he stands for. Whatever makes Modi, like his RSS (Rashtriya Swayamsevak Sangh) connection, do you think that is also looked forward to or is that an impediment for the Western leaders?
You don't have to ask me. You can listen to the words from Western leaders. I think President Obama spoke very effectively when he was here for Republic Day. The priority for Obama, let us just use him as an example, is the economy, India's strategic position, but Obama also had something to say about the importance of religious freedom and diversity and all the rest of it.
And I think that message was understood by everybody. And it was very encouraging that just a few days after that, Modi spoke of diversities being one of India's great strengths.
So, people aren't here because of Modi's history or the RSS. They are, of course, here because he is the prime minister of India, and rightly so.
I think people like Obama and I am sure our government too are looking to him to live up to what he said about development, about good governance which is something that we in the West set great store by and corruption makes life very difficult for companies, it makes it difficult for investment and everything else.
If Modi lives up to those promises, then where he came from ideologically in the past is a side issue.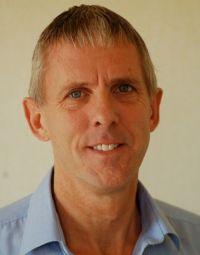 Do you know why your book makes for a more interesting read and is important? It is because you scooped his interview for the book. So share with us your insights.
How did you manage it, since Modi is so reluctant to talk to the Indian media. I don't think he has spoken to, that is, given an interview to a single Indian journalist after he became prime minister.
(Laughs) Well, let me apologise to all the Indian journalists for pushing my way to the front of the queue. I don't want to be rude by doing that. But I think it came about because Modi wanted to have his election and the way in which he fought the campaign, to become better recognised and understood in the West.
I think he was also happy to have someone come and do the interviews. I had four very long interviews with him. Because I came with no real preconceptions... I think he thinks in India most people have made up their minds about him. They are either for him or against him.
They certainly have strong opinions about him. Whereas I came to interview him without any of that really. I came in with some specialist knowledge because I worked on elections myself.
I have been a director of communications for Tony Blair. So I knew a little bit about what it is like, I have worked in government, I have worked inside Downing Street, so I know a little bit about the problems faced by PMs in getting their vision realised.
Umm, so my guess is that, that's the reason why I was able to be so cheeky as to jump the queue.
Was it difficult to get the interview?
It took a little bit of time. We had to meet and see how we got on, and we had to see how we got to the job from my point of view. All the four interviews took place at 7, Race Course Road. They were at different times. Of course, he is a very busy man, so I had to fit into his schedule.
And several of them were on Sundays, which seemed to be slightly quiet days. One of them, I remember, was quite early in the morning. And I had only arrived on an overnight flight from London.
So had just time to get to the hotel and shower and change and turn around. Each of the interviews took roughly an hour.
And videos?
No, no, no, it was just a regular interview, like you and me talking now. But no, I didn't record...
Not taped?
No, I wasn't allowed to tape the interviews. I don't know why. But I had a note-taker who was able to take a very accurate note of everything. So I was comfortable enough.
Detailed notes?
Detailed, very detailed notes, yes. I was concerned that maybe some of that time will be lost in having everything translated, because I had been warned in advance, maybe he wasn't too happy talking in English. But his English was fantastic! It was almost entirely in English.
Only in one of the four interviews, during a short period, did he go into Gujarati, because he knew that my note-taker spoke Gujarati. But my note-taker was able to translate pretty quickly for me.
I said to him when we first started, 'If there's anything you know, you want to make sure you're absolutely understood and you'd rather do it in Gujarati then my note-taker speaks Gujarati, we can do that.'
Part 2: 'Modi is never ever prepared to consider failure as an option'