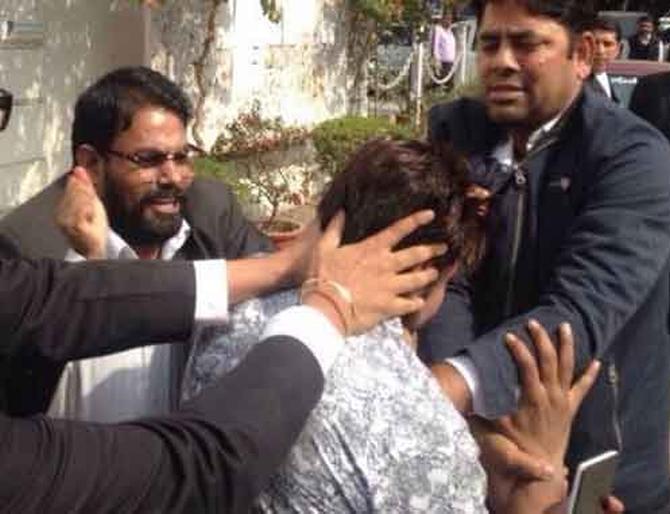 Yashpal Singh (left) attacks a JNU student during the violence outside a Delhi court on February 15, 2016. Photograph Courtesy: VictorVibhu/Twitter
'There were 10-15 JNU guys who came in fake lawyer dress and instigated the violence. They want to give us a bad name.'
'When someone holds my brother lawyer's neck must I wait for permission from the media and the police to beat the attacker?'
'These JNU guys are raising anti-India slogans and I am saying Hindustan Zindabad, and you say I have created problems?'
Yashpal Singh, one of the lawyers caught on camera assaulting students and media-persons in the Patiala House court in New Delhi on Monday, when Jawaharlal Nehru University student union leader Kanhaiya Kumar was being presented before the judge, denied beating any journalist and said it is the media that is tarnishing his image unnecessarily.
He spoke to Syed Firdaus Ashraf/Rediff.com on why he is angry with Kanhaiya and why he beat up people who raised anti-India slogans.
Why did you attack JNU students in court?
They are speaking against India and saying Hindustan Murdabad. How can they say that? Dal-roti hamari khata hai, humko hi gaali deta hai ***** (he eats our food and yet abuses us).
There were 10-15 JNU guys who came dressed in fake lawyer dress and instigated the violence. They want to give us a bad name.
Why was there violence in the court?
Because we were attacked by these fake lawyers.
What is the reason for your anger against the JNU students?
I have got no affiliation with any political party but if anyone speaks against my country, I will not tolerate that.
Do you think you should take the law in your hands?
We were not beating them, they were attacking us first. If someone holds my neck will I wait for the law and the police to come?
So does it mean that you will beat up anyone speaking in favour of the JNU students?
No problem, we will beat everyone whom we can lay our hands on.
Why did you attack the journalists?
We are not attacking journalists, it was the fake lawyers of JNU. We have no problem with journalists. Today (Wednesday), we caught two fake JNU lawyers and handed them over to the police.
What are their names?
I don't know.
You claim fake lawyers from JNU beat up the journalists but on television it is your face that is being shown?
I am a patriot. I have not created this problem. These JNU guys are raising anti-India slogans and I am saying Hindustan Zindabad, and you say I have created problems? And if I have created this problem, I will do it again and again. Whoever says anything against my country, I will beat him.
The Bharatiya Janata Party guys are also saying...
(Interrupts) I am not from the BJP.
So why did you indulge in violence in court?
When someone holds my brother lawyer's neck must I wait for permission from the media and the police to beat the attacker?
You mean to say JNU guys attacked you first?
They have attacked us. We must start a movement against JNU which produces anti-national elements. Can we sleep peacefully? Can we travel peacefully? We want to fight all this with our movement.
What do you think must be done with JNU?
JNU must be shut down. You pay Rs 400 a year and get subsidy of Rs 4 lakh from the Indian tax-payer's money. And you produce terrorists. They say Hindustan Murdabad with our money. The police is not allowed to enter JNU. What kind of institution is this?
But it is your photograph that is appearing on television and newspapers while indulging in violence.
I am saying Hindustan Zindabad. If that is violence I will say it a thousand times.
But why are you taking the law in your hands?
I am an advocate so don't teach me the law.
Why didn't you inform the police when you are attacked?
When will I go to the police? They kill us by coming inside our home. These people make bombs here and kill us in our homes. What has the police done?
Are you saying the police is involved with them?
No, the police is not with the JNU but they have so many restrictions. When you wear the police uniform you are told what your limits are.
But on television we saw mobile phones of journalists being snatched by lawyers.
Those are fake lawyers. They are wearing black coats but are from JNU.
Don't you think all this violence is creating a law and order problem?
You don't see any law and order problem in JNU when they shout anti-India slogans. If you cannot stop that, then I would prefer to die. In court they shouted Pakistan zindabad. How can I hear all this? I am a citizen of India, son of a farmer, and I cannot tolerate it if anyone spreads terrorism in India.
But what about law and order?
What are you talking of the law? There are six accomplices of Kanhaiya who shouted anti-India slogans, where are they? They have still not been arrested. Where is the law?
The sedition law states that it can only be applied if there is violence after a speech, isn't it?
Kamaal kar diya sir aapne (you surprise me). Which law have your read? Tell me the sections.
The sedition law is what I am talking about.
They are holding a meeting against India and shouting slogans against India and saying Pakistan zindabad. In JNU, people like (absconding accused in the JNU case) Omar Khalid and people from Pakistan make the atmosphere dirty and you want me to keep quiet and let these meetings go on.
Do you mean to say whoever speaks against the nation must be jailed?
Our soldiers are dying in Siachen but they are getting a free education and talking against our country. A person who is class 12 pass is going to Siachen to die for the country and these people earn Rs 30,000 and are doing PhD in JNU. And the funding is being done by the government, the remaining things they get from Pakistan.
What must the Narendra Modi government do?
It is up to Modi to decide. I have got nothing to do with him.
But you are the one who will be arrested because you are caught on camera.
I will get arrested. What is the problem? I will go to Kanhaiya's jail and beat him over there.
But did Kanhaiya say anything that is anti-national?
In JNU they were asking for azadi (freedom). If you want azadi, go and stay in Pakistan. There is no place for traitors in India. If there is something wrong in the family, then the head is responsible.
There were six others who were shouting anti-India slogans, they ran away. If I get them I will not leave them.