'If a company contracts to buy its produce after three or four months, is there any loss in it?'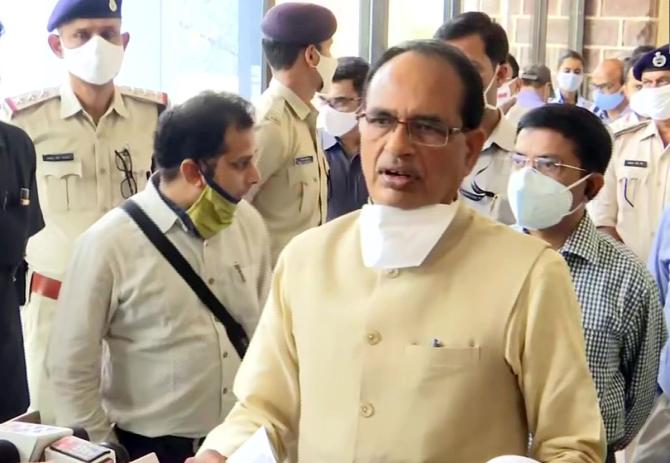 Madhya Pradesh Chief Minister Shivraj Singh Chouhan tells Sandeep Kumar the new farm legislation will ensure better income for farmers by increasing competition.
There's a lot of opposition across the country regarding the agriculture-related legislation. How do you view this?
As a farmer, I can say all the agriculture-related legislation is in the interest of farmers and protesters are opposing it on false grounds.
I am not naming any state, but while we (Madhya Pradesh) transfer the money directly into the accounts of farmers, these states want a roundabout way of doing so.
The government is giving the farmer the option to sell his produce wherever he wants. What's wrong with that?
If he receives the same price that he gets in the APMC ( Agricultural Produce Market Committee) at his house, it is certainly a good thing.
If I'm cultivating paddy in my field and someone is paying me a good price, as compared to the market, at my home, all the incurred cost of my transportation, tractor trolley, etc, including time, will be saved.
Why would I go to the market? Competition is never an adverse thing for development.
Critics of the farm laws claim merchants will systematically weaken mandis by offering farmers a better price than in mandis for a few years, and later when mandis are shut due to lack of trade, they will start to operate arbitrarily.
Nothing like such will happen. The question of the shutdown of mandis does not arise as mandis will become better with the strengthening of their infrastructure.
The government is there to check any abuse of the system. Not a single employee of mandis will be left unemployed as we are further improving the mandi system.
Now a merchant can purchase the produce anywhere in the state with a single licence. At the same time, the farmer will get paid the same day. Farmers are guaranteed to be paid within a maximum period of three days.
There are also apprehensions about contract farming.
Confusion is being spread about contractual agriculture.
If someone comes to me and says that 'You grow soybean and I will pay you Rs 4,000 per quintal', where is my loss in this? Especially if I'm being assured of the price in advance?
There is also a provision that if the farmer is getting Rs 6,000 per quintal somewhere, instead of Rs 4,000 per quintal, he can get out of the old contract and sell his goods at the rate of Rs 6,000 per quintal.
In the present system, the farmer does not know at what price his produce will sell or even whether it will be sold at all.
There are also questions regarding minimum support price. Can the State make such a rule that traders who buy outside mandis make their purchase at least at a price equal to MSP?
Purchase at MSP will go on.
As far as fixing the price for traders is concerned, a businessman will be forced to pay at least the same or a better price, only then will the farmer sell the produce.
Opponents of the laws claim they will prove to be beneficial for big companies, not farmers.
Whether the farmer wants to enter into a contract with a company or not depends entirely on the farmer.
If he wants to sell his produce to a company, food processing unit or factory, what is the harm in it?
If a company contracts to buy its produce after three or four months, is there any loss in it?
Sometimes the market price crashes dramatically so much that there is no benefit for the farmer in selling the crop when it is ready. Now he will know in advance that he will receive a certain amount for the produce after three months.
The second thing: If the buyer has agreed to purchase the produce, say, at Rs 4,000 per quintal, he later cannot reduce it to Rs 3,000 per quintal. But if the farmer is getting a good price above Rs 4,000 per quintal, he can walk out of the contract.
Even the RSS-affiliated Bharatiya Kisan Sangh is also opposing these laws...
There is no protest in Madhya Pradesh. I have no knowledge about opposition from the Bharatiya Kisan Sangh.
There are some elements opposing these laws. They are meaninglessly opposing these laws.
Neither is the mandi is shutting down, nor is MSP being withdrawn.