Sharat Pradhan and Saisuresh Sivaswamy meet Dr Mohammed Ayub Ansari, who hopes to play The Disruptor in the current election.
Photograph: Afsar Dayatar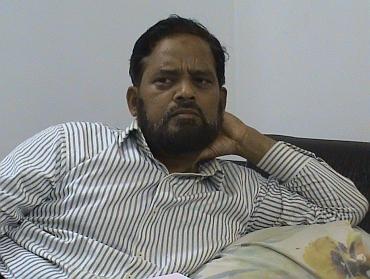 It is a party whose growth in just four years has impressed many. It first came into notice in the 2009 Lok Sabha election, when it put up an impressive show in some seats in eastern UP. In the Domariyaganj assembly by-election the next year it stunned everyone when its candidate polled more votes than the Congress and Samajwadi Party candidates.
The Peace Party of India, now fighting only its first assembly election in Uttar Pradesh, naturally is not short on bravado.
In an interview in Lucknow, Dr Mohammed Ayub Ansari, its founder-president, is hopeful that his party, which has fielded candidates in 240 assembly constituencies in the state, will be part of the next government -- regardless of which party is heading it.
"I don't have any preference whatsoever about who should form the next government," Dr Ayub told Rediff.com "but I do know that to form the next government in Lucknow, our support will be crucial."
Dr Ayub believes that his Peace Party will have around 30 legislators in the new UP assembly, and the National Front -- the umbrella group of around 12 parties that he is fighting the elections under -- will have 50 MLAs. This front has put up candidates in all the 403 constituencies in the state.
"No single party is going to be able to form the government, which is why I believe that we will be part of the new administration."
Though identified as a Muslim party, Dr Ayub believes that the Peace Party is a forum for all Most Backward Classes, not just Muslim. "The concerns of the MBCs are the same regardless of which religion they belong to," and this is the group he expects to back him at the hustings.
While the bulk of his support base comes from the Muslims, he says he is sure of the support from Hindu MBCs as well some forward class sections who are deprived. Asked if he was taking a leaf out of Chief Minister Mayawati's rainbow coalition of five years ago that powered her to majority in Lucknow, Dr Ayub says before her, the Congress party had successfully created the umbrella of all deprived sections.
"It has been done before, and yes, I will do it again," he says.
It is not easy, financially, to fight elections, more so for a four-year old party. Asked about his source of funds, Dr Ayub says he has been a successful surgeon for more than two decades and he has diverted all his personal wealth into his party. Plus, he adds in response to our incredulity, that the people have been generous with their contributions, which has helped him face the electoral battle.
About the charges that he was being propped up by the Bharatiya Janata Party and/or the Bahujan Samaj Party (to scuttle the 'secular' votes in case of the former, and hurt the Samajwadi Party in case of the latter), Dr Ayub responds that this was a canard being spread about his party ever since 2009 and there was no truth to it.
"We hold all the political parties to be the same, casteist, communalist and anti-minority," he says.
Asked, given his prediction that his party will be part of the new government, what his demands would be, Dr Ayub said there would be no demands. "We will approach them, not wait to be approached, and work on a common minimum programme that we will hold them to."
And what would be the main focus of their being part of the new government? "Anti-corruption," he says, as it is an issue that is "more important to the voters than caste and religion." Corruption, he says, hurts the MBCs more than it does the forward classes, and that he should know, given his humble origins in a poor weaver's family.
About his vision for Uttar Pradesh and his own role in it, Dr Ayub doesn't hesitate to say: "I will be chief minister in 2017," before adding, "Inshallah."