'I wrote to the PMO to know who has written the slogan. but did not get an answer.'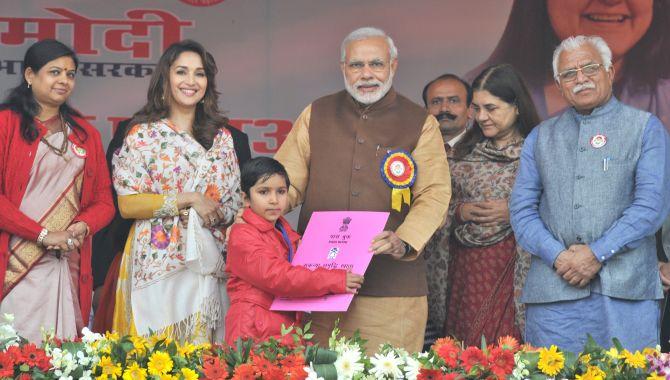 A lady police officer in Rajasthan says she coined the slogan 'Beti Bachao, Beti Padhao', (save your daughter, educate your daughter) which became popular after Prime Minister Narendra Modi launched a campaign to save the girl child and educate them.
Inspector Chetna Bhati, station house officer, Udaipur, says she created the phrase in 1999 as part of a poem. In 2012 she wrote to then Rajasthan chief minister Ashok Gehlot to use in a public campaign.
The prime minister's scheme was introduced in 2014 to address the declining child sex ratio and to prevent sex-selective elimination of girls. Modi formally launched the scheme in 2015.
Inspector Bhati spoke to Syed Firdaus Ashraf/Rediff.com and hopes that one day she will get due credit for her slogan.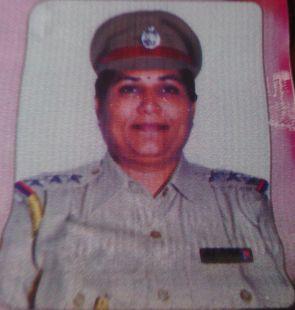 When did you coin this slogan?
I had written this in 2005. I have recited this poem many times earlier. I made a poster on this poem on August 3, 2012 when Ashok Gehlot was the chief minister of Rajasthan.
I was posted as a police officer in Nagaur at that time. I did this because I wanted to contribute to the save the girl child campaign.
I had written a mail to Gehlot about this poster and wanted him to highlight this issue. Unfortunately, I did not get a reply from his office.
In 2015, when Prime Minister Narendra Modi launched this campaign, I realised that these were my lines.
Why did you keep quiet for a year? Why are you raising the issue now?
I thought someone else must have written this before me. It could have been possible. It can happen that two people can think of the same line. I started searching the Internet as to who wrote this slogan.
I found out that there was no author to this. I filed an RTI in different offices and also wrote to the Prime Minister's Office asking to know who had written the slogan. I got the answer about the scheme Beti Bachao Beti Padhao, but I did not get the answer as to who wrote the slogan.
What did you do after that?
Again, I wrote a letter to the prime minister, describing how and when I wrote this slogan. I got a phone call from the Rajasthan government asking what I was inquiring about.
On June 9, I got a SMS saying my complaint has been registered and I will get an answer in 15 days. This news got leaked to the media and the issue came to light.
What was your poem?
The poem's title was Beti Bachao, Beti Padhao and it says: Tu har zakham ko dilon me chupaati hai, Betiyan (Daughters hide all bruises in their heart).
Did you register this poem with any writers association or poets association for copyright?
I have been writing poems from Class 6 and I never thought that this slogan will become this big. I am only demanding that I must get credit. If anyone else has written the slogan, let them also get credit. It is a very simple and small demand.
Did you get to know who wrote the slogan for the government?
I have no idea. I only came to know (about the slogan) after I read articles in newspapers. Madhuri Dixit had gone to promote this campaign and at that time I came to know about the slogan.
Have you faced any discrimination from society or from your family?
I am from Jaisalmer district. I wanted to study science, but unfortunately there was no science college for girls. There were science colleges only for boys.
I insisted that that I will go to the boys' college and study science, which I eventually did.
Jaisalmer is known for killing the girl child, particularly Basiya from where I hail. I always felt that society was bad for girls.
My father gave equal rights to his sons and daughters. I have one sister and two brothers. My father used to own a restaurant. He was also a social worker. In 1996, I joined the police force. He encouraged me to join it.
Have you published your Beti Bachao, Beti Padhao poem in any magazine?
No, I did not publish it anywhere.