'I support Udta Punjab because we must show the reality of Punjab.'
'If there is a problem, it should be highlighted, not hidden.'
'The truth must come out and people must know the harmful effects of drugs.'
Anoop Singh Bhullar runs the Fateh Foundation, a non-governmental organisation which creates awareness against drugs in Punjab's Taran Taran district.
Bhullar tells Syed Firdaus Ashraf/Rediff.com why Udta Punjab must be released.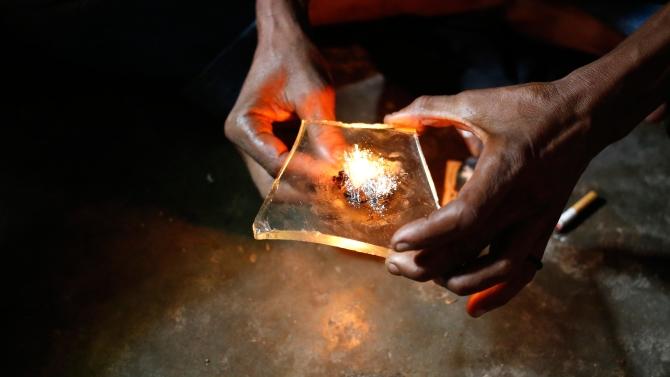 You have strongly supported Udta Punjab, the film...
I support the movie because we must show the reality of Punjab. If there is a problem, it should be highlighted, not hidden.
If you do not showcase the real problem, the drug menace will catch wildfire in Punjab and every home will be affected.
There have been Punjabi films on drugs earlier. Did they not make an impact?
Rural Punjab is more affected by drugs than urban Punjab. There is not much source of entertainment in the rural areas.
We are working on demand reduction of drugs and not supply reduction of drugs. We feel that with enough awareness and opportunity, people will want to quit drugs.
How serious is the drug problem in Punjab?
Very serious.
The findings from surveys conducted by Guru Nanak University and AIIMS (the All India Institute of Medical Sciences) have proven it.
The Punjab government in 2011 had filed an affidavit in the high court and admitted the figures.
How many people are addicted to drugs in Punjab?
I believe that 75 per cent youth in the 18 to 35 age group are addicted to drugs.
Why are they attracted to drugs?
The first reason is that the youngsters are unemployed, second, it is peer pressure, third, they want to be 'cool.'
Punjabis have a passion for a lavish lifestyle. They are getting into drugs because most of them want to show off.
Youngsters are trying to outdo each other. They want to impress their peers. One person does (drugs) to impress others in his group and the others follow.
What is the reason this problem started?
This began in the last 7, 8 years. We have a porous border with Pakistan. Some people have old links in Pakistan.
The border has been porous since when Punjab was at its peak of terrorism, and now we have a steady inflow of drugs from there.
Robin Singh, an ANI correspondent, went to Kabul disguised as a mujahideen for a sting operation. He spoke to a Pathan there and was told that the drugs would be delivered to Punjab in just two hours, however large the quantity may be. So you can imagine how things are.
But the BSF (Border Security Force) and the army guard the border.
I am only sharing what Singh said. I don't know what the BSF and the army are doing.
What is the Akali Dal government doing about it?
The government is trying, but not enough to solve it on a big scale.
If you say there is no problem, then why are drug rehabilitation centres coming up only in Punjab? We even have a women's centre in Amritsar.
Tell us about the widow colony of Maqboolpura.
It is a small locality in Amritsar where widows whose husbands died because of liquor, smack, heroin or other drugs live. There are no men in that colony. Only widows and orphans.
You said the job situation is bad and that is one reason why youngsters take to drugs.
That is one reason. If a youth is unemployed, he will get into bad company. This is not a Punjab-specific problem, but a world phenomenon.
But then again, there are many youngsters in other parts of the country where there are no jobs, but they don't get into drugs rampantly.
If you go to rural Maharashtra, people are turning into drunkards because of no work.
In urban areas, social circles are small. It is the exact opposite in rural areas where social circles are huge, and therefore they inculcate bad habits.
What must the government do?
Awareness must be created on a large scale. If children are taught at a young age, they would become aware of this menace.
I hope Udta Punjab will create that kind of awareness.
The truth must come out and people must know the harmful effects of drugs.