'We are working with govt departments to find out how space technologies can be used by them'
'Chandrayaan II dates will be announced later; it will not be this year'
The new Indian Space Research Organisation chairman A S Kiran Kumar talks to CNN-IBN about the road ahead in his first interview after taking charge. Edited excerpts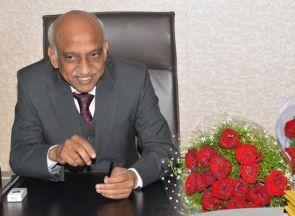 On the priorities as the new chairman of ISRO:
My first priority is to find my out priorities because unless you sit in a position many you do not know of the issues. You become aware of various complexities only when you occupy the chair.
On ISRO not being an elitist organisation but an organisation for social benefit

That is always the priority. Whether it was in the beginning in the 70s or now or anytime later, how to bring space technology in tools is important. Today, for example we are working with all 83 departments of the Government of India. So, we are working to find out how each department can benefit from the use of space technology.
This also benefits fishermen and farmers…
That is what I am saying. For example, we are working on the crop forecast, weather information. We are providing our observation systems to them.
On what's ahead like predecessor of Mangalyaan:
There is nothing happening immediately. But in 2018 and 2020, we will work on the project. We have to go through the finalisation and then come up with a plan.
On Chandrayaan II
Chandrayaan II is going on. The developments are positive; we will announce the dates soon. Not this year but at the end of 2016 or 2017. Those details will come out in the due course.
What are the big launches to look forward to 2015?
We are launching IRNSS-1D (to augment the satellite-based navigation system of India) in March. That's the next major launch.
Do you feel there are challenges ahead?
Yes, there are big challenges. People who have occupied this chair are legendary like Satish Dhawan, Prof Rao, Madhavan Nair, Radhakrishnan. So it's a big job & also the expectations of the entire country are on this department which is delivering all the time.

Image: New ISRO chairman A S Kiran Kumar